Developing a business on Facebook can turn out to be quite helpful for everyone. Since it was launched back in the year 2004, the active users of Facebook are still continuously growing. Facebook is one of the most popular platforms of social media all over the globe and the second most visited one. This platform provides a great opportunity to promote your brand in front of the target audience and engage along with the huge target audience and turn them into your customer. Thus Devising Facebook Marketing Strategies aforehand can help you immensely.
Why do Facebook Marketing Strategies have great importance for everyone?
In everyone's life, Facebook has excellent importance. It's the most popular tool to grow a brand. There are some specific features of Facebook that are useful for someone. it's not a static platform. It's a dynamic platform for marketers and customers. Lots of customers are active regularly and get exposed to multiple branded products that's why social media marketing has great importance for every marketer.
Here is the list of 27 Best Facebook Marketing Strategies for your business:
Let's discuss these Facebook Marketing Strategies deeply:
1. Think and Set some goals
You may have heard," A goal without a plan is just a wish". The first and the basic tip before spending and putting more into a Facebook Marketing Strategy is having a "plan". Choosing any platform to do marketing for your business requires a game plan and some strategies. In this cut-throat competition, you have to think about other options too along with ad-campaigns. Long-term thinking will guide you in planning different strategies like crafting content and maintaining brand image. Thus having a Facebook Branding Strategy can help you in long run.
Setting goals is also a part of long-term thinking which is in turn the start of a good marketing strategy for Facebook. You should plan a specific goal about posting content and getting engagements. Be clear about the results you want to achieve.
Address what you want to achieve. You should be aware at each point that what you are doing and why you are doing it? It is an essential component of Facebook Marketing Strategies. The common goals of businesses are :
Increase in business sales

Valuable business growth

Quality leads

More Engagements
Your goals are a roadmap to the success of your business. Make sure your goals and plans are accessible through the platform. We have also covered some Facebook Page Marketing Strategies but first, let's see how we can:
2. Create a Facebook business page:
A Facebook business page is one of the essentials of the Facebook marketing strategy of your business. It can instantly boost your brand awareness, connecting it to millions of potential business prospects.
Users like Facebook business pages instead of adding them as a friend. Each like on a Facebook page adds to its popularity. It is a new fan earned.
Once an individual likes your page, every post you upload on your Facebook page becomes visible to him in his Facebook feeds. It helps you increase engagement and take constructive steps to achieve your marketing goals.
A Facebook page serves to acquaint your visitors with basic business information. It includes your business contact detail, location detail, and information regarding the product and services your business provides. There is a menu on the left side of your Facebook page that your users can utilize to access your company's secondary information, such as photos, videos, events, reviews, and posts.
The internet is the first place people look for information related to a service or company. Facebook is the biggest online social media platform with several potential business prospects. Facebook page is an opportunity for your brand to showcase its credibility-growing information such as awards, recognitions, and customer testimonies.
Having a personalized marketing strategy for your Facebook business page will provide you with an edge over your competitors and help you excel in your marketing campaign. Use the following steps for building a Facebook business page for your brand.
Create a page (Desktop)
Step 1: At the top of your Facebook home page, select create and choose a page from the drop-down menu.
Step 2: Fill in different attributes as asked in the form that appears at this stage. It includes the page name, the category that describes your page, and other business information like the address and contact information.
Step 3: Select continue, add a profile picture to your company page and click next. Press skip completing this step later.
Step 4: Add a cover photo for your company page and click next. Press skip completing this step later. Select next to go to your company page.
To learn about Facebook page creation on mobile devices please visit www.facebook.com.
3. Profile photo and cover photo:
Your profile picture and cover image should be easy to understand and self-explaining for your target audience. Appropriate graphics should be used in images to capture the attention of viewers. If your profile image is recognized by your customers then they would wish to go on your profile.
4. Optimize your Facebook page
Source:- www.blog.hubspot.com
Among all social media platforms, the user base of Facebook is the widest. Potential business prospects on Facebook are looking for quality service providers for all business types. However, various businesses understand the importance of having a comprehensive Facebook marketing strategy.
The competition on Facebook for audience attention is very high. Thus it holds a really important place in devising Facebook Marketing Strategies It has created a sense of urgency among businesses to stand out from the competition to grab audience's attention. There are various tactics you can implement to improve your Facebook page performance and excel in your marketing campaign. Here are some Facebook Page Marketing Tips:
Work on your Facebook page to detail
Your Facebook page is the face of your business on Facebook. It must instantly grab the audience's attention by conveying relevant information. Apart from the basics that we have already spoken about, these are other points you should add to your Facebook page to make it look more appealing to your target audience.
A custom URL or a username

Page description

Link other social media accounts

Your business story

Add a legal disclaimer

Add a FAQ section
Making your profile more diverse will allow visitors to relate to it.
Select the best templates
Choosing the page template is another option you can use to align your Facebook page with your business theme. Some of the popular templates available on Facebook are as follows:
Services

Shopping

Business

Venues

Non-profits

Politics

Restaurants and cafes
These templates dictate the layouts and their constituent attributes that, according to Facebook, are most appropriate for your business's specific niche.
Select a call to action
A call to action is one of the essentials for your Facebook marketing strategy. It is a way for you to tell your user exactly what you want him to do without sounding promotional. It must arouse curiosity in the visitor's mind.
You can lead visitors through a sales or a lead generation funnel and take a constructive step to achieve your business goals. There are four main sections from which you can choose a CTA. These are:
Book services

Get in touch

Learn more

Make a purchase or donation
Source:- www.mikegingerich.com
If these four CTAs do not go with your marketing strategy, you can customize them in a way it best aligns with your marketing strategy. Select the most relevant category and choose edit now.

5. Use Facebook Open Graph (OG)
Open graph is the preview of a website, blog, or mobile page Facebook shows when you post a link on Facebook. It utilizes AI to crawl and preview the content of the webpage the link is linking.
It is one of the best ways to enhance your marketing strategy. It increases the chances of a visitor clicking through the link. It is an effective tool to drive your users through a lead or a sales funnel and achieve your marketing goals.

6. Enable reviews for Facebook Marketing Strategies
Online ratings and reviews are one of the most credibility-proving factors. The majority of consumers consider reviews as a principal factor for determining the credibility of a service provider. Another interesting fact is that more people tend to post positive reviews on Facebook than on any other platform.
The reason behind people's friendly nature on Facebook is the functionality of the platform. Thus understanding the behavior psychology of a consumer is a really important part of Facebook Marketing strategies. It functions as a social media platform enabling people to connect to their friends and family. It is one of the best Facebook marketing tactics you can use to generate ample good reviews and increase your brand's credibility.

7. Know your Target audience on Facebook
Once you are done with planning long-term strategies and goals, start nailing your target audience. You will be wasting your time and money if you aren't reaching the right people. Pinpointing the audience helps you determine which marketing strategies to use and how.
Discover the demographic data to dive deep to know the right audience and who is using this platform. You should check your Facebook insights too as researching demographics gives an idea of how to target a unique audience. With a plethora of data available on Facebook, you can find potential customers. This can also help you make a Facebook content strategy to attract a specific audience for your page

8. More Facebook users are on mobile:
Most Facebook users operate their accounts on a mobile phone as per the statistic
Mobile users—81%

Mobile + computer users—17.3%
Therefore, the marketer should create mobile responsive ads which should be for the target population. This should be one of the most important parts of your Facebook marketing strategies.

9. Focus on connecting not selling:
Facebook is one of the most essential tools to connect to your potential business prospects and boost your business. However, it is a connecting platform. You must avoid making sales-driven Facebook marketing strategies.
However, it is one of the best platforms for getting your brand name out to the audience. It is one of the best social media platforms for increasing engagement and hooking your target audience. It can provide your brand a global exposure. Thus, focusing more on making engaging content and getting responses from the users is an essential part of your content strategy.
Once you hook your consumers and establish your credibility, you can pitch potential business prospects for selling your products and services.

10. Use Facebook for business
If you are an e-commerce business and your end goal is to sell on Facebook, use these three steps to build an effective sales strategy for your business.
Credibility

Consideration

Conversion
Credibility
Credibility is the first stage of a sales funnel. The best way to build your trustworthiness among your target audience is to increase awareness about the product or service you are providing. This step requires you to prove yourself as a thought leader in your industry. Here you provide solutions to the common problems your consumers are having in your industry. It establishes your credibility among consumers.
Consideration
People don't buy from a non-trustworthy seller. Once you have established your credibility among your target audience, they start considering buying your products. It is all about the content your produce, the user experiences you provide, and the efforts you put in making your Facebook marketing strategy.
Conversion
This step does not require any effort, once your build trust in your target audience, they will love to buy a solution to their problems from you.
Improvise these tactics to excel your sales campaign on Facebook.

11. Verify your business:
Have you seen that blue tick on several Facebook accounts? It proves the credibility of that particular account, showing it to be the original account of a celebrity.
Similar to the blue mark, a grey mark represents verified businesses. Having a verified account for your business is beneficial for your marketing endeavors. Here are ways in which a grey mark can benefit your businesses.
Established credibility:- Getting verified ensures the audience of the credibility of your service. It differentiates your business account from those having similar names. It helps your stand out from the competitors without a verified account.

Increased search rankings:- The process of account verification requires Facebook bots to surf your account. It makes Facebook AI familiar to your account, and your chances of attaining the top spot in search rankings increase.

Increase followers:-

Since your reach is increasing, more people can discover and connect with your business account. It automatically starts increasing the number of followers on your business account.

Early access to Facebook premium features:-

Some business manager features are available to verified accounts only. Once you verify your account with Facebook, you become eligible to use them.



However, certain criteria determine your eligibility to apply for account verification on Facebook business manager. Visit here for detailed information on account verification.

12. Post frequency:
Posting frequently is an important Facebook Marketing strategy for every marketer. It is crucial to know how and when to post. Do not post multiple times with the same content because customers may want something new every time. Regularly posting is a must to build a strong brand.
Facebook is still a difficult platform in the case of organic content. The frequency to post on Facebook should be 1 and 2 times a day. The absolute key is to analyze the social media platform as every account is different. If you are posting less than once a week, forget about growing your followers. Stay organized with what to post every day as it will help you in increasing followers 4x times faster. According to the studies, users spend thirty- to thirty-four minutes on Facebook. Hence, targeting the right people will drive massive traffic and increase engagements.

13. Post at right time:
Finding the right time to post on Facebook is one of the essentials of your Facebook marketing strategy. It provides you an edge over your competitor. There are a bunch of tactics you can use to find out the right time to obtain the highest engagement on your Facebook posts. Thus include this in your Facebook Marketing strategies to get great results.
However, there is no exact data that proves a particular time to be the best to obtain maximum engagement on Facebook. Several studies conducted on this subject led to different conclusions. One such study that Sprout Social conducted led to the following findings.
The best day to post on Facebook is Wednesday.

The best time to post on Facebook is from 11 am to 1 pm.

Weekends are best for obtaining consistency in engagement.

Sunday sees the least amount of engagement

The worst time to post on Facebook is from 5 pm to 7 am.
Besides, you must experiment before you conclude. Every niche is different from the other. What works for someone else might not work for you. Experiment posting at different times and determine the time most suitable for your target audience based on the results. This is a strategy that can help you in a long run as posting new content on Social Media is essential.
14. Competitive analysis:
Competitive analysis is a marketing strategy of Facebook. It stands for finding out what your competitor is doing for growing their business. How do they target the audience and what is their market share. By proper assessment of competitors SWOT. A marketer can deploy counter-strategies. Competitors' analysis should be done at least weekly to see where you can improve and what can you do to get ahead in the strategic game of Facebook.
15. Drive traffic from your Facebook Page to your website:
It is a great strategy for every marketer to develop their Facebook business page. Direct traffic from your Facebook page to your website to promote your brand. By providing a little description about the product on the Facebook page and giving a website link for more information.
Learn more about the importance of Facebook business pages.
16. Create or join Facebook groups:
Have you ever discussed, Why Facebook groups are important? Everywhere Facebook groups get attention when the talk is about marketing. Let's see the big picture showing benefits.
Facebook groups increase your organic reach
Facebook Algorithm exactly wants group posts. Content posted in different Facebook groups gets more priority. The reason is user engagement on those posts. It is advised to remain active and frequently publish in Facebook groups. As your target audience engages and reacts on the post, you get an increased reach.
Builds customer relationships
Being in a Facebook group means you may get on good terms with one or the other person. This helps you to know people, this may get you new sales and business too.
You can perfectly make a connection while in a group. People are more likely to visit a website or social media page having a reference of a friend versus a brand. Moreover, a healthy discussion in groups with customers makes you understand their pain points.
Being in groups is a major help for you to nurture your brand and get one-to-one engagements from customers. This is one of the tactics that people overlook as they think that it will not help them, but in the long run, building a good reputation and then associating yourself with the brand later in the group can help you a lot. Asking questions and posting regular content on Social Media can help you tremendously.
17. Track, measure, and improve:
Facebook is a huge planet on its own. If you are not tracking and measuring your marketing efforts on Facebook you are losing a great opportunity to raise the number of customers. If you want to grow seriously, start tracking and measuring your reach and engagements. You should have a look at the following metrics:
Organic reach

Engagements

Click-through rate
A continuous effort to improve these metrics will help you reach a larger audience.
Have you ever realized why tracking and measuring these metrics benefit?
Over the past few years, Facebook has dwindled its organic reach but that doesn't mean measuring it. Let's understand it with an example. Suppose you posted a picture with relevant content and your post reaches over 1lakh people. The other day, you posted another piece of content and it did not receive the same success. This shows the importance of tracking. You get to know the interests of your audience, and their likes, and dislikes. Getting to know your audience will help you in a long run and build a solid foundation for all your Facebook Marketing Strategies.
In the same manner, measuring impressions on your post gives you a crystal clear idea of the nature of the post. Moreover, you will get to know the number of times your post has been seen. Analyzing and tracking is a crucial part of truly measuring the success and referral traffic too.
18. Respond to comments on your Facebook posts:
Commenting is a term through which we can build better relations with customers and the target population. Using a Facebook page means communicating with both your supporters and critics. Facebook provides some features to accept and reject comments. If the comments are helpful for our post then say thanks to them for appreciating us.
You cannot ignore negative comments. As long as you have to to keep yourself open to receive comments, there will be negative comments too. How do you manage such negativity? Removing or disabling the negative comments is a big no. So here is a small guide on handling negative comments.
Have patience, and understand the negative comments. People expect quick responses to their queries and the same is the case with comments too. Simply respond to the comment if you got the solution. When you empathize with customers' pain points they get to know you have understood them. This sets a positive tone for further discussion. This gesture of quick response shows how deeply you care about your customers and their views.
This is recommended after you respond to the customer. After responding try to solve the matter offline rather than discussing it over comments on Facebook. Discussing more negative comments gives a different and bad insight about your services or products.
Shut the matter online as soon as possible. Moreover, you can reply to negative or sensitive comments privately. With this, you have taken the problem away from your social media. Customer satisfaction should be your utmost priority as spreading negative feedback can impact your business and will be against Facebook Marketing strategies.
We have heard this many times, saying sorry solves the matter. The same applies here, Apologize when it's needed. Apologizing for your mistake when someone is genuinely annoyed shows your courtesy. Apologize sincerely and genuinely whenever it's necessary.
Saying sorry leaves a positive impact that shows how real you are. This also shows how important reviews and customers are for you.
Ignoring comments is the ninja technique. This is possible only when you have a huge online presence and brand name. If you have the support of a huge community, they will be your voice at that time. Moreover, this practice is ideal only when you are growing rapidly and you do not have time for haters. Loyal people have your back at that time.
19. Include Facebook messenger in your strategy:
Facebook messenger provides a chatbot to communicate with your target audience in multiple ways namely natural and conversational manner. This is the best way to build a good relationship between marketer and customer. If any customers have some queries then they can easily communicate to the marketer with the help of Facebook messenger.
20. Post Boost or Running Paid Ads
Facebook and Instagram provide an option for Boosting the post which is performing better. Well, in our honest opinion if you want to run an organized systematic campaign you should go with the Ads Manager. Boosting Ads can be done for a specific post that has outdone your expectations in terms of performance. However, in the long run going through the Journey of Ads with brand awareness and then Conversions is a good idea.
21. Use attention capturing images or graphics:
Let's suppose you are scrolling down your Facebook, and suddenly you see a blurry post with an unclear copy. The graphics of the ad are dull and you are clueless about what they are trying to sell. A deep consideration is required to create ad posts. Ad design is the most important part of paid advertisement because being a brand you portray everything with an image. The image conveys the information along with the emotion connected to it.
The human brain understands the pictorial representation more than it understands the written content. Moreover, the image post gets more engagement than the only content post. Expert marketers always use highly engaging images with HD graphics for Facebook advertisements. The audience connects to such posts quickly.
The Facebook post you are going to advertise should be eye-grabbing. Post ads that are relevant and relate to your target audience to get more engagements and reach many people. Before posting, make your expectations and results clear in your mind. Do Not use excessive texts on your post and use high-resolution images. Also, make sure for the Paid Ads to keep the text-to-ratio graphic on your image less than 20%.
22. AR strategy will become more popular on Facebook:
AR strategy stands for augmented reality ads strategy which plays a vital role to help the marketer for engagement and interact with the customer in real-time. In augmented reality, Facebook provides multiple filters for marketers and customers. You can experiment with brand products and services along with augmented reality camera effects in just one click.
Technology is getting advanced and everyday consumers' needs and desires are taken care of. Brands are using Augmented reality to drive sales as it is an emerging trend. AR has given consumers a unique experience. In facebook after running your ads, you can see the results with augmented reality ads. You can show off your products to consumers using augmented reality.
23. Understand your customer journey:
Every marketer needs to know how their customer reached their brand and what was the reason to switch from a competitor. Before posting your Facebook ad it's essential to know what types of customers you have and the past journey of your target audience. There are three steps to find out our customer journey
Awareness phase: awareness phase means how your customer knows about and is aware of your brand product.

Consideration phase: some too many customers view your post after that viewed post at what number of customers are interested in your product.

Decision phase: on what basis your customer decides to buy the product and service. Like income basis, quality basis. Etc
Why is the customer journey so important?
Customer journey is important and at the same time helpful because it makes you analyze your customers. Mapping the user's behavior helps you to understand how the customers travel through the whole sales process. The mapping journey has benefits. You will be focused on your target audience, without an audience marketing is a ship without a sailor. Defining your target audience and interpreting their journey helps you to get potential leads.
24. Make the right types of ads:
Your ads should clearly define your goal by containing clear marketing copy. Don't create a disaster by advertising without a specific goal. Keeping ads simple is a basic fundamental and your ads must fall in between the three categories.
These three categories are Awareness, consideration, and conversion. The right type of ads targets the right audience and appealing graphics attract a lot of eyeballs. The purpose of ads is either to get more engagements or drive more leads. Include this in your Facebook Marketing plan to get results.
25. Swot analysis:
SWOT stands for strength, weakness, opportunity, and threat. Swot analysis is important for every Facebook Marketing Strategies. Every business should know the swot of their own business and the competitor business and the strategy of the competitor. SWOT helps to analyze the strength, weaknesses, opportunities, and threats that may affect the company. SWOT is popular on social media. While running a PPC campaign, SWOT analysis helps you in understanding the external factors to avoid failure of your PPC campaign. This can be a huge part of your Facebook brand strategy as you will identify some key points.
If you are a marketer, then you must know how to perform a SWOT of your PPC campaign. Start with the strengths that can lead to the success of the campaign. Strength is counted as a positive internal factor. The second thing to consider in your SWOT analysis is the Weaknesses of your campaign. These are the negative points that keep you away from High ROI. Control the factors like low budget and weak A/B testing, etc.
Then you can think of the positive external factors to be added to your campaign for future gains and benefits. You can think of some creative ideas and opportunities to increase the demand for your services or product.
Threats are something out of your control and you cannot do anything. But keep a look around what your competitors are doing and how you can increase the demand for your products and services. You need to be aware of your bigger competitors.
26. Age group of the users on Facebook:
The marketer should know which age group of people is using Facebook most times of the entire day. According to Facebook analytics, almost 71% of the Indian population are using Facebook and most of the Indian users are 18 to 34 years old and use one to two hours of Facebook regularly. There are several factors defining the target audience and one among them is age. Age is an important factor because it affects consumer behavior. The target audience and their behavior changes often according to age. Age segmentation holds big importance while targeting your ads. For example, the products for kids cannot be sold to youngsters or senior citizens.
You can easily obtain the data and segment the market according to age. You can consider your target audience and if you are into online business there are various tools to find out the data according to age conveniently.
27. Use Hashtags to improve reach and engagement:
There are multiple options to generate reach and engagement on Facebook and hashtags are one of them to improve their reach and engagement. Every marketer is doing this for advertising purposes.
Using correct hashtags makes your post searchable. Users search for a specific topic or content using hashtags. Apt use of hashtags puts your post in front of interested users. This is a better way of increasing your reach without spending a penny on advertisements.
Moreover, using hashtags makes your post more interactive. The correct way of using hashtags is to monitor all the trending topics on Facebook. From those trending topics, you can select the popular hashtags and curate your content around them. If people use your brand's hashtags, then it means they like your content and this helps in the promotion of your brand.
Here are a few tips on how to use hashtags
Say no to tons of hashtags

Use branded hashtags

Monitor trending topics and popular hashtags

Use appropriate hashtags.
Conclusion
The importance of Facebook Marketing Strategies to carry out brand awareness and promotion cannot be underestimated due to its strong global presence. Before using any Facebook practices to promote the brand it should be kept into consideration that a single strategy will not work as a silver bullet for effective marketing campaigns. You should always use the best Facebook marketing techniques to get a better ROI. Always try to put variety and blend of tactics.
Well, we've already discussed Facebook strategies that would be helpful for you.
So, what are you waiting for? Just take a step ahead and get your business recognized worldwide. But if you are still facing problems or are not able to plan a strategy, then hire the Best Facebook Advertising Company in India, as they are the expert and will make the best strategy for your business.
Feel free to call us anytime @ +918544973165.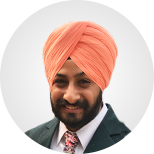 Having mastered every aspect of Social Media Marketing, Gurpreet Singh employs his leadership qualities as Social Media manager.  He believes that writing is an effective medium to communicate to many. He considers his blogs as the medium to share his perspectives about the changes in the industry.