We all have begun with the much-awaited and predicted 2021. The pandemic wave hit the world last year, and hence this year is all packed with vaccines getting rolled out, upcoming positive changes, and a lot more good things on the cards. Hence, we can certainly say that most people are quite hopeful about 2021. This year is new hope for all the marketers, and they expect to thrive much better than ever. Although there is indeed a continuous shift in marketing, 2021 has shaken the landscape so significantly that many advertisers re-examine everything, be it the customers or brands.
There was only one thing that boomed in the previous year, and that was social media. People were asked to get locked up in their houses, and hence what they did was scroll through different social media networking platforms. Until the beginning of this year, almost every brand marked its arrival on social media. However, there are lots of things that you might not know about social media marketing.
New Rules for Social Media Marketers
Now you know the importance of social media marketing. Therefore Ensure that if you are beginning with your business on social media, then swear by these rules for better results.
Cater to Passive Audiences
Many companies have made the mistake of thinking that the pandemic has provided a good opportunity to reflect on enhanced online activity. Whereas, in reality, a lot of people just preferred to remain attached to their friends and loved ones, while brand engagement was just a myth. One consequent concept that is predicted to remain alive in 2021 is to know when and how to stay quiet but not go off completely inactive. Even though your audience is passive, they still might be interested in what you have for them.
Aim for the Short Term ROI
As per many surveys, the addition of new consumers has become a top priority for almost all social media marketers. To accomplish this target, several companies have turned to initiatives and strategies that deliver short-term ROI payout. This is usually achieved via innovative interactive activities, such as product tutorials, which can be viewed via social media platforms.
Make Sure to Target Boomers
Before the occurrences in 2021, older adults, especially those from the baby boomer generation, luckily discovered social media in greater numbers. For this reason, another huge social media rule in 2021 would be to have a greater focus on marketing older audiences on social media. What is more, the older adult from the boomer generation are tech-savvy and have a lot of interest in scrolling through social media. These people are known to be faithful to their preferred labels.
Go Live on Social Media
It was in the year 2019 that almost one in five Facebook videos went live. Then in the later few months of the same year, it was seen that the YouTube users spent more than 284 hours watching the live sessions. In 2021, when many marketers were already compelled to participate in conventions, festivals, and other online marketing interactions, it is not surprising to consider that 2021 live stream figures increased. At present, many brands that are taking the help of Facebook marketing, Twitch, and Instagram are taking the help of the live streams to get in touch with their audiences. From tutorials to ad content, there is so much more which these brands show online. This form of content keeps your fans engaging with your brand by putting an experience that they might otherwise not be interested in attending straight away on their screens.
Embrace Gaming and VR
As per the survey, the number of social media users identified as gamers has shot up high; this is up to 10 million. The social media reports have revealed that the largest increase in gamer identification occurred in the lockdown period of 2021. Therefore, companies like Facebook came up with Oculus that launched VR and gaming products. Also, some others like Twitch kept expanding more and more with gaming features. Hence, it is crystal clear that social media and gaming experience go hand-in-hand in 2021.
Hence, for all the small and medium-sized marketers, gaming-related ads can certainly be inaccessible now. However, with Facebook and many other networks, you can launch certain tools that help you conduct in-game advertisements. Therefore, if you are new to social media marketing, make sure that you keep an eye on gaming promotions.
Authenticity is Important
Due to the pandemic wave, many brands faced a crash down, and hence a lot of major events went to a halt. Today, customers need much more than big offers to support, recognize and reinvest in a company. At this stage, several brands have come to the fore by promoting individuality and their human element in social media. Although some companies have talked specifically regarding their opinions on COVID-19 or other news stories, others have demonstrated credibility by connecting their users via user-generated posts or consumer testimonials. If done genuinely, both approaches will help companies win confidence from their viewers while raising visibility as a business that cares about other people.
Conversational Marketing is a Must
The process of interactive marketing is not new and has been in action for years now. Besides, almost all of the top brands we love and know make it easier to connect to them through social media messaging platforms at any time. In 2021, with more communications platforms than it has ever been, customers need more information to make a worthwhile investment. A balanced mix of artificial intelligence and social contact will allow marketers to operate on social media effectively while also giving customers the credibility they will need to ensure that they trust a company and make purchases.
Provide Creative Content
Well, all of us have witnessed the craze of reel videos on social media nowadays. Apart from interacting on stories through Yes/No, poll content, and so on, there is so much more that people prefer watching on social media. Hence, choosing to make such types of short yet creative content will help you gain a lot of recognition. As social media interest begins to diminish and more users swipe continuously through updates while lonely at home, hence at such times, it is only these snackable contents that can help you get a hold of the audience.
Take a 'Less is More' Content Approach
It has been seen that last year, companies focused more on creating thoughtful and meaningful content, even if it is less. They spent very little time churning out the huge amount of social media content and rather focused on quality. Experts recommend considering this one as a compulsion for all the brands. Hence, it would be better if you prefer providing quality and not quantity to your audience. Taking the 'less is more' approach would be a wise decision.
Wrapping Up!
Lastly, we can say that if anything that the marketers learned in 2021 is to pay attention to the audience's needs. Furthermore, more social media consumers want companies to have clear content that expresses the shared social issues and goals. Social media marketing in 2021 will be about communicating with customers more transparently and honestly. To have high-quality guidance on social media campaigns, turn to the social media marketing experts for help.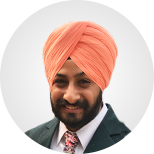 Having mastered every aspect of Social Media Marketing, Gurpreet Singh employs his leadership qualities as Social Media manager.  He believes that writing is an effective medium to communicate to many. He considers his blogs as the medium to share his perspectives about the changes in the industry.