For anyone who wants to know how to run a thriving business in this age where everything we could have is at our fingertips and everything is accessible on the Internet, we need to stand out from the crowd. To market your products and services, along with a website we need to reach out to our audience through various social media platforms. Although social networking sites such as Facebook and Twitter can provide a competitive edge for your business, there comes a necessity for a visual search engine like Pinterest. Pinterest is a social media and image-sharing platform based in the United States. It's much more than a social media platform. It is a visual search engine and productivity tool, as well as the United States' fourth most popular social media site. Some flourishing businesses like  Apple, Walmart, and Lowe's are capitalizing Pinterest ground with their marketing strategies and it is good to know that there's ample space for start-ups,  bloggers, and entrepreneurs to leverage the power of pins and group boards. There is power in investing time and effort in this visual media platform. Here are some mind-blowing Pinterest facts:
A pin is about 100X more wide spreading as compared to the tweet

Each great looking pin can generate 2 page visits and 6 page views

Ecommerce businesses get a lot of benefit from pinning as each pin has the power to generate 78 cents

The lifespan of a pin is relatively higher than a post on Twitter or Facebook. ( 24 minutes on Twitter and 90 minutes on Facebook.)
Many bloggers prefer Pinterest because it can bring in more traffic. So, how can you bring more grip on your business from Pinterest? Here are some tactics you can use to lift your Pinterest strategy and get enormous traffic.
1. Make pin-worthy images:
What makes Pinterest so captivating and addicting is the high-quality images. As Pinterest is a visual search engine and people are more affiliated with visual content, you should pay more attention to image perfection. However, it is not just enough to use any image, you need to optimize it as well to get more engagement. So, what makes a fantastic pin image? Let's look at some tips to keep in mind when making a pinnable image.
Pinterest favors taller images more than wider ones as 80% of the Pinterest audience consume feeds over the mobile and so vertical images are compatible. Pins which show a ratio of 2:3 or 4:5 are perfect for a catch.

Longer pins got more views as they are likely harder to skip.
So, Let's have a word about the aesthetic sense of the pinnable image!
 As Pinners enjoy looking at things more than they do at faces, we encourage to create no face images.

Vibrant colors images work well. You can use colors like lime, pink, red, etc.

Contextual background plays an important role. Choose backgrounds that adds to your overall image.

Lightness is another important thing to look at. The lighter the image the 20 times better it performs than the darker images.

Images that inspire or evoke emotions are great.

Images that show step-by-step directions on how to complete something like a DIY.

Images that display data, statistics, and facts on a specific topic.

Make your brand logo big if you're going to include it in your image so that it is seen in the  grid view on the mobile phone.

Use high-quality images and professional photos and graphics.

Avoid having a variety of irrelevant random objects or products on the images.
To know the most relevant image to your website's content, start your research by browsing through the Pinterest discover page. This will help you know the most popular pins on particular topics. To explore further and know people who like the same content, you can try searching for the domains of your competitor's in the Pinterest search box. This way you can always be updated about the interests of your target audience.
Now the next step  is to know what pages on your website need pinnable images. The website analytics will help you here in finding the top content pages on your website or if you have an e-commerce store, the shopping cart analytics will help find the top products to measure the conversion rate of the products.
2. Motivate Visitors to Pin Your Images 
Exclusive Pinterest users will  have a pin-it button on their browser or mobile devices, but new Pinterest users are not likely to have any tools to make it easy. Focus on making it easier for every visitor on your Pinterest page to pin your images. Pinterest offers different ways of pinning, you can add buttons to your web pages allowing visitors to pin your images easily. If your website is built on WordPress, Squarespace, Tumblr, Wix, or Blogger, they offer plugins or features helping you add Pinterest buttons to your website. These buttons are shown on an image when the visitor hovers over it or appears in a form of static pin on the page, enabling visitors to pin the specified image or any image on the page. Preferably, you'll want to offer both a hover-over and a static pin-it button to make sure that every visitor sees the option to pin their favorite image to be more accessible.
3. Pin at the proper time
Though it may sound hilarious, posting at an apt time can catch the audience's attention. It is all a number game. Every hour there are hundreds of pins shown on Pinterest. So, what is the probability that your pin will get noticed? In your Pinterest marketing strategy you would want to have the most repins. You would also want lots of people to repin your post so that it's shown more often to new users. For this to happen, you need to find the best time and day to pin. It would be wise to pin when your target customers are on Pinterest.
As per the Pinterest marketing experts, the best time to pin is on Saturday morning. However, for the fashion and retail industry, the peak time is Friday after 3 pm. 
Do not pin during normal work hours as people are busy with their work and your pins will not get the attention.. If you want to more strategically target your audience, take a step further and look at the analytics report and know how your audience spends their time on Pinterest and from where they come. The analytics also help you quickly find your audience's demographics. This can help you gain a better picture of the right time to pin to reach your target audience.
4. Try for Rich Pins
Rich pins are the one that hold extra details helping pins get prominent on the Pinterest feed of the users. The extra details above and below the picture on close-up, as well as the bold title in your feed, help you recognize these rich Pins. If anything changes on the original website, it's possible that the Rich Pin updates will represent it. Rich Pins are a free product that everyone on Pinterest may use. You can find rich pins for products, recipes, places, articles, movies, and apps. The two most popular Pinterest rich pins are for articles and products. If you are accessing rich pins on mobile devices, they are shown as favicon next to the  article, while on the desktop they are shown as favicon with bold titles. The bold titles enable rich pins to be prominent on the user's Pinterest feed, thus, increasing the chances of being observed and clicked on. Getting a larger crowd to follow is essential, but surprisingly it may not be as important as it may seem. There are boards that have less than ten thousand followers but generate traffic and repins as a board with one lakh followers. Well! The trick to growing your followers is to create pins that will reach non-followers. Now how do we do this? For this reason, Pinterest is designed on getting people to follow interests more than specific users or boards. To find out how many people follow a particular interest you can type http://www.pinterest.com/explore/(your-words). To generate higher amounts of followers, post relevant and eye catchy pins to attract your audience. When you provide them more relevant pins, Pinterest will display your pins more often on the user's home feed, helping you to conclusively reach millions.
5. Leverage Pinterest group board
Pinterest group boards are great for attracting more crowds to your website or blog. It is a community board where other Pinterest users can pin. If popular, they can help give you more exposure. Join a community board to swiftly gather followers. However, you need to consistently pin to a group board as other followers of the board will see the pins and may get interested in your board. If they like what you pinned, they will surely follow you. A people icon on the right-hand side of your board signifies that it is a group board. But the question is, how can you find relevant group boards? The simplest way to do so is to search on Pin Groupie. Just enter a keyword like blogging and see what's out there.
There are other ways to join a group board as well
Connect with the creator of the group board, pin the content they have uploaded and start a conversation with them. Simply commenting on pins will help you build a powerful network.

Visit the creator's blog and leave your comments there. This will enable the creator to know who you are and generate trust in you. Then you can ask them to join their Pinterest board.
To add it further, getting a larger crowd to follow is critical but surprisingly it may not be as important as it may seem. There are boards that have less than ten thousand followers but generate as much traffic and repins as a board with one lakh followers. Well! The trick to grow your followers is to generate pins that will reach out to non-followers on Pinterest. Now how do we do this? For this reason, Pinterest is designed on getting people to follow interests more than specific users or boards. To find out how many people follow a particular interest you can type. For this, you need to post appropriate pins that will attract your main audience as you already know their interest areas. When you start to provide more appropriate pins, Pinterest starts displaying your pins to more audiences. This is because Pinterest has "Picked for You" or "recommended for you" features on a user's home feed allowing you to conclusively reach millions.
In conclusion, Pinterest can be a great source to generate organic traffic to your website. However, to be successful, you need to know the images your target audience is interested in. Happy marketing!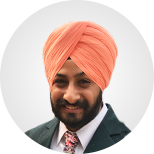 Having mastered every aspect of Social Media Marketing, Gurpreet Singh employs his leadership qualities as Social Media manager.  He believes that writing is an effective medium to communicate to many. He considers his blogs as the medium to share his perspectives about the changes in the industry.