Pinterest has now been gaining immense popularity amongst content creators and designers. But Pinterest for business has been gaining a huge amount of popularity because of its unique features. Also, Pinterest's ability to group and showcase ideas is a contributing factor. A person can find a "board" of their interest and can get hundreds of ideas in a matter of minutes. Brands have taken a notice of this and start using Pinterest to reach a wider set of audiences. 
In this blog, we will cover some basics of Pinterest and some of the more advanced things related to Pinterest which is causing a major disruption. Pinterest has become a go-to for businesses because of the charm of the visuals. Ideas that can be. Pinterest is the creative hub with an array of ideas "pinned" for viewers. If you still have hesitation as to why you want to use Pinterest for business, let's give you some reasons:
What is the purpose of Pinterest?
Pinterest is a Visual Search Engine. As simple as that. Some dynamics are similar to other Social Media apps. However, you can use Pinterest for almost any creative activity. You get multiple creative ideas on Business. From clothing to recipes, and art everything is covered on Pinterest. You can pin your interests on your "boards". Just like we said it is a "graphical Search Engine." Now, as you have got a fair idea about the purpose of Pinterest, let's understand:
Why use Pinterest for business?
Let's start with some juicy stats which will help you understand just how large the potential for businesses on Pinterest:
Pinterest ads can help marketers reach a potential audience of 225.7 million people.

The largest age demographic on Pinterest is those aged 50 to 65, comprising 38 percent of all users.

In 80% of cases, men who use Pinterest report finding "something unexpected that surprises and delights them."

On Pinterest, 97% of all top searches are unbranded.
All these stats showcase that Pinterest is a growing brand and has an untapped potential that is yet to be explored by businesses. However, the early bird gets the worm and we want you to successfully tap the potential within Pinterest. As you have understood that you can use Pinterest as a business tool, let's understand how to get started:
What is a Pinterest business account and how to create it?
As it is with other Social Media Platforms, business accounts have to be registered or signed up separately. A business account comes with a host of other benefits such as:
Ad-running capabilities

Monitoring Analytics & Insights

Set up Shop button on Pins
Let's understand the steps how to create Pinterest Business Account:
There are two ways to create a business account on Pinterest. So, if you have an existing account on Pinterest you can change that to a business account or you can sign up as a new business account.
Change existing account as a business account:
To convert an existing social media account to a business account follow these steps:
Log in to your "

existing account

" and open the "

settings

" by clicking on the "

menu

" on the top

right-hand side

of your screen.

Once Settings is open, select "

Account Settings

" on the

left-hand

side of your screen 

Scroll down to the "

Account Changes

" and click on the "

Convert Account

" button.

Then choose the option of "

Convert to Business

"

Once you click this you will be asked the information related to your business. 
You can also link your account to any other business account and click on "Add an account" after going to the "Settings" and then "Account settings".
Create a new Business Account
To create a new business account you have to simply visit the

Sign-up as business

page of Pinterest.

Enter your professional Email address. Set up your password and enter your age. Make sure that the email address you are adding is unique and official.

Then it will ask you to describe your business from the description.

Furthermore, add the link to your website. This is important as you can display this link to your site with different posts and pins.

Now you are ready to run a Business account on Pinterest with all the marketing tools that are available on Pinterest.
How to use Pinterest to promote business?
Pinterest is a great medium to get the word out. Recently a lot of brands have started promoting content on Pinterest. There are multiple ways to promote your business on Pinterest. However, we will discuss a few of them to build a much greater understanding So let's start with:
Get your basics straightened out
Like every other Social Media handle, it is necessary on Pinterest to have a great Social Media presence. That starts from your Profile logo, cover picture, Description, and "feature board". A feature board is something unique to Pinterest. It showcases an amalgam of all your ideas. This is important as visitors will come to your page and see the feature board and decide whether you are worth keeping an eye on or not.
Build Engagement to grow business on Pinterest:
Group boards are a great way to get in touch with the relevant audience on Pinterest. You can also create a group board to attract the relevant audience and also, hold control over the board as well.
Usual sharing of the content, and liking competitors' pins can help tremendously to attract a relevant audience to your profile. 
Watch out for trends prediction by Pinterest. You can hear what's going to work on the platform straight from the horses mouth. Try to build engaging content around it.
Be as creative as possible
We are not going to lie. Pinterest is a creative space. People who do follow Pinterest are passionate about one thing or the other. So as a business, If you are unable to provide engaging or unique content on Pinterest then chances are slim for your business to do well. On the other side, if you are creating content that is unique and creative then it is really easy to stand out on Pinterest. 
Follow the below-mentioned points to build engaging content:
Use Images and Videos equally. People think of Pinterest as a more image-based Social Media Platform. However, according to recent stats People watch close to 1 billion videos on Pinterest.

Create the images and videos with consistent branding.

Pins posted should be demonstrative.

Include a description that is concise and accurate.
Follow Seasonal/festive trends on Pinterest for business
Pinterest is used widely by audiences who are enthusiastic about the trending stuff. Be it planning trips, interior designing, or What's new in the exotic cuisines. So be up to date with what's going on and try to keep up with the latest trends on Pinterest. Plan a content calendar a month in advance(suggested by Pinterest) to utilize the trendy nature of Pinterest to its full potential.
Pinterest has some similarities with SEO
This has been our observation that the business that tends to do better on Pinterest have used certain sets of keywords on their pins and description. Do comprehensive research and see what people are searching for. Understand user behavior. Use Pinterest analytics to its full potential. Use hashtags with your pin to reach the target audience. However, do not do hashtag stuffing as it might make your pins not easy on the eye.
"Rich pins" on Pinterest have the option to include Metadata in it which also makes it similar to the SEO.
Use Pinterest Ads for businesses to Promote Pins
Well, Promoted pins coupled with engaging content can boost your business tremendously. It allows you to target more than a million users( who are comparatively untapped). Use the Ads Manager to create your first Ad.
Now as we have discussed let's try to understand a different perspective:
What is the appeal of Pinterest to marketers?
Marketers can look at Pinterest as a relevantly untouched audience market and access it. For example "Rich pins" as discussed above is a great example of how Marketers can utilize Pinterest for business. There are "4 types of Rich Pins" that marketers can use to get the best value out of Pinterest:
Product Rich Pins provide you with the latest availability, price, and product information right on your Pin.
Recipe Rich Pins make it easy to pin recipes from your site with a title, serving size, cook time, ratings, diet preference, and an ingredients list.
Article Rich Pins incorporate the headline or title of the article, the description, and the author's name from your site.
App Rich Pins allow you to add an "install button" to a Pin so users can download your app without leaving Pinterest.
Imagine the possibilities that with the variety of pins you can create. You can incorporate the type of content that you create on other Platforms with Pinterest and amplify your reach. Learn more about the other types of pins from Pinterest's side.
Commonly Used terminology in Pinterest
Pinterest has some terms which are used on it which can create a certain confusion amongst the new users. We have covered some important jargon to familiarize you with Pinterest.
Pins Post or content that you share on Pinterest
Pinner User of Pinterest
Repins Pins that are reshared by another pinner
Promoted Pins Pins that are Ads by businesses.
Rich Pins  Pins that gather metadata and display it in a presentable form on Pinterest.
Collections Pins Pins that display similar products. Useful for "Shop the look pins"
Idea Pins A newly introduced format that takes a step-by-step approach for the brands to curate content according to your brand colors, and fonts
Boards are used to segregate pins according to the topic or theme.
Group Board  Group Boards are shared by multiple users to post content
Secret Board  These boards can be used privately to collaborate on any specific topic of choice.
Protected Boards These boards can only be seen by the users and the people who have the link to that board.
Now, that you are familiar with the commonly used terms on Pinterest, we took it upon ourselves to answer:
Some of the most common questions related to Pinterest
If you are starting on Pinterest for business these questions might come up. We have tried to cover some common questions beforehand. If you have some other questions leave them in the comments and our Social Media Experts will get back to you.
Why can't I see my Pinterest boards?
There can be several reasons:
Check if you are logged in from the correct account. 

Check whether you have deleted the boards.

You logged in via a different method(used Gmail, Facebook). Use the correct login method.

You have archived the board

Or Pinterest might've removed your board because of a community standards violation.
For more information check here
What is a destination link on Pinterest?
Your Destination link enables you to link your Pin to a website.  As a result, your followers will be taken to that website when they click on your Pin. This is a highly useful and recommended feature for the businesses
How to follow a topic on Pinterest?
You can find several topics of interest on Pinterest by logging in and clicking the tab under your username.

For the mobile app, you can click the compass icon on the bottom and choose your subject of interest and find the topic of choice.
How to save videos on Pinterest?
Well, this is a controversial topic as this might get you into copyright issues. However, there are several online tools available that can help you download videos or any other content from Pinterest. Nevertheless, we would not recommend doing this as content theft and plagiarism will land you in trouble.
We would like to conclude this topic on Pinterest for business but would love to hear if you have some more topics that you want to know about Pinterest. We are constantly looking for suggestions and ideas as well.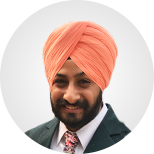 Having mastered every aspect of Social Media Marketing, Gurpreet Singh employs his leadership qualities as Social Media manager.  He believes that writing is an effective medium to communicate to many. He considers his blogs as the medium to share his perspectives about the changes in the industry.