Did you know that out of all adults who have access to the internet, 71% are social media users? Now imagine the presence of potential customers for your business on these platforms! Without any doubt, these mediums have become an inseparable part of our lives and an unavoidable part of digital marketing strategy. 
Facebook, Instagram, Twitter, and Snapchat, all these are effective to connect to the audience. Wait! What about Pinterest? 
Pinterest
Founded as an image sharing platform, Pinterest has become the source of saving and grabbing more ideas and information with images. As of 2021, this platform has monthly active users of up to 478 million. 
So why not choose this platform for marketing. Let's discuss about this marketing in following points:
Pinterest as  a Marketing Platform
Talking of Pinterest as a marketing platform, it can for sure pave the way for you to enhance your business. One pin can be the beginning of ten pins, and it can later turn to another ten pins, and it would go on.  
Just like other social media platforms like youtube marketing, twitter, snapchat and others, Pinterest can bring a plethora of advantages to your marketing plans. Starting from increased awareness, it can be the source of additional traffic on the blog, increase in sales, and new leads. 
Importance of Pinterest Marketing Strategy
However, these are not the only reasons to know why to go for a Pinterest Marketing Services. This platform is crucial in other ways as well: 
Conversions
Even though all social marketing strategies initially aim at attracting buyers, Pinterest has increased the chances of the same. This platform can lessen the time frame between discovery and conversion. In short, the audience can reach the source directly. Well, it will not be wrong to state that Pinterest often acts as a search engine at different stages. After all, many people reach here to conduct their research for any of their plans. Some even look up to this platform for inspiration. Moreover, you can look up to it for audiences!
Inbound Link  
Pinterest can be your source for more inbound links. Each pin consists of a link, which makes it easy to lead it back to the source of the image. This way, several visitors can come to your site by simply sharing pictures of the products on Pinterest. An image search can turn into your brand search. Getting inbound links through Pinterest is another advantage, which can increase the traffic on the site and enhance the other process of marketing as well. 
Taste and Preferences 
For any business to grow, it needs to know about the preferences of its audience. Pinterest makes this step easy as by following any of your followers, you can learn about what inspires them. It can give you a perspective of the person's mind. This person is one of your audiences, and this process can help you learn about the taste and preferences of the audience. 
Pinterest Marketing Strategy
By now, you have understood that Pinterest is essential to be a part of your marketing strategy. However, do you know what exactly you should do and what not? Don't worry! Here is the list of do's and don'ts for your Pinterest marketing strategy. After all, a strong strategy is the secret of a successful campaign!
Do's of Strategy
Your profile on any social media platform is your face on that platform, and the same rule applies here also. In your profile, include the description of the business, along with the relevant keywords, which can make you reachable. Next, your profile image! Yes, it should be presentable, but along with that, make sure that if you want to display your logo, it is clear enough. Don't forget about the cover picture.
Also, create 10-12 boards at least and pin a minimum number of 9 pins. 
This way, you can keep your board active and enhance its appearance. Eventually, it can pave the way for the audience to intensify the board. 
As the name specifies, secret boards on Pinterest refer to the private boards comprising secret pins. This board can make it easy for you to pre-plan. Keep up the content that you will require and create another board. After this, all you need to do is pin the image and insert the original pins URL. It can simplify going back and pinning it again publicly. 
Great things take time, and so does the period of gaining followers. It makes it obvious that you won't have too many followers initially. There is no secret to gain the audience's attention other than engaging with them and gaining their trust. You can connect with people through the medium of direct messaging.
Connect with the ones who like your pins and express your gratitude to those who pin your images again. You can also set the group conversations to begin the engagement. Do whatever you find the right way, but do not wait for the audience to come and follow on its own. 
Following your competition should be the must-do thing for you. Don't worry! It is no envy sign! Learning about competitors and connecting with them can simply learn from them. You can learn about the industry trends and several other things.  If you go ahead and follow them, more are the chances of them following you back. If you choose to cross-promote and support each other on different platforms, you can have more possibilities to reach a wider audience. 
Blogs are great ways to share information and experiences. At the same time, it can help you gain traffic to your site. Guess what? You can avail of blogs even if you are not the author. You can reuse those content pieces as infographics and share them. Yes, it is the same as using already published content, but you can present it in a different way. At the same time, you must give credits to writers. 
You see, Pinterest marketing strategy is all about displaying! This gives you more importance to share the eye-catching image to gain more engagement. Rest you know how engagement with audiences can help you out! Also, if you become the source of attractive and high-quality illustrations on the blog posts you share, you will increase the possibilities of pinners pinning your pictures on boards. 
As the name introduces itself, rich pins are all about being more than normal. Rich Pins can include all the extra information found after clicking on the pin. These pins can pave the way for you with more traffic to the website. However, this would need you to first learn about embedding, Open Graph, and schema.org, at least the basics. 
Collaborative Boards or Pinterest Group Boards can have several users to pin to. Even though other Pinterest users can have permission to share pins, only one person can remain the owner. This board type can pave the way for you to reach a broader audience, which would not have been possible through other ways.
What Else?
Forming a strategy can require you to be particular about several things. Apart from the above-mentioned tips, make sure that you pin regularly and also cross-promote yourself on other platforms if possible. All in all, avail of all the features and gain everything that your marketing plan aims for. 
Don'ts of Strategy
Don't Always Pin your Content
Don't settle down for your content always! It is essential as your goal is to ensure that you have fresh content for your readers. Instead of it, you can pin content connected to your business, motivational quotes, products, and articles of your choice.  You can also create another board that can cover the interests of your readers. It will eventually open the way for you to showcase the best products of your business along with them. 
Wisemen have said that dilly-dallying can obstruct your way. Don't miss out on this golden rule in your Pinterest marketing strategy, and be a consistent pinner!  Your followers want and deserve to have something new for each day. That is why you have to make sure you provide them with it. You can even leverage automation tools or schedule the pins manually. 
Don't be the One with Incomplete Boards
Empty or incomplete pin boards not only decrease the appearance of your board but can also affect your marketing strategy. No one would want to connect or follow you with an empty or incomplete board.  Also, you don't want to have something unattractive to display and aim for people to follow you.
It is alright to get attracted by several things you find online, but something that's not right is adding all of it to your pinboard and making it look unorganised. Doing this can make a mess in your pinboard. Seeing it from the audience's perspective, pinners would find it hard to seek what they wanted to look for. It is alright to keep posting interesting pins, but at the same time, be sure that it is somehow related to your work. 
Don't Gather on a Single Board
Instead of pinning images of all kinds to one board, you should pin them into different boards. Just like mentioned earlier, pinning everything under one board can make it look unattractive and less appealing. That is not what you want, right? As you need more followers to come to your board, is it not wise to keep it organised with specific themes for every kind of board?
For any marketing initiative to bring effective results, it is essential to measure the outcome of your efforts lately. Measuring efforts can let you know about the tastes and preferences of your audiences, the loopholes in your attempts, and whatnot! Adding more to the information, Pinterest has its analytics platform, which you can put to best use here. You can make use of different social media tools and gain enhanced insight into the traffic of your Pinterest.
Wrapping Up
Just like an attractive and appealing pinboard, your marketing efforts can be your source for a plethora of benefits. What you need is a combination of the right platforms and the right moves. Pinterest, being a platform with millions of users, can be your tool for reaching up the potential audience for your business. It gives more importance for you to emphasise the right steps to be pursued and mistakes to be avoided.
This blog was focused on bringing the set of to-do's and don'ts for your Pinterest marketing strategy. Do not clutter around your board with pins of all kinds but do pin the content that is appealing to your audience. Don't go ahead without completing your profile and never make use of low-quality images.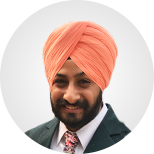 Having mastered every aspect of Social Media Marketing, Gurpreet Singh employs his leadership qualities as Social Media manager.  He believes that writing is an effective medium to communicate to many. He considers his blogs as the medium to share his perspectives about the changes in the industry.