Over the years, digital marketing has taken an edge over the traditional forms of advertising. From a search result on a search engine to a regular post shared on a social networking site, the intent of promotion is everywhere.  Even Snapchat is not untouched by this strategy. Earlier launched with the name Picaboo, Snapchat is what these names describe.
Snap or chat, Picaboo, and repeat, that is the process of being in this application. As a user, you can also measure the track of your snap through streaks. There are innumerous features to explore as a user, and at the same time, there are many ways for business owners to advertise their products and services. 
Snapchat for Business
For businesses to frame a Social Media Marketing Strategy, they need to draw their attention towards their audience.  The platforms with the immense presence of the audience are what you need. At an estimate, Snapchat has active users of 229 million, and each of them can be your potential customer, depending upon which products you deal in. In fact, this platform has more users than other platforms, including Pinterest, Twitter, and Linkedin. Did you get the hint? It is time for you to include Snapchat in your marketing plans. The platform of Snapchat can be your tool to avail of all the perks. 
In this blog we'll learn the following things about Snapchat:
Keep reading to know about the benefits of Snapchat for businesses and the features that business owners can avail themselves.
Various benefits of Snapchat are:
Every business can have a different age group to target, and the platform you choose to promote yourself is essential here.  Snapchat can be your method to connect with a younger age group, falling under less than 35 years of age. Less than half of the Snapchat users, you can't find them on Instagram. Not that you should not go for marketing on other platforms like Instagram Marketing, Pinterest or likewise, you should, but at the same time, not leave platforms like Snapchat. 
The bottom line is, your marketing plan is inclined towards the age group you want to target and if you are targeting people less than 35 years of age, Snapchat is where you need to be. 
Avail of all you can get, get all you can avail from!
Another benefit of Snapchat is it's filters. Out of many filters, Snapchat also extends on-demand geofilters, and they pave the way for users to use a specified/ custom filter on their snap. Every snapchatter must be aware of the way it works, so you have to browse the options of filters that the application offers. These filters only will have their design.  After reaching there, you need to share the picture with your friends. Coming to the benefits, Geo filter can filter local users and possible customers for a business. The importance of local marketing can't be left unseen by brick and mortar enterprises. 
If you are a snapchatter, you must be aware that Snapchat can assure you the privacy of your conversations with your friends. Snapchat marketing can make it easy to share things with friends which won't be revealed to anyone without access. You can give them a glimpse of any new product or service, and you can share the behind-the-scenes sneak-peek. If you share an inside look with your audience, you can take your engagement to another level. 
If you become the source of valuable content, you will become the audience magnet, which is what you wanted initially. Even brands like Taco Bell employ Snapchat as the source for exclusive content. It includes a sponsored lens for snapchatters. All in all, you can take your content game to another level with Snapchat, which can entice your audience.
How to set your business account on snap chat?
Just like other social media platforms, you need to create business accounts on Snapchat as well. You should know the do's and don'ts of Social Media Marketing to understand marketing.
To create Snapchat business account, the process includes our-step process:
Installation
To embark on your journey of Snapchat marketing, first of all, you need to install the application on your device from the app store or play store.
Creation
The second step involves the creation of an account if you are not a snapchatter as yet. The process is pretty simple and the same as other platforms. This is just like creating a channel on youtube, fb account, twitter and so on.
Set-Up
Next, you have to set the business account through Ads Manager. You can access it through your Snapchat credentials only. 
Get-Set-Go
The final step involves getting started with your marketing campaigns, which was why you came here. 
Proven Strategies for Snapchat Marketing
You have learned about using Snapchat as a tool for marketing and also about getting started. However, do you know how to make the process of Snapchat marketing simpler? 
Here follows the list of the strategies for marketing in Snapchat:
1. Make your Audience Aware
If you have just joined Snapchat, the first step you need to take is to let your audience know about your presence.  After all, you also have to focus on increasing your followers. As Snapchat is different from other platforms, you will have to employ uncommon methods for it. For starting, you can promote your presence on Snapchat through other platforms, including Facebook, Instagram, Twitter, or LinkedIn. Apart from it, you can go to the add me URL. For this, you have to go to settings first on the right-hand side and tap on the username, which you can find in the dropdown. 
You will reach the"Add Me" URL. 
Not just this, you can also go for creating snap code. Eventually, your goal is to add the URL or snap code to your marketing attempts, which you can do through other platforms. 
2. Strategise Your Plan
Working step by step is essential for any plan you want to initiate. Coming to the marketing strategy that you follow, you have to be particular about certain things. As mentioned earlier, the audience you can find on Snapchat is usually less than 35 years of age, so before spending your time and potential on Snapchat, make sure this platform is the right fit to speak about your brand. 
Next,
For any marketing strategy, it is essential to learn about the trends, as it helps in staying directed.  By researching on Snapchat, you can learn about what exactly your competitors are doing, so you can implement the right decisions for your research as well.
Not only do objectives are essential to staying in a direction, but they can also pave the way to track success on your steps. 
Content calendar refers to the scheduling regarding the time to publish your content and engaging with your audience. This is essential to keep you on the right track, which can help you attain your marketing goals. 
3. Use Snapchat Insights
As the name speaks for itself, Snapchat Insights are the analytics tool that can give the insight of viewers of content you share on Snapchat. It can help in learning if the content is working right and then plan and alter accordingly. These benefits are what the name only tells, but Snapchat metrics can help track views, reach, and demographic information, which can be the core of your marketing strategy. You can even use other social media marketing tools to measure these metrics. However, remember, whatever means you choose, it is essential to learn about these metrics.
4. Interact with other users
The importance of user interaction is not unknown to you. However, unlike other platforms, Snapchat has a split-screen design. This separates the content shared by contract and other brands. Now, coming back to user interaction, you can do that by
Viewing stories and snaps of others

Collaborating with other brands

Viewing all the snaps received

Responding to snaps and stories

Creating content regularly 

Following other users
5. Use Snapchat features
Snapchat has a plethora of features, and you need to avail all of them. Different features of Snapchat can make way for the creation of engaging content. You can:
Write captions on snaps

Share narrative with multiple snaps

Add details, including time, date, or location. 

Go for polling

Make use of the Snapchat filter

Use Snapchat lens

Add music on the background of snap
6. Make use of AR lenses
You can use AR lenses to change the method you look at. It can add 3D effects, characters, transformations, and objects. This feature is used by more than half of the users daily. If you go ahead with building sponsored lenses, which can speak for your brand, you can have a plus point for your act of marketing. If you want to create them, you can do that through Ads Manager on Snapchat. 
For this, you need to frame your design in 3D software, even 2D would work too. Next, you need to import that to Lens Studio and ensure that you are following the guidelines framed by Snapchat. 
Make sure to include your brand name in it.  After this, you need to animate the lens studio with effects. Wait for the approval from Snapchat before you can go further, publish, and promote it. 
7. Stay Updated
The introduction of new features happens now and then in different applications, including Snapchat. Now that you are putting so much time and effort into marketing through Snapchat, do not forget to stay updated with them and implying them when you revise your advertising plan, include them in it. So always be aware about the new rule of SMM Marketing. 
All in All
Marketing is an essential element for all kinds of businesses, and so is staying updated with the leading methods for it. For promoting a product or service, it is necessary to reach the right set of audiences. As for businesses whose target group is less than 35 years of age, Snapchat is the right place to be. Just like other social media platforms, using Snapchat for marketing is essential.
At the same time, you also need to draw your attention to the right method for doing it. First, turn your account into a business account and then form the strategies. Next, ensure that your audience is aware of your presence on Snapchat. After that, make sure of using every feature of Snapchat to its best. That is how you can attain success on your marketing plans for Snapchat.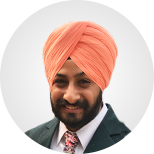 Having mastered every aspect of Social Media Marketing, Gurpreet Singh employs his leadership qualities as Social Media manager.  He believes that writing is an effective medium to communicate to many. He considers his blogs as the medium to share his perspectives about the changes in the industry.