Technological growth has brought us endless benefits, and social connectivity is one of them. From seeing a relative sitting miles away to connecting with the industry experts, everything has become a matter of a few clicks. With nearly 770 million active users, LinkedIn is one such networking platform. Business and employment-focused, this online platform has gained popularity in the past 13 years.
Owing to such a wide audience presence, it has also become a portal for businesses to meet the right people. Apart from the job seekers and professionals, this can include the target audience. That makes it essential to bring the focus on the marketing efforts for Linkedin. 
LinkedIn Marketing 
LinkedIn is a social networking platform to interact with professionals, and we all know that. This site is all about career advancements, industry connections, and everything connected with business.
On the contrary, LinkedIn is not about selling products or services just the way it is on other platforms. Due to this, you cannot go for hard-selling or other mediums of shoving your business. It is because of the type of audience present here. As an entrepreneur, this gives more reasons for you to frame your LinkedIn Marketing strategy shrewdly. We understand that you have a ton of other tasks to focus on, but marketing is not any less important. For this reason, we will simplify framing your strategy for LinkedIn Marketing.
Let's discuss the 12 point checklist given below:
Now elaborate these pints to make strategy for LinkedIn Marketing that works.
1. Define your goals
Defining your goals is the first step of yielding a successful LinkedIn marketing strategy. Besides the basic functionality of Linkedin of being a bridge between a business and an employee, there are various goals it can help you achieve:
Increasing brand awareness
A LinkedIn profile enables potential business prospects to discover your brands and contact you to talk about the products and services you offer. Skillful employees can discover your brand and become an invaluable asset to your business.
Having an active Linkedin company page can connect you to other business intellectuals of your industry and broaden the network with prospects, customers, suppliers, investors, and consultants. You can pitch them to ask for a favor that can be beneficial for your business goal. However, people do not like to give something away for free, think of something you can give back to them in return for a favor before pitching them.
Offer credibility and attract potential business prospects
Linkedin is one of the most trusted and credible social media platforms. It provides you a chance to look professional and offer credibility to potential business prospects. It enables potential business prospects to connect and get to know it closely.
2. Creating the Business Account
Just like creating a business account on Snapchat or facebook, you ought to make a profile for your business on LinkedIn. After all, you are going to meet your prospects over there. Here are the steps for creating the business profile on Linkedin:
Select the Work Icon that you can find on the right-hand side of the homepage.
Tap on the Create a Company Page.
Choose the page you want to create from the options available. It can include small business, showcase page, medium to large business, college or education institute. 
Fill in the details, including Page Identity, Profile Details, and company's information. 
Check your verification box and confirm the right of the act.  
Note: If you get a message with a red error, that is a sign that you have not met the requirements for the creation of the page. It can also mean that you have reached the limit for creating pages.   
After you have created the Business Page, the next step is framing your marketing strategy just like you are making strategies for Facebook marketing or for any other platform. The strategy includes:
3. Optimize Linkedin business profile
Your Linkedin business profile is the face of your business on Linkedin. It is an opportunity for you to engage followers, share updates and recruit skillful employees in your team. However, there are millions of pages on Linkedin. It is essential to do something new to catch the attention of your target audience on Linkedin. 
Follow these steps to create an effective business page on Linkedin.  
Create a comprehensive cover image
A cover image is the first thing a user sees when he visits your business page. It must excite the visitor to learn more about your company. Your cover image must depict the work culture, vision, and mission of your company.
Source:- www.rahulogy.com
The description section of your company's Linkedin page is a chance for you to showcase your expertise as a thought leader and build brand awareness and attract business prospects.
There are several things you must keep in mind while writing the description of your company. The most important of them is the inclusion of recent information. No one is interested in knowing about the award your company won a few years ago. Acquaint your visitors with the latest awards and recognition to showcase your authority as an established business in your industry.
You can also use the description section to insert the keywords you are targetting.
In Linkedin, the call to action is displayed right below the tagline. You must choose a CTA perfectly aligned with your marketing objectives. Linkedin provides five CTA options.
– Contact us
– Learn more
– Register
– Sign up
– Visit website
Linkedin enables you to add the location of your company. It provides you the liberty to add multiple locations. It is one of the ranking factors. It is essential for targeting the location-based search and increasing your brand visibility.
Optimizing your companies profile for location-based search enables you to connect to business prospects running location-based searches seeking services you provide. Improvise this trend in your marketing strategy to gain an edge over your competitor.
While you are making your Linkedin profile, it provides you with an option to create a custom URL for your Linkedin company page. It makes it easy for your followers and colleges to recognize and share your brand URL. Additionally, it makes your brand Url SEO-friendly and increases organic reach.
For some reason, if you have skipped the step of selecting a customer URL, don't worry. To claim a custom URL for your business page on Linkedin, Click on Admin Tools and select 'Edit Profile Url' options from the drop-down menu.
4. Share your Page
Your success journey on LinkedIn begins when you join LinkedIn and goes on till the time the audience itself searches and connects to your brand. In between, you need to make efforts to mark your presence first. For this, you can invite your employees. Notify them about your presence on LinkedIn via email, ask them to join and mention your brand as their workplace. You can use digital touchpoints for cross-promoting your presence on LinkedIn. This can include the social media channels, newsletter, and mentioning it on your website. You can also make use of invite connections that you can find through the Admit Tools dropdown. 
5. Conduct a competitive analysis
Competitive analysis is one of the essentials of making a successful Linkedin marketing strategy. It enables you to incorporate learnings from your competitor's Linkedin marketing tactics to strengthen yours. This process requires you to gather data from your competitor's Linkedin handles and use it to make a comprehensive strategy to excel your Linkedin marketing campaign.

6. Share Actionable Content
The audience on Linkedin is industry-specific intellectuals and highly educated individuals. About 45% of Linkedin readers comprises project managers, VPs, CEOs, and other senior management. It provides you the opportunity to connect to your industry intellectuals and establish your authority as a thought leader in your industry. You can also showcase your company culture and workplace to attract potential new customers and recruits.

Due to its B2B nature, several businesses get confused about the type of content they should publish. Here are some content types you should post on LinkedIn to establish your brand authority and establish yourself as a thought leader in your industry.
Keeping your LinkedIn followers updated with the content you produce on your business website is one of the best ways to build credibility. You can share the link of the blog with an image and a personal quote describing the whereabouts of the blog post. It is one of the best ways to bring quality traffic to your website.
Industry news and research reports
Linkedin is a business-to-business platform. Businesses use it to acquaint themselves with industry-specific news and research reports. By being among the first's to talk about a newly published study, you can significantly increase brand recognition and achieve your business goal. Keep yourself acquainted with the ongoing research and studies in your niche to improvise them for your business endeavors, and talk about it on your Linkedin handle to increase your brand awareness.
List posts and how-to guides
The list posts and the How-to guides are two of the most popular content formats on the internet. It is one of the best ways to showcase your knowledge and expertise as a thought leader in your industry. According to a recent study published by OkDork, 1800 to 2000 words long posts are most effective for increasing engagement on Linkedin. Write detailed guides to let other businesses know about your expertise and force business collaborations.
Quick tips refer to the one-line expression of an idea. It is a brief solution to a specific business problem. It is one of the best tactics for generating social shares and increasing brand recognition. Using an infographic or a text-embedded image is the best way to represent a quick tip. You can also provide motivational thoughts and insights into a business trend to enable a user to relate to your content.
Telling about your personal life is one of the best ways to connect to your target audience. However, looking at the formal nature of Linkedin, there are some limitations to the type of images you can post. Make sure to look professional and sound professional with a bit of personal touch in the status update. It is one of the best ways to showcase your character.
Source:- www.themanifest.com
7. Sharing Linkedin updates on Twitter and Facebook
Another way of increasing engagement on Linkedin is to link your Linkedin account with other social media platforms. Facebook and Twitter work best as an additional source of traffic for Linkedin.
Brands that already have an established account on Facebook or Twitter can use it to grow their customer base on Linkedin. It is one of the easiest ways of instantly increasing engagement on your business Linkedin handle. Linkedin enables you to synchronize content posting on Linkedin with other social media platforms.
Follow these steps to link your brand's Twitter handle with Linkedin:
Click start a post option present on the top of the Linkedin home page and write it.

Select Anyone+Linedin from the post visibility drop-down menu above

Select done and post.
8. Join Groups
Groups are a great place to initiate conversations, and this rule remains the same in LinkedIn as well. Yes, you can create your group, and we will focus on that as well. However, before that, you must know about leveraging already existing groups. Look for them and join them as they can connect you with like-minded professionals from your industry. Over here, you can also expand the reach of your content by sharing it. As groups have a wide audience, you can get an edge here. Regular posting can also solidify showcasing your expertise in the industry. Moreover, we cannot unsee the features of LinkedIn as a lead generation medium depending upon how regular you are with your content. 
9. Start Your Group 
Just like joining an already existing group is advantageous, starting a new group can come with more benefits. It is another way for you to generate leads. A new group can be your medium to build an expert-like reputation. Ownership of a group can present you as a leader in front of the audience. Now let's come to the next aspect, which is creating it. Just like every other platform, creating a group on LinkedIn is also no rocket science. You have to click on the 'create group option' available on the groups' tab. Add your details, and you are all set, but wait! You will have to choose between Standard or Unlisted. The difference between these group types is that anyone can view the Standard group on search results, while the Unlist group type is exclusive. Staying exclusive has its benefits, as it can put you in authority. 
10. Consider LinkedIn ads strategy
Linkedin is one of the best ways to increase engagement and look professional. However, the competition for the audience's attention on Linkedin is too high. Creating high-quality content is beneficial besides, it takes time to attract your target audience solely based on it. 
Linkedin's ads manager enables instant brand recognition and paves the way for the success of your marketing campaign. Follow these steps to frame an effective Linkedin marketing strategy. 
Choose an objective that best suits your goals for Linkedin marketing strategy:- 
– Awareness
– Consideration
– Conversion
Take your time determining the objectives. The success of your marketing campaign depends on it.  
Determine your target audience
Linkedin provides you with over 20 attributes to precisely define your target audience. Take your time determining the right attributes to provide LinkedIn with accurate data. Some of them are as follows:  
– Company size
– Company name
– Member school
– Member interest
– Member group
– Skills

Source:- www.linkedin.com
Selecting the right ad format is one of the essentials for the success of a marketing campaign. It requires adequate knowledge of paid marketing and expertise. At social cubicle, we provide effective paid marketing services and excel at ensuring the success of a marketing campaign. The ad formats offered by Linkedin are as follows: 
– Sponsored content
– Message ads
– Dynamic ads
– Text ads
For detailed information on the campaign types, visit www.business.linkedin.com. 
Set your budget and schedule
As the name suggests, it is where you determine the exact costing and schedule the start and end date for your Linkedin marketing campaign. Linkedin provides three options for bidding strategy: 
Cost per send(CPS):- Used for massaging campaign. You pay for every message delivered to your target audience.
Cost per click(CPC):- It is best for action-oriented campaigns such as event registration or Lead generation.
Cost per impression(CPM):- It is best for increasing brand awareness. You pay for every impression received on your promoted content.
Source:- www.Linkedin.com
Track the progress of your marketing campaign
Once your ad campaign is live, you can access the analytics from the campaign manager section. It enables you to track your impressions, clicks, social actions campaign yielded.
You can improvise the learnings from the live tracking into altering your ads, refining your target audience, and adjusting the budget.
11. LinkedIn Analytics
Analysing is an essential step in many processes. Same as you can view the audience and people who like your post on Facebook, you can see that using LinkedIn Analytics to enhance your marketing strategy. It can ease your efforts in keeping a track of the engagement and reaction. It can allow you to keep up with the facts about user engagement and reaction. It can maintain a record of the reactions of people to a page, the section they have found to be engaging. Learning about the said facts can give you a hint of amendments to be made in your marketing strategies. 
12. LinkedIn Live 
This platform has a plethora of features for you to avail of, and Live option is one of them. To add more to it, LinkedIn Live can get you more engagement as live broadcasts attract 24 times more engagements than the video published earlier. Whether for an interview or webinars, you can find a plethora of reasons to start with the live feature. If you become the source of solution for the questions and queries of the audience, you will get the revert as the engagements.
Final Thoughts
Marketing at the right platform is necessary for a business to expand, which gives you more reasons to learn about LinkedIn. Probably that is what you are aiming for and has made you reach here. Using this platform for marketing has several benefits, including the presence of industry experts. However, to ensure that you get the best return on your efforts, it is necessary to frame a strong strategy for Linkedin Marketing. Even though you can find a list of features to make the best use of and tips for Marketing, you also need the help of a LinkedIn Marketing Expert that can help you with strategy and implementation. 
FAQs
1. What is the best LinkedIn marketing strategy for small businesses?
Starting a business is an arduous process. There are several resources that a small business needs to accumulate. It includes investments, skilled employees, and inventory. These three are among the essential elements of starting a business.
Instead of wasting their time and efforts on traditional methods, businesses should focus on Linkedin marketing for small businesses. It provides your business exposure to its industry-specific intellectuals. It enables you to build contacts and socialize.
Several investors use Linkedin to find startups with unique ideas. Effectively using a Linkedin marketing strategy for small businesses will enable you to connect to them. You can also connect with potential business prospects and socialize. However, because of being a B2B business-focused social media platform, the competition on Linkedin for the attention of the target audience is comparatively high.
Keep these points in mind while building a Linkedin marketing strategy for small businesses.
Analyze your competition.
Put efforts into creating your brand's profile image and cover photo.
Put efforts into keyword research.
Fill in all key fields such as Your website URL, company location, and company size.
Put efforts into making a comprehensive business profile.
Put efforts into creating content most entertained by your target audience.
Create an engaging and friendly about us section
Put efforts into creating a Linkedin group for small businesses.
Build a comprehensive Linkedin posting strategy.
2. How to create a Linkedin group for your business?
Making a group on Linkedin is one of the essential Linkedin marketing tips. It is an indispensable part of Linkedin's company strategy. Follow the step given below to create a Linkedin group for your small business.
Pick a topic that interests your target audience
Building a Linkedin group is one of the best Linkedin marketing tactics for engaging your target audience. The process of building a Linkedin group for your business starts by researching a topic that might interest your target audience.
One of the best Linkedin marketing techniques to find a topic that interests your target audience is to track their activities. Find out existing social groups in your niche and analyze your target audience conversations. It is one of the best Linkedin marketing techniques to find a niche-specific topic.
Create your Linkedin group
Linkedin provides you with an easy-to-use interface for creating a group. The attributes you need to fill in to create a Linkedin group are as follows:
Group title
Group logo
Description
Group rules
Group membership
Starting from content, the experts focus on publishing quality content at regular intervals. The expert helps you in Joining relevant groups and creating your own group to gain engagement and authority. Will leverage the Live feature on topics such as webinars or interviews. Take care about the progress of efforts and actionable initiatives to be taken, use Analytics, and stay updated with the engagement and likes. So go for LinkedIn marketing or if you find any hurdle you can contact us any time @ +918544973165.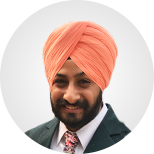 Having mastered every aspect of Social Media Marketing, Gurpreet Singh employs his leadership qualities as Social Media manager.  He believes that writing is an effective medium to communicate to many. He considers his blogs as the medium to share his perspectives about the changes in the industry.