Founded in 2002, LinkedIn is a Mecca for professionals and businesses. Not only does it provides an opportunity for working professionals to seek jobs and opportunities, but also it is widely used among businesses to find prospective business opportunities. Thus LinkedIn is much more than a Social Networking tool. Hence, deriving a LinkedIn Marketing Strategy becomes paramount. Whether you are a small business or a large conglomerate, if you are a B2B organization, LinkedIn is the first place that you choose to put the word out. 
In this piece, we will explore all the LinkedIn marketing ideas and strategies for businesses. So, what are the aspects that make LinkedIn such a unique branding tool?
We have found some mind-boggling stats related to LinkedIn that will set you on your ways to use LinkedIn for business:
According to

Kinsta

LinkedIn is 277% more effective at generating leads than Facebook and Twitter.

Surprisingly, according to

Foundationinc

 LinkedIn consistently sees a 28% lower cost per lead than Google AdWords

Also, according to the same source, LinkedIn makes up more than 50% of all social traffic to B2B websites & blogs.

Lastly, 97% of B2B marketers utilize it as their content marketing strategy.
These statistics are a great indication of what the business marketing trends are. We have to be on the same trajectory and contemplate LinkedIn marketing strategy accordingly.
Fundamentals of LinkedIn marketing
LinkedIn can be overwhelming sometimes. The common conception is that you always see your peers succeeding or outgrowing you on LinkedIn. Well, that's not true. People who are good at selling themselves, their ideas, or their business models are the ones who have a good presence on LinkedIn. So, as a professional or business, you have to learn how to optimize your profile/page.
So, the first part of your LinkedIn Marketing Strategy should be creating a fully optimize Linkedin business page. We have given some steps here to set up a
Fully optimized LinkedIn marketing page:
Start with a high-quality profile picture and cover photo. If you are using LinkedIn for business, use the logo of the company. On the cover, you can use a pic, showcase your work or choose a message describing the voice of your brand.
Include every detail related to your company. From website, to address to the number of employees. Everything related to your company should be mentioned clearly on LinkedIn.
Everything should resonate with your brand voice. These little details make a huge difference. According to LinkedIn, companies with a complete profile get 30% more views than competitors. So make sure to add all these points to your LinkedIn Branding strategy. Claim the custom URL so that you can share your organization's LinkedIn Page link conveniently and it is easy for the prospects to find you. Also, it is easy on the eye.

Now, let's come to the juicy part. One of the most important aspects of a clear LinkedIn Marketing Strategy is to:
SEO optimize your LinkedIn Page
Sounds weird but it's true and works wonders. So, how you can implement SEO on your LinkedIn Page? Use Keywords in Description and Specialities. Do duly research beforehand. You must have already ideas related to service in your mind. Use those keywords accordingly. 
Create links to your pages. Well, there are popular SEO techniques that work quite well on LinkedIn. Build backlinks to your company's professional page. Use the LinkedIn page link outside of the platform(in email signatures). Pass the guidelines for the employees to connect their profile with the job designation to the company page.
Networking is Key to a good LinkedIn Marketing Strategy
On LinkedIn, the right networking coupled with the right interactions gives you extraordinary results. Choose to connect with the people and businesses who are in your niche to keep you up to date. Get in touch with people who can add value to your business or your work. Start interacting with them. As LinkedIn is a space for professionals, thus queries related to work life, profession, or an ideal workspace can intrigue your followers. 
Post something of value that they cannot find elsewhere and which gives your audience something different. Everything mentioned above should be an important part of your LinkedIn content strategy
Credibility and Brand Value building are Important
Building Credibility or building a brand value is important on LinkedIn. Joining new groups and posting your company's achievements and milestones can help your brand grow. Whether you are throwing an office event or something you have done for your employees showcase it. All your initiatives among the rest should be updated on your company's profile. Ask your employees to connect to you and increase the interaction.
Now as we have covered the basics of LinkedIn for every business. We decided that we should dive more deeply into and help you figure out the use of LinkedIn for different kinds of Businesses. So let's start with:
LinkedIn Marketing Strategy for Small Businesses
This one is an intriguing topic as small businesses rely a lot on LinkedIn to grow. So we have shortlisted certain points for small businesses on what they can do to grow on LinkedIn. You can start by:
Do a comprehensive Competitor's research
This one is important. As all businesses do, take a sneak peek into all your businesses. Try to audit their marketing strategy and their growth. See what content is working for them and how you can adapt to your style. You can use social media management tools to understand your competitors or you can do social media audits on your own. Moving along
Constantly Engage with new People
You have to do this task manually. Bit tedious? Yes, but worth it. You can send up to 50 connection requests per day. Your message that you send as a business shouldn't be too formal or too casual. It should have a mix of just the right words. You can add a link to a landing page to sign up. However, there should be an incentive for the people who decide to sign up with you. This is a proven method that has given results in the past. Though the structure of your message is crucial.
Try to keep it short and crisp. This can be a crucial part of your marketing strategy on LinkedIn.
Introduce your team on LinkedIn first. Make sure everyone knows who are the people behind the scenes. Ask every employee to complete their profile on LinkedIn(all-star). This makes you look credible as a brand. Keep updating your page for the number of employees as you keep growing.
Advertise to the correct audience
LinkedIn is a gem for running ads if you are targeting business(will discuss further along). However, even if you are not targeting businesses then you can use targeting methods of User Personas for professionals to get to your audience. Granted, you have to be a bit street smart regarding this but you can utilize ads to their utmost potential. The marketing strategy of LinkedIn is empty without using advertisements.
Now let's move forward and understand the next section which truly defines LinkedIn. Its role in the B2B industry. It will not be an exaggeration to say that LinkedIn has gained popularity of how professional and business-centric it is. So Now let's discuss:
How does LinkedIn B2B marketing work?
Linkedin B2B marketing is unique compared to other businesses. LinkedIn for Business marketing is not complex. If you have already checked out the basics you just have to focus on building a good reputation. You can follow these tips to get ahead in the LinkedIn B2B game:
Building relationships is Important
Relationship building has always been the secret among businesses. Trust also plays a factor. Thus try to build a connection on LinkedIn first and subsequently build a relationship. A strategic relationship is made up of advice, recommendations, and well-wishing. Keep engaging yourself with the right people to make a name for yourself. Never be afraid to reach out to the right people. This is a fundamental part of LinkedIn's B2B marketing strategy.
Don't be Over persuasive On LinkedIn
Well, we can be a little bit of a hard sell sometimes. Just trying to push your brand, service, or product sometimes. You can find several brands that just use LinkedIn to advertise. Don't do that. Look at your timeline. Make sure you are giving out value. In today's age, only those brands are online successfully that are giving something of value and that too free to their consumers.
It is a numbers game on LinkedIn
Commit to adding connections and sending them messages regularly. Conversion rates are almost the same across all the industries and the same goes for LinkedIn. Reach out to top management folks. Be different and unique in how you are approaching them. Stand out from the rest. Be consistent in engagement, sharing, and Posting. Send regular connection requests but do it with a purpose.
Use LinkedIn groups as a great strategy
This is a crucial and interesting LinkedIn marketing strategy. Create a LinkedIn group related to your niche. Join other groups from your profile and see who is in your competitor group. Make a list and send them invites from your group to join. Now you have a sorted group with interested people who can be prospects. Groom them by posting promotional content in intervals. Plus you get an email list for your next email marketing campaign. Isn't that sweet!
Use Analytics to identify what's working
Check regularly on LinkedIn to see what's working. LinkedIn has a built-in analytics tool to suggest what's working and what's not. Weed out the unnecessary content which is not working and focus on the content which is giving you results.
Finally,
We would be lying if we would say that you do not need Ads to grow your business on LinkedIn. You need Ads, and that too "well targeted". Running Ads on LinkedIn is similar to other Ad platforms but with a slight difference. As LinkedIn is a professional Social Media channel you can run Ads on LinkedIn and target your audience according to the industry, job title, designation, and much more.
Now that's impressive, right?
So as we conclude our starter's guide on LinkedIn marketing strategy we hope you have some clarity on how LinkedIn can be used by businesses for different stages. Drop a comment if you want to know more and our Social Media Experts will get back to you with answers.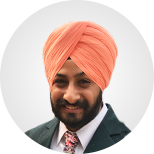 Having mastered every aspect of Social Media Marketing, Gurpreet Singh employs his leadership qualities as Social Media manager.  He believes that writing is an effective medium to communicate to many. He considers his blogs as the medium to share his perspectives about the changes in the industry.