From creating and publishing posts to analytics and reporting, social media marketers have to complete these tasks every day and it can easily become overwhelming when you have various campaigns to run on different social platforms. Without the right marketing strategy and management tools, maintaining social networks can be challenging. 
Why do you or companies require SMM Tools?
Here we will discuss the awesome 15 social media management tools that can help streamline your workflows, save you time, and assure your content reaches the right audience at the right time. By implementing the best social media marketing strategy and using these tools helps to improve productivity which increases your overall ROI. 
If you want to develop and make the most out of it, then check these tools and evaluate which one perfectly suits your needs.
Let's discuss the 15 Best Social Media Management Tools:
15 Social Media Management Tools for 2021
1. AgoraPulse
Price:
Starts at $79 per month for a business plan but it also offers a 15-day free trial for new users
Benefits: 
You can keep in touch and never miss information about the most important messages in your messaging inbox. 

Like any other social media platform, it also has features that are best recommended for social inbox, visual calendar,  analytics, and scheduling, and many more. 

You can add with a maximum of 10 social media profiles without thinking of any fee since you can do this in their free trial version. It has a lot of features that can export or convert your metrics to a PDF, customize your social media network, locate private comments, posts, and even mentions. 

You can use this tool to add images, captions, hashtags, and even videos to create livelier content or post.

 Activating the option of saved replies, Inbox assistant, and a feature called Listening tool for generating your published content with appropriate keywords will never be a problem.
2. Hootsuite
Price: 
A team plan for approximately 119$ per month for 20 social profiles. It also offers a 30-day free trial for new users.
Benefits: 
Users can easily and simply manage bunches of social platforms in one place or dashboard. 

It offers a dashboard that is not hard to use for scheduling, content analysis, operating media advertisements, social ROI measurement, and many more. 

You will never experience a dull experience when it comes to processing your post schedules. 

You can also keep track of the development of your post and monitor your social media messages so that you can directly reply to your followers' messages directly and quickly. 

Lost messages will never be a problem since it has a feature that will direct you to their messages so that nothing will be left behind. 

You can have access to their free courses for effective and successful marketing campaigns.
3. CoSchedule
Price: 
14$ per month for Blog Calendar and 29$ per month for Marketing Calendar. You can a 14-day free trial.
Benefits:
Blog and social post coordination for your social media marketing in one dashboard.

 If you'll consider signing in, you will be given options to choose from. You can go with Blog Calendar that can organize and manage your blog and social media, Marketing Suite, which will provide you with 5 marketing products for a team, process, and project coordination, or a marketing Calendar that will help you schedule, share and view your marketing. After doing so, just choose a tool that you think can fully manage your blog like Weebly or WordPress and you are good to go and explore.

 It can allow you to add images and links automatically. 

You can even re-post or publish evergreen contents that you think are still relevant to help your social media marketing better.

 It offers an easy drop and drag option for a faster way of scheduling. 
4. MeetEdgar
Price:
$19 per month for MeetEdgar lite access for 3 social media accounts. A week free trial for beginners.
Benefits: 
Post your content automatically and effortlessly. Like any other social media marketing tool that offers wise scheduling and usual features like managing your messages, Meet Edgar is different because of its automation part that is most likely applicable for side hustlers and freelancers who want to save time.

It will connect your content to some default categories following your given time to make it more organized and this includes Promotion and Specials, My BLog posts, General, and Recommended reads. 

If you are thinking of reposting evergreen contents that would be very easy. Because of the tools Auto-Generate Variation choice, it will be less hustle for you to do re-posting and sharing content from your calendar since it will automatically do the job without you exerting time and effort.
5. Sendible
Price: 
Starts at $29 per month and $288 per year with a 14-day free trial for new users.
Benefits: 
It has a feature called Priority Inbox that gathers all the messages from several profiles and networks in a stream so that you can directly provide actions to essential messages. Those unanswered or unread messages will remain in the messaging inbox for you to check out.

For its scheduling, the tool will give you the opportunity for your content scheduling in two options, it could be in bulk or could be done individually.

If ever you find a certain content valuable, you can still make use of it with the same schedule. Sendible can analyze what contents are making an edge towards follower engagement. 

It also has a feature called RSS Auto Posting that will help you post essential content to networks in a daily manner from your blog. 

It has various templates that are well-designed you can use in making good and quality content and reports. 

Through this tool, you can reach out to many social media platforms like Twitter, Facebook, Youtube, Instagram, and more. 

You will have access to tools that can manage blogs like WordPress if you upgrade your account in an advanced plan.
6. Sprout Social
Price: 
The Premium plan is $99. Four monthly subscriptions and the price depends on the number of features and users. You will have a 10% discount if you will choose to pay annually and a 30-day free trial for new users.
Benefits: 
You will have access to Single Stream Inbox that can manage and organize your messages in a single stream. Can freely mark read messages and keep them hidden for an organized messaging dashboard. 

The duplicating task is not a problem since you will be able to view up to date live activities. 

Besides scheduling, it will allow you to create and queue messages from each network from their browser extension, mobile, and web applications.

To keep in touch with a productive follower engagement, the ViralPost feature is perfect. It will help you determine which times are best to post and publish messages. 

It will let you have and build your team which includes members to take care of the messages and team leaders to make sure that messages are in the right direction and pattern. 

It can track your team's development, work, and performance. This tool can reach out to social media platforms like LinkedIn, Instagram, Twitter, and Facebook too.
7. MavSocial
Price:
Starts from $19 per month but it depends on how many features and social profiles you need.
Benefits:
Its feature called Digital Library will enable you to upload your photos as well as videos and manage them as quality visuals give you more attention from followers and cause the likelihood of engagement. 

If you are not confident with your content's visual then try their built-in tool for photo editing. You will find several filters there and can edit your text to become more eye-pleasing before posting it. 

Through the tool, you can keep an eye on your notifications, social conversations, and messages to never miss any important information. 

Assign members for messages-related works. keep in touch with your follower's comments and replies, re-tweet or like. 

Through campaigns, you can schedule your content and by doing so, you can view it on your calendar. If your scheduling needs revision, you can easily do the drag and drop option. 

It also has this feature called Reporting Dashboard where you can monitor follower engagement, insights, the best day, and time to post then view your most successful posts. 
8. Canva
Price: 
Canva Pro plan is$12.95 per user per month.
Benefits: 
Improve your graphic visuals in social media into a well-designed one using the tool to generate better attention and follower engagement. 

One useful feature of the tool is the pre-made templates used for advertisements, creating posts or contents, infographics, as well as media headers to look for content on your website, just use the Design great feature. 

Because of its unique and various elements of graphic designing for quality images, you can have the freedom to create and design your content even if you are not a pro on it. 
9. Sked Social
Price: 
A monthly subscription of $25 plus a week free trial for beginners.
Benefits: 
It targets Instagram users and will offer you a simpler and more convenient way of scheduling your media sharing, even uploading bulk content. 

Edit your images with different easy to use features. 

Uploading your posts or contents even in several Instagram accounts will never be a problem since this too is very easy to use.
10. SharedCount
Price:
Premium subscription starts at $40 per month and a 14-day free trial for new users.
Benefits: 
Keep updated with your shared statistics on a single post on your social website. 

View the platform that contributed to the elevation of your shared post. 

This tool is for free but if you want to access special features like email support and Domain whitelisting, then consider upgrading your subscription plan for more experience and exploration. 

It can reach out to networks like  Twitter and Facebook. You can also look for the bulk URL's number of shares to further generate it. 
11. Kicksta
Price: 
Benefits: 
This tool will help you reach out to real Instagram business followers, not fake accounts but real ones that will surely increase your brand awareness. 

This is a good catch to the business industry as it can introduce your brand and offers to new audiences and at the same time grow your Instagram followers.
12. Lightroom
Price: 
Starting at $99 per month a 7-day free trial.
Benefits: 
It lets you edit your images for a more organized appeal to the audience. 

Lightroom is perfect for creating well-designed photos even though you are just a beginner since you can have access to filters, sliders, and many other features that are easy to use and do not require any special skill. 

Plus, it is available on both desktop and mobile devices so there will be no hustle at all. If you tend to revise or edit your photos, you can. Even if you transfer it to other devices, it will not alter the quality of your images.
13. Buzzsumo
Price: 
A monthly fee of $99 for Pro subscription users with a 30-day trial for new users. 
Benefits: 
Research the progress of your post or content and find out who contributed to achieving so using this amazing tool. 

It will guide you in keeping an eye on your competitors and analyze their contents. Use the tool to check out for trending topics that might catch the attention of your followers.
14. Oktopost
Price:
Benefits: 
Can use several accounts and can keep you updated with all conversations.

Can monitor the company page of Linkedin

Access to Salesforce, Marketo, Google Analytics, and Act-On features.

Social media activities ROI measurement.
15. Hubspot
Price:
Benefits: 
It will help to deal with either large and small companies or agencies.

Access to Social Inbox that will manage posts into one place.

Offers a free option to decrease costs.

Access to comprehensive automation tools.
How SMM Experts Bring the Best Out of These Tools?
SMM experts use these social media management tools to automate the repetitive tasks, batch social media posts, get insight into the business competitors and create strategies that help you stay ahead of them, and analyze the campaigns on how well they are performing towards your business growth and provide you the report at month-end. SMM experts also use the tools to run social contests for better engagement and reach. 
Conclusion 
Each social media management tool reviewed here has several features to help streamline your workflow. However, the tools that suit you depend on your social media goals and needs. Some tools are great for agencies, while others are ideal for solopreneurs and small businesses. Thus, it is important to assess your needs and then choose the tool that fits in right.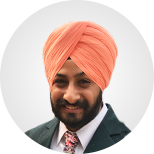 Having mastered every aspect of Social Media Marketing, Gurpreet Singh employs his leadership qualities as Social Media manager.  He believes that writing is an effective medium to communicate to many. He considers his blogs as the medium to share his perspectives about the changes in the industry.