The social media giant, Facebook with 2 billion active users and millions of business pages signifies an ultimate stomping ground for marketers looking to draw awareness and attention to their brands. However, as a beginner, it is tough to get started. This is because there are over 50 million businesses on Facebook and to stand out amongst them is tough unless you have a strong facebook business page and for that you should have a robust Facebook marketing strategy. Also, there are various new techniques and facts that you might not be aware of. Facebook has hundreds of hidden features that need to be explored. This can serve as a wonderful tool to market your business and stay ahead of your competitors. 
If you are looking to make the most of this social media platform to improve your brand value, then here we have curated following 11 little-known marketing tips on Facebook. Whether you are a newbie or have been active on the social network for years, this post is packed with tips to help you stay on top of user searches and draw attention to your brand. 
Let's discuss these facebook marketing techniques in detail:
1. Post images on Facebook
Give your Facebook page an identity by adding a profile picture. This serves as a primary visual for your page as it appears in search results as well as the content that shows in the user's News Feed. Your profile picture imparts a first impression, so choose something immediately recognizable. Brands can go with a logo, public figures should go with professional headshots, while restaurants and shops can use the image of their popular offering. 
In addition to this, add a cover photo as well. It should be such that it expresses your page identity and can be changed based on discounts, campaigns, or seasons. However, finding the right balance between a cover photo that is both simple and visual is a challenge. Go with an abstract image or pattern as it catches the eye of the users, or a landscape shot with your product for the focal point. Also, ensure when you post content, have high-quality images added as well. 
2. Engage with other Facebook Pages
There are awesome capabilities to engage with other Facebook pages. It enables marketers to follow a maximum of 100 different pages of brands which allows a quick comparison of the activity going on in those pages. To reach out to this feature you should simply click on "Insights". 
Here there is a tab of Pages to Watch and you will find the top 5 posts that are most recent. In this list, you get the freedom to add the pages that you want to engage with. After they have been added, you can hover over the name of the page, click and let the magic happen. The platform provides a detailed view of the posts of the current weeks. This makes it easy to check the top posts of every page in a few seconds as well as get support from them as well. 
3. Post Videos on Facebook
If you want to convey a story on Facebook, video is likely the best option. Videos have gained a lot of buzz, especially as now Facebook algorithm lists both live videos and longer videos with high completion rates. Also, videos are a great way to gain attention and increase conversions as they inform and entertain users. 
When you need to post videos on Facebook, ensure you know all the realms of it. You need to have the right video length, create a high-quality simple video with no jargon, optimize the videos with a great title, keywords, and descriptions. The videos you post should be appealing to your audience to gain more likes and shares. 
4. Insights of the audience
This is a hidden feature of Facebook marketing that is prevalent with paid advertising. The feature of audience insights on Facebook gives you detailed information about the two groups of audience, the audience connected to your page, and the audience on Facebook. 
The insights help brands create user-relevant content and easily find more people like your current audience. You also get to know the age, gender, education level, job titles, relationship status, interests, hobbies, and more about your audience. The more you know about your target audience, the better you can deliver meaningful messages. It gives endless opportunities for businesses that are looking to utilize the power of this social media platform.  
To utilize the social media platform, you always need to follow the rules of social media marketing, latest trends and skills.
5. Create custom-designed app icons
This is an exciting and unique feature of Facebook marketing which allows personalization of the app icons of your page to give it a unique touch that is not present in any other brand's Facebook page. The custom-designed app icons are more appealing, branded, and have a call to action enabling your audience to like and take an action without leaving your Facebook page to offer a better experience. 
All you need to do is simply add the apps that you would be using to your brand page. It can be anything such as Twitter, YouTube, MailChimp, Instagram, or any other app. Then you will be allowed to create custom app icons for the page using a program like Canva, Sketch, Photoshop, or any other photo editor. The recommended file size for these icons is 111X74 px and the file size should not exceed 1.2 MB.
It is up to your creativity to use the brand colors and high-resolution icons to improve the look of your page. After creating the app icons and installing all the apps that you want to, you can visit the manage tabs option which is present on your page under "More". There is an "Add or Remove Tabs". You should click on it. The lists of apps that you have installed on your Facebook page will be listed here. Just hover on any app and then click on the option of "edit settings". Click on the "change" option present besides the Custom Tab Image. Now you can simply upload the image of your choice and you are done. 
6. Search in your previous posts for insights and specific wording
In the insights tab, there is the feature of post-performance data. Most expert marketers are aware of this standard feature of Facebook. This powerful tool allows to measure the performance on previous posts and gives stats about link clicks, reactions, likes on shares, shares, hide posts, page unlikes, and a lot more. But many people might not be aware of the feature of Facebook marketing which is known as the Published Post Search. This great tool is present under the Publishing Tools of your brand page.  
This feature is handy to search posts regarding any specific topics and come to know about the images, wording, or a combination of these that worked well previously. It is a useful tool for brands that post content on this social media multiple times throughout the year. 
This can help to avoid duplication of content that did not perform well. When you post an older article, it is important to consider whether you have posted similar content before or not. If not then look at the posts that have been successful recently and how can that success be repeated with this content. If yes, then check how the content can be repurposed to ensure that the content reaches a new set of users on this platform.
To gain more, you just need to follow the best facebook marketing strategies.
7. Pixel feature of Facebook
The social media marketers who are looking for measuring the ROI in the social media are utilizing the Facebook Pixel which is good. There is detailed instruction available from Facebook regarding setting up Facebook pixel for the first-time user. And it is very easy to set it up and no need for any special kind of development skills is required.
Facebook pixel is used for optimizing, tracking, and remarketing. The same pixel is used for creating the custom audience. You're also able to view the website traffic with pixel and you will also be able to use pixel for the conversion of tracking and optimization.
With Facebook pixel below things are being done:
Able to build custom audiences from the website for remarketing. 

Ads are optimized for conversions.

Tracking the conversions and attribute and put them back in the ads
If you are spending the money on advertising online, then the returns from social media will be the biggest. But it is very important to track the results very closely.
8. Customizing your ad preference
Facebook ads work wonders for businesses and brands to reach more audiences and see a massive return on interest (ROI). Moreover, Facebook ads offer robust analytics, remarket to people who have already interacted with you, get clicks and conversions for low-cost, easily find new leads, encourage customer loyalty, and scale your content promotion. 
However, there are a lot of details that will go into determining the advertisement on your Facebook timeline. The social media manager is required to understand this clearly. As per Facebook, ad preference is based on the information which has been shared with Facebook. This will include the pages which you like or your engagement on that page. Ads which you click, websites which you use, and the information which has been provided to the advertisers and data providers.
When you are spending some time reviewing your ad preferences on Facebook then you are also able to use this information for determining what sort of ads Facebook is mostly serving to the potential customers.
9. Pin posts at the top of your Facebook page
Posts that are pinned are status updates that you select to stay at the top of your brand's page timeline. The pinned posts will not slip down the timeline as you continue to add other posts. This Fb marketing technique quite useful for pointing the audience to the importance of the company announcements, posts, and events.
On the timeline, you would be able to find the post which you would like to pin. You can click on the down arrow in the corner for the post and then you can click the pin to the top. This is very easy.
One important thing which needs to be remembered about pinning the posts on the top of the page is to keep them fresh by often rotating the pinned posts and this is especially sensitive to time.
When you are mixing this all then it will allow you to showcase the larger variety of posts. It is recommended to change the pinned post once every week or so.
10. View pages and people who like your page
This is another useful marketing feature for social media managers called People and other pages tab in the settings of your page. This feature will allow you to view all the brands and the people who have liked your page.
Below steps required for accessing this feature:
Go to the settings of the Page

Click on the people and other pages tab which is present on the left-hand side

Then use the dropdown menu and select between various options of view
There is a great article for Post planner where they are pointing out the use of this feature. This can be useful in tracking the followers for growth during the contests and the campaigns on the page. This will allow the social media marketers to find out the fake accounts. And in this way, you would be able to find out who the real ones are.
You are also able to use this list for identifying the other brand pages similar to your page. This will open up new content opportunities for the partnership in Facebook marketing campaigns or even as simple as thank you for helping in building the relationship.
11. Facebook Page Tips
Facebook is also pushing for the last few months and providing marketers the in-app tools and resources for getting the most out of their Facebook page. The fantastic result from this effort is the Page tips section which is present on the left side of the brand timeline.
The Page Tips section provides marketers the best practices and quick tips on tactics like managing the Facebook page from anywhere in the world. Facebook marketing can help you here. The Facebook social media managers help create campaigns that get you more likes and shares, create content that resonates better with your audience, monitor your campaigns for better ROI, and much more.  
Conclusion
Facebook is a massive sea of 2 million active users and 50 million businesses, so you need to stand out amongst all to successfully market on the platform. These 11 little-known Facebook marketing techniques will help you stay ahead. If you are looking to create a robust Facebook marketing campaign, then get in touch with Social Cubicle now. 
Know more about the importance of social media marketing.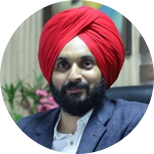 The admin of Social Cubicle, Mandeep Singh, expresses his zeal for his field through his writings. Social Media, for him, is the way that can make a brand thrive. Staying updated with these platforms is the path that leads there.