Founded in 2004 by a bunch of roommates, Facebook is one of the largest Social media hubs today. Back then, little did someone know that a social media site would turn into a business platform. The transition of a social media platform into a business hub is a credit to brands and their audiences. Now every business wants to create a Facebook Business Page and reason is clear. There are n-number of benefits of Facebook Page and we will discuss pretty much every one of them.
In this guide we have covered all the stuff that you need to know. We have also included some tips and tricks to take your business to the next level.
If we go by the facts, Facebook had active advertisers reaching two million in February 2015. That statistic is from 2015! Just imagine where the figures are now. Recently, since the inception of the newer social media platforms, like Instagram, Tik-Tok, and Snapchat younger demographic have started shifting away from Facebook. Nonetheless, Facebook has still recorded a growth of 16% in its total userbase.
If we look at the current demographic of the userbase in 2022,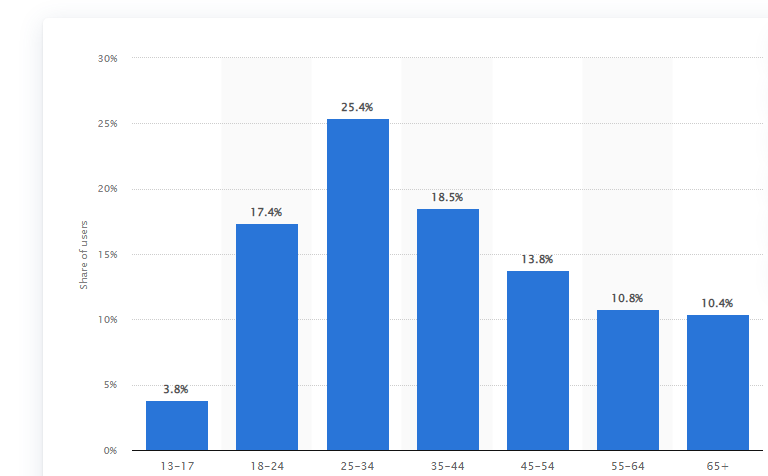 It shows that Facebook still has a strong user base that is young. Credits
Facebook is a solid choice for businesses that want to start online. It has given results over time with minimal investment. As you want to build an online presence for Facebook your first step is to create a business page.
In this guide, we will cover everything, including what, how, and why. Hopefully, it will give you some clarity about benefits of Facebook business page.
What is Facebook Business Page?
As the name suggests, Facebook Business Page refers to a web page through which businesses can expand their digital presence on the internet. The Facebook business page showcases everything related to your brand. You can put your brand logo, images, and brand values. Echoing your brand voice is one of the most important features of a Facebook Business Page.
Posting relevant and engaging content on your Facebook business page can help you boost your audience. It can also be used as a showcase of your services and products. Using integrated Facebook messenger service can be used to interact with your potential customer and userbase. Opportunities are endless and your Facebook business page can act as a catalyst for your growth.
Now the next question is:
Why Should you have a Facebook Business page?
Because of the following benefits of  Facebook business page, businesses should think about having the one:
1. Lowered Marketing Expenses
"Marketing is necessary for every business" This might be the biggest understatement of all time which is why you can't think of ignoring it. However, with a Facebook business page, you can have a low-cost marketing effort. Starting cost of setting up a Facebook business page is minimal. Only the cost of the setting up basic details and that too if you hire Social Media Marketing Professionals for that.
*Even though it is a choice, reaching professionals can save you from any hassle of setting pages. All you would need to do is to follow up.
Even if you go for other advertising options on Facebook, the expenses will be way lesser than other forms of advertising. Irrespective of your business type and size, you can cover a wider market range with a Facebook business page and other advertising efforts.
2. Facebook Insights from Facebook Business Page
Facebook Insights refers to the analysis that can help its users to learn about the page views, viewers' statistics, photo views, audio and video plays, and others. Facebook insights can be your way of measuring the success of offers and posts on Facebook.
As a shrewd entrepreneur, you must know about the value of audience engagement. Moreover, you know how Facebook business pages can help you track your digital efforts with Facebook insights.
The reason why a business pursues marketing plans is to entice its audience. With a Facebook business page, you can share your business idea with a wide range of audiences without spending big bucks for that. You must be aware that using a personal account can limit your reach to a specific audience. It can be somewhere around five thousand. 
However, this is not the case with Facebook Business pages. As an entrepreneur, you aim to expand and make your business thrive, and broadening your audience reach is the first step towards it.
You just need to know the target audience on Facebook. You can use the analytics provided by Facebook but the feature is only available to Facebook business pages.
4. Establish a Brand through Facebook Business Page
Apart from being the source to boost engagement, expand audience reach, and several other benefits, a Facebook business page can be one of the pillars to establish a brand. Not that a Facebook page is the only secret to brand building, but it is one of the necessary steps you can't leave untouched. The digital presence is essential for you to be one of the brands that can be the choice of the viewers. So you should know the do's and don't of social media marketing. This will eventually help your business survive and thrive.
Yes, you can attain traffic for your website through a Facebook business page. In your business bio, you can add the link of your website and not just on the Page information but in other parts as well to entice your audience. Every time you publish any content on your business page, you can attach a call to action text. Any visitor to your website can be your potential customer, and this is what you originally wanted.
With proper Facebook advertising techniques, you can build your brand, target more audiences, get more traffic, and much more.
6. Third-Party Tools on Facebook Business Page
Did you know that Facebook can also give the option of using third-party tools for your business page as well? This access to using third-party tools can bring more opportunities to create content and handle the functioning of the Facebook business page accordingly.
Apart from that, these tools can also simplify several other features for you.
Your digital presence through the Facebook business page is responsible for enhancing the engagement among the audience. When you share the content in the form of posts, you initiate the conversation with your audience. This engagement can help you learn about their opinion, trends, alterations, and also best practices.
When more and more viewers know about you, it paves the way for you to become a name recognized by many. After having gained the audience's attention, the next thing waiting for you can be the audience turning into potential customers and potential customers into loyal ones. It can all start there on Facebook with a Facebook business page.
Offers can intrigue the audience in many ways, and you can avail of these offers as well. Facebook offers, as the name tells about the attractive deals, which are page posts related to special promotions or discounts prepared from sharing tolls on a Facebook page.
Now, let's talk about how it is advantageous to you! It is displayed on the Newsfeed with a get offer icon, which entices users to avail it. As a result, it can drive the audience towards your page and the offers you present. When your audience accepts the offer, their friends will learn about the same information shared. It will notify them about your offer as well. All in all, Facebook offers can work as an affiliate marketing deal.
When you started reading about these advantages, the possibilities are that you pictured most of them. However, if that imagination overwhelmed you with additional responsibility and time consumption, relax! The reality is that you can hire Facebook marketing professionals for that. You can hire content creators, managers, moderators, and advertisers for the growth of your business. 
This is one of the most important benefits of Facebook Business Page.
You can even have professionals who can guide you in running the ads, offers, and other steps to expand your digital presence on Facebook. You do not even have to share the credentials of your account for that. You can assign them the part, or position of the admin of your business page.
Now let's give you some crucial
Tips & Tricks to set up a good Facebook Business Page
It is an important and one of the basic steps. Once you set up your Facebook business page it is advised to change the URL and customize it, preferably with your brand name.
Add eye-catching Profile and Cover Pics
Profile and cover pic are the faces of your page. With the lack of customization in terms of visuals on Facebook, designing a great profile and cover pic becomes paramount.
About section should be updated
About section is the essence of your business page. Filling the optimum information and making sure that the information is correct is important. The "preview" of the page is important as it displays under your profile section. Fill in all the relevant details along with the site address amongst other things.
Customize the correct Tabs and templates
Facebook gives you predefined templates to fill according to your chosen business tab. It is a great feature that helps to set up your page much easier and customize for the type of audience you are expecting. You can customize tabs from "Settings" and then "Tabs and templates"
Interact with relevant groups and similar pages
This is an important part as you are starting out. Interacting with groups of similar interests gives you visibility. Subtle marketing added with a token of useful information can sway group users towards your page. If you want to learn how to build a Facebook community follow this guide
Make sure to keep settings up to date
While working with a large organization whose marketing team is loaded with people. It is important to clarify the roles of the pages. This setting among others can be done from the "settings" of the page. Make sure all the settings are finely tuned so that your page is never left behind.
Regularly check the page insights
Page Insights give you the exact numbers and data. We all know data drives businesses. Having correct information such as Reach, impressions, interaction, and conversation is important. This data helps you devise and modify your future strategy of what needs to be done.
You can also get information on your audiences such as their demographic, behavior, and interests. You can see how many have clicked on your CTA(call to action) button. You can also check the location of your audience and which device they use to get through to you.
Without any doubt, social media presence is important for any business. After all, it lays the foundation for an enterprise to connect to its audience in different possible ways. Talking of Facebook, this platform has 2.85 monthly active users, and these are statistics for the year 2021. It gives more reasons for every business to expand its outreach while using this social networking site. When it comes to using Facebook for business, it is advised to go for Facebook business pages instead of personal accounts. Once you create a Facebook page you can reap the benefits of Facebook Business Page.
There are a lot of reasons for this, starting from lowered marketing expenses, professional look, digital presence, wider consumer reach, and many others. The bottom line is that a business must stay updated with trends, and the reason for the same is to meet the target audience who can be potential customers and the basis for businesses to expand.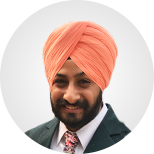 Having mastered every aspect of Social Media Marketing, Gurpreet Singh employs his leadership qualities as Social Media manager.  He believes that writing is an effective medium to communicate to many. He considers his blogs as the medium to share his perspectives about the changes in the industry.