With more than millions of active users on different social media platforms, it has become the main target for reaching out to people all over the globe. A convenient way to connect to prospective customers resulting in increasing the rate of brand awareness generating revenues at the same time.
Data have shown that people purchased products through the influence of social media. That is why promoting your business into various social media platforms today will help you in elevating your brand and bit all other competitive rivals out there. Through posting amazing content, advertising, and engaging to many people using social media is not just an effective strategy of gaining people's attention, trust, and loyalty in your brand as well as gaining revenue but it is very convenient for both businesses and customers. No wonder why business-minded individuals are willing to risk some of their money, time, and effort in making social media their main tool for product promotion.
What is the exact cost of attaining services from social media marketing? Or its cost bracket at least?
There are many opportunities, surprises and benefits of social media marketing that helps your business to grow. Engagement, brand awareness, and popularity? Name it all! Through this kind of marketing, expect to achieve business success if you are truly dedicated and hard working on this craft.
Despite the enticing benefits it could give to every business, many people still hesitate to invest because nothing is so sure in this field. Another thing is, some do not know how to start because they do not have any idea how much money they should allocate to the services offered by social media.
Well, the answer to this question is very simple. There is no exact amount or cost when it comes to this strategy. Everything is dependent on your choices and some factors you have to consider too like:
     

How many social media platforms can you afford to emerge for your business.

     

Of course, how much is your budget?

     

The plan you want to undergo to achieve your business goals.

     

And many more.
But in an average scale or cost bracket, according to data,  companies mostly spend up to $4000 to $7000 or even more every month for the different services offered by social media. It may include custom marketing,  for product or services advertising, and a monthly cost for your ads in more than one network. But again, everything is dependent on you. You can make this estimated monthly cost into less, stick on to this scale, or if you have more budget, you can over-lapse this cost bracket. After all, it is your decision that will matter.
How much should I expect to spend if I market my product or services on many social media platforms?
Facebook, Twitter, Instagram, and Pinterest are some of the leading platforms that most businesses emerged to and advertise their products and services. It not just can effectively help you in advertising but it makes a bridge for you and millions of prospective customers too. If  you want to know the cost bracket in using these platforms in your marketing plans, then the following information is perfect for you:
Facebook
Marketing your products and services on Facebook is a huge step ahead for your business. Why? Because data has shown that there are a billion active users that used it daily. It simply means, there is a big chance of reaching many people to build brand awareness.
As we all know, everything is free when you set up Facebook business page but if you are targeting better opportunities for your business, then expect some expenses. You have to pay some advertising cost on the platform like:
Ads
It is very important to advertise on Facebook as much as several benefits await you if ever such as page likes, website conversion, more clicks to your website, app installations, post shares, customer engagement, and many more.
The platform will give you options on how to advertise your products and services and your payment will depend on these choices. These options are:
     

CPC model

. This acronym stands for cost per click and will just ask for payment if someone clicks your advertisement. It is much more costly than the CPM model but one advantage is, you can assess the progress of your ads and will only pay for those individuals who got attracted to it.

     

CPM model.

This acronym stands for cost per thousand impressions. It means once your ad reaches 1,000 views from users, you will have to pay for it of course.
According to some pieces of information, here are the estimated cost of advertising in the platform in 2021:
 

CPC or cost per click = $0.97

 

CPM or cost per thousand impressions = $7.19
Likes, boost, and download
Businesses also want to gain likes for their advertisement on Facebook.  It does not just show ad progress but receiving likes means some people are interested in your offers. The platform also permits you to boost your posts to reach as many people as possible and it requires you a payment too like user downloads.
According to the same source, here are the following expected expenses for Facebook likes and downloads:
 

CPL or cost per like = $1.07

 

CPA or cost per download = $5.47
For boosting your post expect an average of $6.35 for 1000 people who viewed your ad.
Twitter
Like any other social media platform, Twitter offers a free sign-up for an account but of course, expect to have some cost if you will use it for business purposes too. Try to check the following bits of information:
Promoted tweets
On the platform, it is also recommended to promote your tweet if you are into business. Once you do, your tweets will show as promoted in your follower's timeline. The payment is not fixed since it depends on its engagement like for example how many likes clicks, replies, or re-tweets you have garnered.
 

In promoting a tweet, you have to pay $1.35.
Promoted accounts
Like promoting your tweets, you can also promote your account if you want. It is a good strategy if you want to spread awareness about your brand to many people and most of all if you want to gain more followers on the said platform. The payment is not dependent on your followers' engagement but on how much you are willing to risk and pay every time you have a new follower.
 

In promoting your account, you can pay about $2.50-$4 for every new follower.
Promoted trends
Well, this strategy is somewhat unfriendly to your pocket because it somehow costs a lot. So, if you have an extra budget for it, then you can try this in as much as it can help your brand to be on top of the search list and reach many people as possible. Twitter lists some trending topics as an alert to people about what are the current trending topics. If you apply this idea, your tweets or any content you want to post will appear on Twitter's list of trending items, increasing the likelihood of reaching a large audience.
 

In promoting trends, you can pay $200,000 per day.
Instagram
Creating an Instagram account and so do a business account is 100% free but if you want to advertise on instagram your products and services, of course, you have to pay.  The payment here is commonly based on 1,000 views.
 

In a photo advertisement, you have to pay $6.70 per 1000 views.

 

For every video ad, you have to pay $3 per 1,000 views.
Pinterest
It is also free to set up an account on the Pinterest platform but you can always level up your business venture on the platform by promoting your pins to reach out to as many people as possible. What is great about using this platform is that it allows you to narrow down some pieces of information from your main audiences like their location, gender, and even the device they are using. Back in promoting your pins, you just have to choose the best one you have to promote and choose the winning keywords you want to appear in the search results.
The payment here is dependent on CPC or the cost per click. It means that you have to pay every time a user clicks your pin and enters your website. Another good point in using the platform is that you can set your expected payment, the maximum amount you can give for every click. What's more surprising is, the final amount of cost that the Social Media Examiner will give to you will not exceed the maximum amount you have set for CPC. For example, you have bid an amount of $0.90 but the examiners will only charge by $0.35 per click. So, the payment is either the exact amount you had bid or less.
So, there is no exact cost when using the Pinterest platform for your business. It all depends on how much you can risk.
Are these all I have to know?
Knowing the above-mentioned social media marketing cost, I bet you have now somehow set a budget in your mind if you are thinking of applying this kind of well-known marketing type. But, there is one thing that you have to highly consider too besides that. That is to have a well-thought marketing strategy. It is very important because it is your strongest framework and foundation to reach real success for your business. You know, no one wants to risk their money for a subjective and no guaranteed result. You have to make sure that your money will never be wasted and will be used for good.
 In relation, if you can, ask professional help to assist you in making decisions especially that it involves your money. You can hire a professional social media marketing company to at least make sure that you are on the right track in spending it. The process of payment in most marketing agencies is through retainer fees. It means that you will be paying in agreement for every single work that the agency has done per month like analytics, reporting, advertising, strategies, and more. Data have shown that the average braces cost in hiring retainer marketing expert agencies runs from $1,000 but can not overboard beyond $3,000.
It may cause an additional expense but if you invest in those professional agencies, they can help your business grow and determine which plan is best for you and your audience as well. You will not exert a lot of time and effort in keeping track of all your networks and their corresponding works because you already have a helping hand to assist you. So, you can now highly focus on the works and strategies that you think are giving you a lot of benefits, and most importantly it gives you ample time for yourself too.
Over to you
Appropriately using social media marketing can help your business develop, grow, and excel in the tight competition in the business field. Of course, in this case, nothing comes for free and easy money. You have to invest to give quality services and promotion for your brand. Just be careful in risking your money and if possible, create a collaboration from marketing experts to ensure that you are spending bucks for better results.
Utilize these social media marketing strategies to avoid wasting even a piece of buck,  time,  and effort. It is always a step higher if you know how to maximize your expenses and use them for many business purposes as much as possible. Spending our money is like losing a friend especially in times of not having enough of it plus knowing that that money came from our hard work and effort. So, spend it carefully and make the most out of it. On top of anything, do consider that these social media marketing costs are subjective too. Therefore, the said pricing is not fixed and can have a chance to increase further or will get less in the future.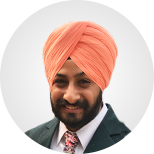 Having mastered every aspect of Social Media Marketing, Gurpreet Singh employs his leadership qualities as Social Media manager.  He believes that writing is an effective medium to communicate to many. He considers his blogs as the medium to share his perspectives about the changes in the industry.