It's pretty helpful to know about the most famous social media platforms. Whether you are a social media marketing company or a business owner it'll be valuable to know about the popular social media platforms to grasp advantages over them. Once you know which platform to go with, you can maximise your brand's online presence. 
It is not only about the popularity of the social media platform, but also about your business type and target audience. Most businessmen and social media marketers have this misconception that social media marketing has nothing to do with the types of business. However, it is crucial to see if the social platform fits your brand image and whether your target audience uses that.
This guide is to help you to decide which famous social media platforms you should go with. 
1. Facebook
Facebook has nearly 2.5 billion active users, and with this number, you can guess the popularity of this platform. Considering the numbers, Facebook is the largest social media platform having nearly more than 65 million business pages. It means a lot of business owners are actively using Facebook for the growth of their business. Facebook
You can post any form of content like videos, images, content, and stories because everything works on Facebook. However, your content in any form should be appealing, eye-catchy, and meaningful. But be sure to follow the strategy that works for facebook marketing.
2. YouTube
YouTube is the most widely used search engine in the world. YouTube is a video-sharing platform where you can share unique and engaging videos such as motivational, instructional, tutorials, etc. It has over 1.9 billion active users.  To start with YouTube, you need to create a channel either by your name or your brand's name and you should know the keys for effective youtube advertising.
You can then upload many videos targeting your audience, and it is always important to analyse your target audience first. YouTube is the second largest search engine after Google so, to boost growth it is advisable to focus on YouTube SEO.
3. Instagram
Instagram is the home of bloggers, content creators, influencers, small and big businesses, and many more. Well, with this, Instagram has crossed one billion monthly users, pretty popular. You can share anything on Instagram like videos, short reels, stories, and IGTV videos. 
If you own a business, you can create a business profile on Instagram to get regular insights. It can be helpful to determine how many visits you get and your account reach. Moreover, you can schedule your posts according to the time your target audience remains most active. Depending on your target audience and market, you can consider prioritising Instagram.
4. Snapchat
Who does not know about Snapchat! This booming social media platform has around 255 million monthly users. Snapchat is massively used by the younger generation of the age group of 18 years to 25 years. It is one of the heavily used platforms where people share snaps. You can prioritise Snapchat if your business targets young demographics under 25 years of age, 
Engaging content like short videos, snaps, and storytelling entertains the audience the most. So, follow the proven ways for snapchat marketing if you think of using Snapchat to reach a younger audience. 
5. Twitter
Twitter is also a famous social media platform, and it has nearly 300 million per month active users. Twitter is more popular when it comes to news and information sharing. It is a pretty famous social media platform for tech-savvy people. 
Twitter is a platform for a wide variety of businesses. It is different from the other social media platforms, as it accentuates news, entertainment, and real-time information. So, before choosing Twitter as your social media marketing platform, see if your audience actively uses Twitter. You can also take the help of twitter marketing experts for the same.
6. LinkedIn
It is not only used to post jobs and search for them, yes, you heard it right!. LinkedIn has gained a lot of popularity other than being a resume and job hunt site. Linkedin is used for personal branding, and today businesses of all types are using LinkedIn to share information about their brands and their uniqueness. Well, LinkedIn is a famous platform to attract right-minded talents and skilled humans. Thus,  businesses leave no chance of utilising it to attract the gems. 
According to the Microsoft reports, the revenue of LinkedIn increased nearly 21%.  LinkedIn is a business-focused social media platform, where you can send personalised ads to different inboxes, you can boost your content and even run ads on LinkedIn with proper strategy.
7. Pinterest
Pinterest can give you out-of-the-box ideas that can be a saviour. Anyways, Pinterest is a famous social bookmarking site where you can save a lot of ideas related to any field. Pinterest successfully made it to the top 10 famous social media platforms. In the year 2020, Pinterest saw tremendous growth, and now it has around 320 million active users per month. 
You can share images and save the ones that you like.  Pinterest can be an apt platform for brands who want to share information about their brand or creative content. Pinterest is an important platform as it helps to get links, conversions and much more.  It is the most friendly social media environment, and different brands can easily earn organic traffic if the content is engaging and eye-catchy.
8. Reddit
Reddit is a social media platform where no matter what, you are going to find like-minded people. This platform suggests, educates you, and is fun at the same time. Reddit is an old social media platform, more like a social discussion forum where you can upload images and write answers to different questions. It is an informational platform used to read and share information.
There are dedicated forums in Reddit known as subreddits, and currently, Reddit has nearly 2.2 million dedicated forums. Furthermore, as per business or branding point of view, you can analyse which subreddit, your brand can be part of. If your target audience actively uses Reddit, then you can give importance to this platform. You can share advertisements and can take content ideas from businesses similar to you.
9. Whatsapp
Whatsapp gained popularity just after its launch in 2009. Currently, it has nearly 1.5 to 2 billion active users per month. Whatsapp underwent tremendous growth rapidly in the last 4 years, all because of the benefits it provides. Whatsapp is a communication tool and platform, whereas, in businesses, it can produce immense marketing value. 
It was only initially that people used to communicate with their loved ones on WhatsApp. Now people have started doing business deals on WhatsApp. Many businesses have started finalising the deal on this social media platform. Whatsapp allows you to build your business profile so that whoever comes can get an idea about the business.
10. TikTok 
It's been two years since TikTok was first introduced as a video-based application platform. However, today, it has more than 800 million users per month. When it was launched in 2018, it became the most downloaded social media application. It became famous for its video recording and editing features. With this, it is counted among the top 10 and famous social media platforms. 
The age demographic of TikTok in the United States of America is 34, and TikTok promotes entertainment, comedy, lifestyle, and such videos that attract a wide variety of users and target audience.
Again you can think of using it as your social media platform if your target audience is youngsters. Furthermore, posting fun and eye-catchy content can increase your followers on TikTok.
Why go for Social Media Platform/Sites?
Social media is a public platform where you can interact with different people irrespective of religion, region and caste. Social Media provides unlimited benefits to businesses. Most brands use these platforms to interact with their target audiences to increase their brand's presence and organic reach. Hence going for social media sites is an apt idea to reach the audiences in a more convenient way.
Conclusion 
Lastly, with this article, you might have understood the importance of individual platforms. Regardless of the social sites with the number of active users, check whether your target audience is active on such platforms. Choices are not limited, you have a list of all the famous platforms. You need to wisely choose the social media platform that suits your brand and its image.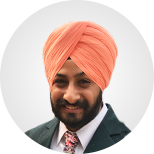 Having mastered every aspect of Social Media Marketing, Gurpreet Singh employs his leadership qualities as Social Media manager.  He believes that writing is an effective medium to communicate to many. He considers his blogs as the medium to share his perspectives about the changes in the industry.