Facebook Ads have emerged as an invaluable component of digital marketing over recent years, helping small and larger businesses connect with their target audiences more efficiently. We will discuss its importance, how its implementation has altered digital marketing, and how smaller firms can take full advantage of Facebook Ads to achieve maximum impact targeting of their ads. This blog will also address whether and how to advertise on Facebook can work effectively for smaller enterprises.
Importance of Advertising on Facebook
Facebook Ads can be an incredible asset to businesses that seek to increase their online presence. Boasting over 2.8 billion monthly active users, Facebook presents businesses with a massive audience to target through advertising on Facebook. Furthermore, these ads allow businesses to target specific demographics, such as the interests and behaviours of users, for optimal ROI from advertising spend – reaching users more likely to engage with the content provided. 
Facebook Ads have revolutionized digital marketing for small businesses by making it accessible and affordable. Where traditional media advertising channels, like TV, radio, or newspapers, were only affordable to large companies with substantial marketing budgets – Facebook Ads level the playing field by giving smaller firms equal footing when competing against large ones.
How can small business leverage Facebook Ads?
Small businesses can leverage Facebook Ads by crafting carefully targeted campaigns to reach their ideal customers.
You have to Utilizing its targeting options, small businesses can reach users based on their interests, behaviours and demographics – while producing engaging content like eye-catching visuals, compelling copy and interactive features such as quizzes or polls to engage their target audiences – using these ads can expand brand recognition while increasing lead generation and conversions for conversion purposes. If you want to look deeper into the size & specs of Facebook Ads you can look at this official guide from Facebook.
What are the 5 major benefits of Facebook Ads?
1. Highly Targeted Advertising
One of the major benefits of Facebook Ads lies in their highly targeted advertising capabilities. Businesses can target individuals based on demographics, interests, behaviours and even location – this means reaching their ideal audiences with higher engagement rates and return on investments (ROI).
2. Cost-Effective Advertising
Facebook Ads offer businesses with smaller budgets an economical form of advertisement that's sure to bring results. Unlike traditional methods like TV or radio advertising, which require upfront capital expenditure for broadcasts and commercials, these digital-first advertisements allow companies to set a monthly budget while only paying per click/impression received, meaning more value from their investment with greater returns seen over time.
3. Increased Brand Awareness
Facebook Ads provide businesses with an effective tool for expanding their brand recognition by reaching a wider audience. By designing engaging and relevant ads, businesses can catch customers' attention while increasing online visibility – leading to higher website traffic, social media follower-ship and ultimately sales growth.
4. Improved Targeting Accuracy
Facebook Ads provide businesses with improved targeting accuracy, as they will only appear before users are more likely to engage with their content. Facebook uses sophisticated algorithms that analyze user data and behaviour patterns to ensure businesses target the most likely viewers – ultimately leading to greater conversion rates and an enhanced return on investment (ROI).
5. Flexibility and Customization
Facebook Ads provides businesses with flexibility and customization options that allow them to tailor ads that align with their marketing goals and brand messaging. Businesses using Facebook Ads for business promotion purposes, brand building or driving website traffic may find these customized advertisements meet all their requirements seamlessly – giving them ample scope for experimentation with different ad formats or targeting options until finding something that works well with them.
How to Create a Facebook Ads Account?
Establishing a Facebook Ads account is an effortless, time-efficient process that can be completed in minutes. Once created, businesses can utilize it to easily launch campaigns with set budgets and track the performance of ads across Facebook platforms. In this step-by-step guide, we will learn how to open one yourself!
Step 1: Access Facebook Ads Manager
Step one in creating a Facebook Ads account is accessing its Ads Manager. To do so, log into your personal Facebook account and click the drop-down arrow in the top-right corner. From here, select Ads Manager to gain entry to its dashboard.
Step 2: Create a New Ad Account
Step one in creating a Facebook Ads account is accessing its Ads Manager. To do so, log into your personal Facebook account and click the drop-down arrow in the top-right corner. From here, select Ads Manager to gain entry to its dashboard.
Step 3: Select Payment Method
After selecting an advertising payment method for your ads on Facebook Ads, select how they wish to make payments – whether through credit/debit cards, PayPal payments or coupons offered by Facebook ad coupons.
Step 4: Confirm Your Email Address
To complete the setup of a Facebook Ads account, it will be necessary to confirm your email address. Facebook will send an email with a verification link that must be clicked to complete this step.
Step 5: Add Team Members (Optional)
If multiple people are working on your Facebook Ads, account at once, adding team members allows for differentiation based on each team member's roles and levels of access granted accordingly.
Facebook Ads are an invaluable marketing asset, enabling businesses to connect with their target audiences and achieve their marketing objectives. To use it effectively, however, businesses must understand its structure: campaigns, ad sets and ads.
Structure of Facebook Ads Account: Understanding Facebook Ad Campaigns, Ad Sets, and Ads
What is a Facebook Ad Campaign?
A Facebook Ad campaign refers to aggregating ads with one common purpose and aim. Campaigns may be created with various marketing objectives – for instance, increasing brand recognition or leads, driving sales etc. – all achievable using Facebook advertising. Within each Facebook Ad campaign, there are multiple options available at its base level that make managing and optimizing it simpler, such as:
Campaign Objective: Your ad campaign's objective should include increasing website traffic, improving post engagement or generating leads.
Campaign Budget: How much you are prepared to invest into running an ad campaign should also be determined beforehand.
Audience Targeting: Your target audience for an advertising campaign could include people based on demographics, interests, behaviors or location.
What is a Facebook Ad Set?
An Ad Set on Facebook allows you to organize ads based on target audiences, budget, and schedules into convenient groups for easier performance tracking. Multiple options are available at the Ad Set level, allowing for greater organization: target audiences, budget allocation, frequency caps for delivery, etc.
Ad Set Name: You should name your ad set for easy identification.
Audience Targeting: Here, you can define who your target audience will be by demographics, interests, behaviours or location.
Placement: Here, you can select where your ads will appear on platforms like Facebook, Instagram or Audience Network.
Budget and Schedule: Here, you can set an ad's budget and schedule, such as daily/lifetime budget limits and start/end date settings, with delivery optimization features enabled.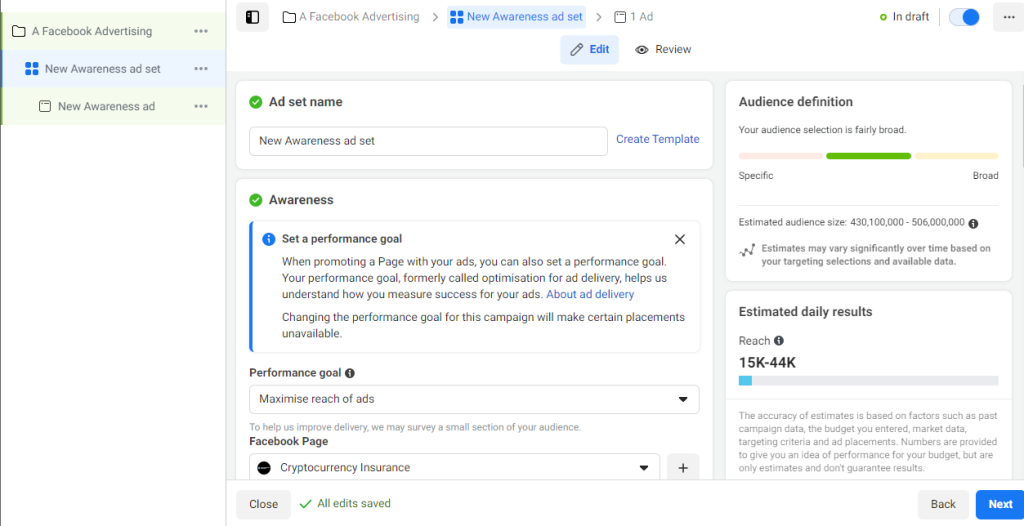 Facebook Ads are creative content designed to reach target audiences. Within an ad, various options are available at the ad level for targeting, such as Ad Format, which specifies its format (image, video, carousel or collection).
Ad Creatives: These include images, videos and text that make up an advertisement's main body; Call-to-Action buttons can encourage users to take action, such as learning more or shopping now; whilst Tracking options help track performance metrics like impressions, clicks and conversions for tracking ads.
Are you ready to start setting up your first campaign to advertise on Facebook?
No matter if you are an established marketer or just getting started in marketing, setting up your first Facebook Ads campaign may seem intimidating and complex – don't panic, though; we will walk through each step with you, from setting it up all the way to choosing which settings apply at each step.
Step 1: Set up your Facebook Ads account
Before creating your first campaign on Facebook Ads, it is necessary to first have an Ads Manager account.
If this doesn't exist, creating one is easy – visit their website and click "Create an Ad".
Enter your business name and payment information and click on "Continue."
When finished, click on "Done."
Once these steps have been completed, your Facebook Ads account will be up and running, allowing you to start creating campaigns immediately! Once complete, select the currency for your ads before clicking "Create Ad Account." In time you could have set up and begun running campaigns!
Step 2: Choose your campaign objective
Step one in creating a Facebook Ads campaign is selecting its objective – that goal could include increasing brand recognition, driving website traffic or generating leads. To select this objective follow these steps.
Ads Manager allows users to easily create campaigns by clicking "Create."
Choosing "Campaign," selecting an objective from available options that align best with their marketing goals.
Giving your campaign a name and clicking "Continue."
Step 3: Set up your Ad Set
Once you've selected your campaign objective, the next step in setting up your Ad Set should be creating it. Here, you will specify your target audience, budget and schedule – following these steps can help get it ready: :
You will select Ad Set from the left navigation menu for further configuration.
Target your audience according to location, age, gender, interests and behaviors. Set a daily or lifetime budget before scheduling ads at specific times for maximum effectiveness.
Select your placement options, such as whether or not your ads should appear on Facebook, Instagram, or Audience Network.
Step 4: Create your Ad
Step four in creating your Facebook Ads campaign involves developing the Ad. This step includes choosing its format, images or videos, copy and call-to-action (CTA). Follow these steps to develop it: Take your Ad from the left navigation menu:"
Choose an ad format, such as image, video, carousel or collection. Upload creative elements (images or videos), and write your ad copy and CTA. Preview it carefully to ensure everything looks correct before submitting it for review.
Settings you can opt for on the Ad campaign level
Campaign objective: As mentioned earlier, this is where you define the goal of your campaign.
Campaign budget optimization: You can choose to optimize your budget at the campaign level, which means Facebook will automatically allocate your budget to the ad sets that are performing the best.
Campaign schedule: Scheduling your campaign can be an amazing way to stay ahead of the curve and plan the campaigns.
Campaign bidding: You can choose from different bidding strategies such as Cost per Click (CPC), Cost per Impression (CPM), or Cost per Action (CPA).
Campaign delivery optimization: You can optimize your ad delivery for certain actions, such as link clicks or impressions.
Target audience: At this step, you will select an audience you would like your ads to reach based on factors like location, age, gender, interests and behaviours.
Ad Placement: Select where your ads should appear by choosing among Facebook, Instagram, Messenger and Audience Network as possible platforms or using automatic placement, where Facebook will place them where they will perform best. Alternatively, you may select automatic placement, which places ads where Facebook thinks they perform best automatically.
Budget and Schedule: Once your ad campaign budget has been decided on, select an advertising schedule that best meets your goals – either continuously running ads for an allotted period or set intervals where only specific advertisements should appear on certain days or for set duration periods.
Optimization and Delivery Options for Ads: Select from several optimization and delivery options for your ads to meet any particular goal or action – such as clicks or conversions – while choosing standard or accelerated delivery as delivery modes for them.
Review and Submit: Double-check that everything looks correct before previewing ads to see how they will look across different devices. Once satisfied with your ad campaign settings, press the Submit button for review by Google Ad Words.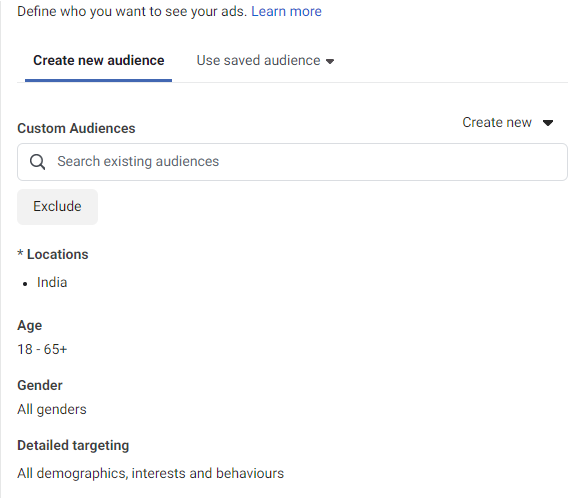 Settings you can opt for on Ad Set Level
Setting Your Target Audience: Determine your ads' intended targets by setting demographic, interest or behavioural filters.
Placements: Select where your ads should appear by choosing among Facebook, Instagram, Messenger or Audience Network ads as your destination; alternatively, you may select automatic placements.
Budget and Schedule: Set both a budget and schedule for your ads to run continuously or for a specific period.
Optimization and Delivery Options: Select optimization and delivery options for your ad set, such as optimizing it for clicks or conversions and choosing standard or accelerated delivery as appropriate.
Ad Format: You will select an ad format such as image, video, carousel or slideshow for your ad.
Ad Creative: Craft your creative, including image or video content, call-to-action buttons, and callout text.
Ad Preview: Inspect how your ad will look across various devices by previewing.
Establish Tracking and Measurement for Ads: Track the performance of your ads by setting up tracking and measurement systems that measure their impact.
Congratulations on successfully setting up your first Facebook Ads campaign! Remember, the key to successful Ads is testing, optimizing, and refining them continuously – by constantly monitoring ad performance and making adjustments as necessary, you'll increase ROI while reaching marketing objectives more quickly.
Advertising on Facebook requires optimizing ad campaigns for maximum effect; here are a number of
Strategies that will ensure maximum return for your investment in Ads:
Before embarking on any campaign ad creation endeavour, set clear campaign objectives. High-quality images or videos: Visuals can make or break an ad; therefore, ensure all images used to fit with your message effectively and are high in quality and relevancy.
Keep it short and sweet: Write brief, engaging copy that conveys your message and calls to action in an easily understandable fashion. Its Target precisely: Leverage Facebook's targeting options in order to connect with those relevant to your business.
Utilize Lookalike Audiences: Utilize your list of customers to build lookalike audiences to reach people similar to them.
Split Test Your Ads: Test different versions of ads to understand which performs best and test out various variants to see which performs better than expected.
Utilize video ads: Video ads often receive higher engagement than static image ads, as their engagement rates tend to be greater.
Optimize for mobile devices: Since most Facebook users access it via smartphones or other portable devices, ensure all ads are optimized for this platform.
Retarget people who have interacted with your business or visited its website through retargeting ads; experiment with different ad formats on Facebook to see what works for your business and adjust accordingly.
Use social proof: Add customer reviews or testimonials as social proof in your ad copy, providing added credibility for potential target audiences.
Ad scheduling: Determine when it is best to run ads according to target audiences' behaviour.
Frequency capping: Limit how often an individual sees your ad to avoid fatigue.
Use call-to-action buttons: Utilize clear and compelling call-to-action buttons to motivate users to take the desired actions.
Ad placements: Take advantage of Facebook ad placements to reach audiences where they're most likely to engage, such as where people browse online.
Ad targeting by interest: Tailor ads according to your audience's interests to increase engagement.
Landing Pages: Make the user experience seamless by setting up dedicated landing pages for each of your advertisements.
Staying abreast of ad performance: Be vigilant in keeping an eye on and adapting strategies according to how well they perform, then monitor them to adjust strategies accordingly.
Leveraging Facebook Custom Audiences for Targeted Advertising: Use its custom audiences feature to target users who have engaged with your business before and target those.
Apply Facebook Pixel: When installed on a website, Facebook Pixel enables users to track user behaviours and optimize ads based on this data.
Applying these strategies will allow you to optimize your Facebook Ads campaigns and see improved results. Experiment and adjust based on performance data as necessary.
Defining Your Facebook Ads Budget
Establishing your Facebook Ads budget requires careful thought. You have to develop good Facebook marketing techniques in different ways. Your goal should be to allocate resources effectively so as to optimize return on investment (ROI). Here are a few key steps for getting you underway:
Establish Clear Objectives: You must clearly define your campaign goals from the outset. Your objectives may include increasing brand recognition, driving website traffic or increasing conversions; understanding these will assist with budgetary decisions and your budget planning processes.
Knowing Your Audience: Accurate advertising targeting requires understanding your target audience's preferences, demographics and behaviour – this knowledge will allow you to more precisely tailor ads and allocate a budget.
Consider Lifetime Value of Customers: Understanding the lifetime value of customers is integral in developing an accurate budget. Calculating average revenues generated per customer over their entire relationship will indicate how much can be spent to acquire new ones.
Exploring Different Bidding Strategies
Bidding strategies play a vital role in the success of Facebook Ads campaigns; here are several that should be kept in mind:
Cost Per Click (CPC): When paying per click (PPC), advertisers pay each time someone clicks their ad. This strategy can help drive more visitors directly to their websites or landing pages.
Cost Per Mille (CPM): CPM ads focus on impressions and charge you per 1,000 views your ad receives, making this ideal for increasing brand recognition and reaching a wider audience.
Cost Per Action (CPA) Bidding: CPA bidding allows you to optimize for specific actions such as purchases or sign-ups – making this strategy ideal for increasing conversions and driving sales.
Bid Cap: Establishing a bid cap allows you to control costs by setting an upper limit for every action or click. This feature offers greater cost control while still optimizing for targeted outcomes.
Experimentation is key when searching for your business's most efficient bidding strategy. Start out small with your budget before gradually expanding it as data accumulates and campaign success improves.
Optimizing Your Ads Budget
Once your ads have started running, optimizing their budget to maximize results is essential for maximum effectiveness. Here are a few suggestions to maximize the return on your advertising spend:
Track Performance Metrics: Regularly monitor ad performance metrics such as click-through rates, conversion rates, and cost per conversion to gain insights into the effectiveness of campaigns and make informed decisions about them. This data can provide vital insights that enable informed choices.
Refine Targeting: Ongoing evaluation and refinement of the target audience should occur based on performance data to eliminate underperforming demographics while prioritizing segments that yield positive outcomes.
Ad Scheduling: Examine your target audience's behaviour data to identify peak moments when your ads can reach and engage more with its members. By scheduling ads during such moments, you can maximize reach and engagement for maximum reach and impact.
Comparing Costs: Facebook Ads vs. Instagram Ads
Facebook and Instagram, two powerful platforms owned by one company, share an advertising system that makes advertising across both platforms effective. Yet, each offers different nuances when it comes to costs. Let's compare them:
Audience Reach: Facebook boasts a larger user base and provides unparalleled reach and targeting capabilities with over 2.8 billion monthly active users; on the other hand, Instagram's visually-appealing format appeals more strongly to younger demographics, garnering it 1 billion monthly users worldwide.
Engagement Levels: Instagram reigns supreme regarding user interaction; users on Instagram tend to interact more regularly with posts than users on Facebook do, leading to higher engagement rates on this social network. Both platforms present opportunities for engagement, but for optimal results, Facebook may require further strategic targeting efforts to deliver optimal outcomes.
Ads Cost: When advertising on Facebook and Instagram, costs can depend heavily on factors like audience targeting, format type and competition. Instagram ads tend to have higher cost-per-click (CPC) averages than their counterparts on Facebook; however, specific costs depend on niche, industry or campaign objectives; therefore, it's crucial that thorough research be performed and performance monitored during campaigns to ascertain which platform provides optimal cost/value ratio for your business.
Optimizing Budget Using A/B Testing
A/B testing (also called split testing) is an invaluable strategy that enables you to compare two versions of an advertisement or landing page side-by-side to assess which version outperforms its rival in terms of performance and cost efficiency. Here's how A/B testing can help your budget:
Define Test Variables: Select elements you would like to test, such as headlines, images, copy or call-to-action buttons. Ensure that only one variable at a time is tested to accurately gauge its effects on customer behaviours.
Create Test Groups: Split your audience into several subsets, each receiving different versions of your ad, to increase the accuracy of results. Make sure these groups match closely in terms of demographics and behaviour for the best results.
Measure and Analyze: Evaluate each variation using metrics like click-through rates, conversion rates or cost per acquisition to track their performance and identify which stands out as superior. Analyze this data to isolate a winning variant among them all.
Implement the Winning Variant as Your Ad and Continue Testing Elements: Implement your winning variation as your primary ad while testing additional elements to refine and strengthen your campaign's efficacy. A/B Testing provides an iterative method of optimizing budget and ROI through continuous optimization processes.
Congratulations on reaching the conclusion of our comprehensive guide to Facebook Ads! We have covered various aspects such as setting budgets, bidding strategies and optimizing ad spend versus Facebook/Instagram costs comparison. Now let's round off our discussion with some final thoughts and a look toward future developments within this space.
The Power of Facebook Ads
Facebook Ads have revolutionized how businesses communicate with their target audiences. With an expansive reach, advanced targeting options and cutting-edge advertising features, Facebook Ads provide businesses with an excellent opportunity to expand their online presence, increase conversions and achieve their marketing objectives.
Strategic budgeting enables you to utilize resources efficiently and maximize the returns from your advertising investment. Setting clear objectives and knowing who your audience is are the cornerstones for effective campaigns; exploring various bidding strategies can allow for fine-tuning approach for specific outcomes; finally, by continuously refining ads, you can extract maximum value from the budget.
The Future of Facebook Ads with the Inception of AI
Technology continues to progress rapidly, and AI holds immense promise as an advertising revolutionizer, helping businesses make data-driven decisions, enhance target precision, and deliver personalized experiences at scale. AI could transform Facebook Ads even further!
Facebook uses AI to scour vast amounts of user data for valuable insights and patterns that allow advertisers to craft highly tailored ads that resonate with their target audiences deeply. By employing algorithms powered by artificial intelligence, Facebook optimizes ad delivery. Hence, the right message reaches its intended recipients at precisely the right time.
AI can facilitate ad creation by automating mundane tasks, freeing advertisers to focus on producing engaging content and strategies for their ads. From automatic bidding tools to dynamic ad customization services, these AI-powered tools promise to revolutionize how businesses approach Facebook Ads
META and its Plans for Facebook Ads
As of September 2021, Facebook underwent a significant rebrand and is now known as META. Through this transformation, META pledges its dedication to virtual and augmented reality technologies to create a more engaging online experience for its users.
Whilst META's rebrand does not directly influence Facebook Ads, it does reflect their vision for the future. With their investment into new technologies, such as virtual and augmented reality for Facebook Ads, we may witness exciting advancements within advertising, allowing businesses to connect with audiences in unusual ways.
META's focus on creating a shared digital space – or metaverse – opens up exciting avenues for advertisers. Businesses could take advantage of evolving metaverse to build immersive brand experiences for customers in virtual environments or explore novel aspects of storytelling through META's advertising platforms.
Embrace the Future of Facebook Ads
As we conclude our investigation of Facebook Ads, it's essential to recognize its ever-evolving nature. Ads will continue to adapt alongside technological and AI advancements and META's strategic direction.
Businesses looking to thrive in today's rapidly-evolved business environment must stay abreast of market developments, adapt their strategies accordingly and embrace innovation. Keep abreast of emerging trends, and test out new features/formats/AI capabilities to enhance advertising efforts – this way, your brand will remain ahead of its peers while unlocking the full potential of Facebook Ads!
Remember, at its core, Facebook Ads are about connecting with people–your target audience, by offering relevant, engaging experiences tailored to meet individual preferences and drive business expansion in digital environments. Through such campaigns, you can build lasting relationships, foster business development and make an impactful statement online. Facebook Marketing strategies are changing every day. 
Welcome the future of Facebook Ads with enthusiasm and optimism, seize its opportunities, and watch as your brand thrives.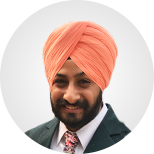 Having mastered every aspect of Social Media Marketing, Gurpreet Singh employs his leadership qualities as Social Media manager.  He believes that writing is an effective medium to communicate to many. He considers his blogs as the medium to share his perspectives about the changes in the industry.