Social media has quickly become an invaluable asset to businesses of all kinds in today's digital era, helping to engage customers and market products or services effectively. Facebook alone boasts 2.85 billion monthly active users – giving businesses of any kind an incredible reach into an enormous target audience and growing their brand! In this blog post, we will create a Facebook business page. In doing so, we will also cover:
Basic and available settings.

Marketing possibilities with Facebook pages.

The Advantages of a Facebook Business Page
Why should you use Facebook for Business?
Before we discuss how to create a Facebook page for your business, let's first address why Facebook is essential to businesses. Here are a few reasons why your organization should leverage this social network:
Size of Facebook Audience and Its Potential
With 2.85 billion monthly active users on Facebook alone, businesses have access to an incredible potential audience. Creating a page specifically for your business and tapping into this vast pool of people to promote products or services – is particularly advantageous if the advertising budget is tight.
Essentials of a Facebook Business Page
Facebook pages give your business an effective platform to showcase itself online, communicate updates, promote products or services, and connect with customers. By creating one for your company, a solid online presence can be established, making it easier for potential clients to locate you.
Why Facebook Page is Necessary for Business?
An essential tool in expanding and growing any business, Facebook pages are vital in providing numerous advantages to any enterprise. Here are just a few reasons to create one for your organization:
Increased Visibility: Creating a Facebook page for your business will reach a wider audience and enhance online visibility, leading to greater brand recognition and higher sales figures.

Improve customer engagement: Facebook pages offer your business the chance to engage more directly and personally with its customer base by responding directly to comments and messages sent from followers of its page, which allows it to build stronger relationships that increase brand loyalty for tremendous business success.

Targeted Advertising: Facebook Ads allow businesses to target specific audiences with relevant content, increasing the chances of leads and conversions. Utilizing its powerful targeting options, businesses can craft highly tailored ads that reach precisely who needs to see it at exactly when.

Cost-Effective Marketing: Social media marketing, like Facebook, can provide more cost-efficient options to reach your audience than traditional methods like TV commercials. Businesses can create engaging content and run targeted advertisements to engage their target market without busting the bank!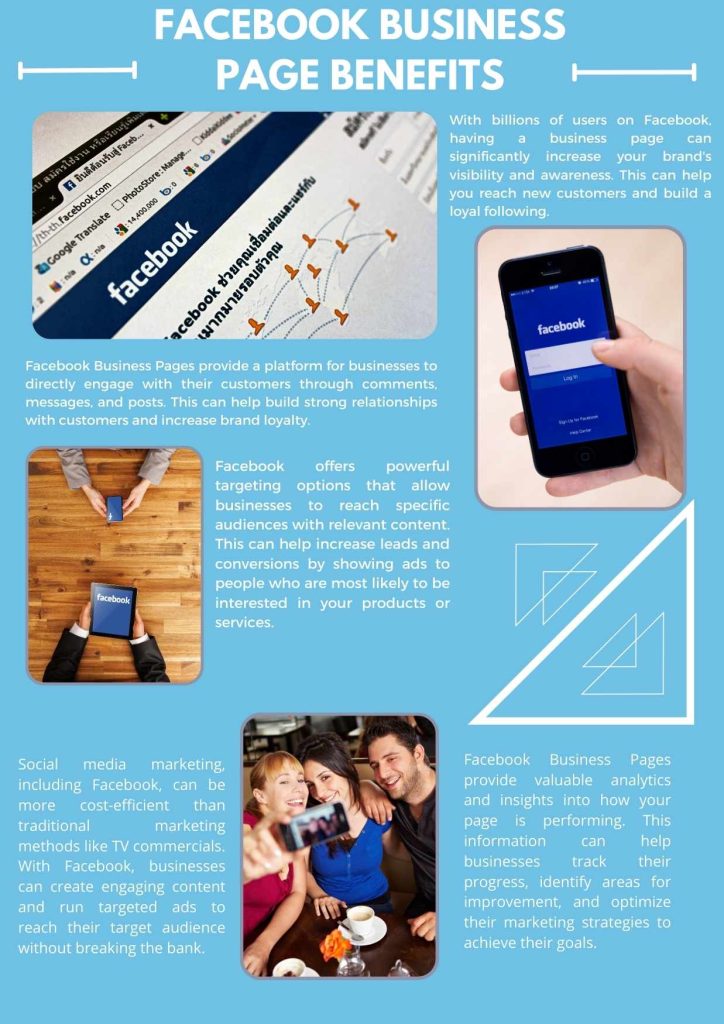 Step by Step How to Create a Facebook Business Page
As we have covered bases on how to create a Facebook Business Page, let's move and focus step by step on how to create a Facebook Business Page.
Step 1: Sign in to Facebook
To create a Facebook page for your business, you must sign in to your account. If you don't have a Facebook account, you need to create a personal account which can then be used to create the Facebook Page.
Once signed in to Facebook, press "Create" in the top right corner. A drop-down menu will open, displaying several options; select "Page" from this list to begin creating your page.
Step 3: Choose a Page Type
Facebook provides different page types suited to various business categories. Choose the option best suited to your company from options like "Local Business or Place", "Company or Organization", and "Brand or Product".
Step 4: Enter Your Business Information
Your next step should be entering all relevant business details – name, address, phone number, website URL, and any additional pertinent data that helps customers locate it and learn about what services or goods it provides. Make sure all fields are filled accurately and entirely so customers can quickly discover who and what your services or offerings are! This data can also help customers learn about you more quickly as customers look up details online about similar offerings from competitors.
Step 5: Add a Profile Picture and Cover Photo
Once your business information has been entered, the next step should be adding profile pictures and cover photos to your Facebook page. Choose images that accurately represent your brand and leave an impactful first impression. Your profile picture must measure at least 170 x 170 pixels, while 820 x 312 pixels should suffice as cover images.
Step 6: Create Your About Section
Your "About" section on Facebook is integral to doing business. Here you provide potential customers with information about you and what makes your brand distinctive while engaging potential clients. Spend time creating an appealing "About" section that accurately represents and engages potential clients
Step 7: Create Your First Post
Once the previous steps have been accomplished, it's time to create your inaugural Facebook post introducing yourself or detailing the products/services offered. Be sure to add engaging images and text for maximum impact when posting!
Facebook Business Page Essentials
Now that your Facebook page for business has been established, the next step should be optimizing it to achieve success. Here are a few essential components you should include in it.
Make Sure Customers Know When You Are Open Make sure that customers know when your store will be open so that they can plan visits accordingly. Including this information on Facebook will let them know precisely when to come to visit and plan visits accordingly.
Add Your Contact Details Make it easier for customers to access you and understand more about your business by listing contact information such as your phone number, email address, and website URL on Facebook pages for your business. Doing this makes getting in contact easier as customers will learn more quickly about you!
Enable reviews on your Facebook page to allow customers to leave feedback for your business and build trust among potential clients while increasing credibility. Positive feedback will allow customers to rate you, increasing your customer base.
Integrate a Call-to-Action (CTA) Button Include a CTA button on your Facebook page that encourages customers to take immediate action, such as booking or buying something on Amazon, calling someone, or shopping via your store now button can drive conversions and boost sales. This simple addition could dramatically expand revenue.
Different Settings After You Create A Facebook Page For Business
Facebook provides businesses with various settings and options to tailor their pages according to their specific needs. Below are a few settings available to Facebook business pages:
Businesses can utilize Page Roles to grant various levels of access to various team members to manage their Facebook pages more efficiently and ensure that only authorized individuals can make changes.
Businesses using post attribution can choose to post as either themselves or on behalf of their brand on social media pages, helping personalize their brand while engaging with customers in more intimate ways.
Audience restrictions enable businesses to tailor the content they share based on factors like age, gender, location, and interests – helping businesses target specific audiences with relevant posts.
Facebook allows businesses to set their page moderation settings so that all interactions on their page remain positive and respectful. By setting these parameters, businesses can ensure that all interactions on their Facebook page remain respectful.
Initialize Marketing on Facebook
Once you create and optimize a perfect Facebook Page, it's time to use it to market your business on the platform. Here are some essential elements for using it as component of a successful campaign.
To attract and keep followers, create and post engaging content on your Facebook page that reverberates with your business and audience. This may include blog posts, videos, photos, or any other type of media relevant to what they need from you.
Facebook ads can be an extremely effective marketing strategy for businesses of all sizes. Target specific audiences based on location, age, gender, and interest groups to reach new potential customers who may otherwise go undiscovered.
Facebook Insights provides businesses with a valuable way of monitoring their performance on the platform, giving businesses access to data about how many people are engaging with your content and which posts receive the most engagement, among other essential insights that will allow them to optimize their Facebook marketing strategy and maximize marketing returns.
Engaging With Your Audience
Engaging with your audience is essential to building a successful presence on Facebook. Respond to comments and messages, pose questions to followers, and invite feedback – this way, you'll create a community that cares about what your brand stands for!
Benefits of creating a Facebook Business Page:
Establishing a page for your business on Facebook can bring many advantages, such as:
With over two billion active users worldwide, Facebook is one of the world's most widely-used social media platforms. Establishing a page on this social network for your business can help expand its reach to new customers while expanding online visibility.
Improved Customer Engagement
Facebook can be used effectively to engage customers and build relationships. By posting engaging content and responding to comments or messages, you can create a dedicated following invested in your brand.
With Facebook ads, you can create targeted advertisements that target specific audiences based on factors like location, age, gender, and interests – providing a means of capturing potential customers most likely to be interested in your products or services.
Cost-Effective Marketing Solutions
Setting up a Facebook page for your business is complimentary. At the same time, many of its marketing tools can also be obtained at no or low cost – making Facebook an excellent solution for cost-conscious businesses looking for cost-efficient marketing solutions.
Launching a Facebook page for your business can be an efficient and straightforward way to expand online visibility, engage customers and drive conversions. Following the steps outlined herein, you can craft an appealing page supporting your marketing goals – so why wait any longer? Get going today!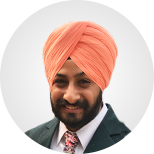 Having mastered every aspect of Social Media Marketing, Gurpreet Singh employs his leadership qualities as Social Media manager.  He believes that writing is an effective medium to communicate to many. He considers his blogs as the medium to share his perspectives about the changes in the industry.