Instagram is a place where celebrities, influencers, businesses, explorers, and many more professionals reside. Since its inception in 2010 Instagram has been where everyone wanted to showcase themselves. However, companies have used Instagram to their advantage for a long time now. Year on year, businesses apply unique strategies to get the desired results. But, some businesses still use outdated strategies, as a result, they waste their time resources, and in the end, hard-earned money. That's why we decided to give you some of the best Instagram Marketing Ideas in 2022.
The way Instagram is evolving, it wants an all-inclusive experience for its users. Instagram wants that the users get everything that they want within the app. That means fashion, traveling, food, science, sports, or technology. Instagram wants the users to get everything from the app. So, what does it means for brands and businesses? Shoppable Instagram Ads are a huge example of the changing dynamics on Instagram. Thus, brands will have to find unique ways to get ahead in the game. We have covered quite a few unique and modern ideas that still work on Instagram.
Ideas can be relevant for businesses in different stages. Some ideas might be relevant for your business at the starting stage, some might be effective later on. All in all, we have tried to cover everything. We will start with basic points and move towards some advanced points.
Some Stats to sway you towards Instagram in 2022:
So, without further ado let's start with Instagram marketing tips:
1. Run Branded and Unbranded Contests
One of the best marketing ideas on Instagram to engage your followers and gain new followers is to run branded contests. Apart from engaging your followers, you can also use it for new products or campaign promotions. Contests are an amazing way of spreading the word about your brand across channels. 
However, contests only work if the reward is worthwhile. The reward should be such that it will create huge hype around your objective. The only purpose of running a contest should be that you do not have to put in the effort to get the reach. Word of mouth or the "share" option should do the trick for you. However, if you have to put in extra effort for the contest then you might have to review the reward which you are providing.
2.
Brand Storytelling is Important
Promotional stories, reels, and posts will never work on Instagram. If you are just using Instagram as a robot to post stuff that isn't relative to people in their daily lives you are never going to gain a following. You can use the art of Brand Storytelling to relate with people. Showcase your journey. Right along you can tell how did you come up with the product or the service.
3. Promote your Brand's Hashtag
Earlier we discussed how to run a content calendar.  Now, one of the best Instagram marketing ideas is what you can do is promote your Brand's hashtag. You can put the hashtag in the contest. Ask people to reshare to participate/win the contest. You can also use hashtags and include them in your captions, graphics, and reels.
4.
Have a basic understanding of Instagram's Algorithm
Instagram's algorithm used to be chronological. That means the latest post will show up on top. However, this meant that people would miss content from some topics that might intrigue somebody. This forced Instagram to change its algorithm to a more theoretical and relevant sense. So the factors that Instagram kept in mind were:
Interest

Timeliness

Relationship

Frequency

Following

Usage
Thus, it gives you an idea that how the products are curated for your brand and how Instagram showcases content to the users. Noteworthy thing is that it doesn't have to be a follower who will see the content on their feed or through the explore. Instagram will showcase the content randomly to the users.
5. Use Instagram Reels for a wide reach
 Introducing Reels was a huge and smart move by Instagram. In an ever-changing world, TikTok took the world by storm. Short videos attracted lots and lots of users. Thus Instagram followed the suit and Introduced Instagram reels. Which in turn means a more engaged audience. Instagram reels give users a very high organic reach. If your content quality is high and your content is unique then reels will give you a huge amount of reach.
6. Create Instagram-specific web pages for the link in the bio
The link that you put in your bio should take the users to a page that is mobile interactive. The Page should display your full array of products and services. It should in a way imitate the UI of Instagram, which means it should showcase the products with high-quality pictures and videos. This is a cool Instagram marketing idea that only a few brands use
7.
Add Cover to the Instagram Highlights
Highlights of your Instagram account are saved stories. Thus, using highlight covers on the highlights to maintain uniformity is important. As a brand, your profile should stand apart from the rest.
8. Instagram Insights are Priceless(literally)
Instagram Insights are free and one of the most detailed among Social Media Platforms. Insights displayed by Instagram are detailed. They give a post-by-post breakdown. Also, they give details such as what time of the day your users are most active. Also, you can check the location, age, and demographics of your audience. You can use this information to build content catering to your audience. Use Insights to create new Instagram marketing ideas.
9.
Post content when the users are most active
This is important. You can use the Insights mentioned above to check when your followers are active most throughout the day. Then, you can use that information to post the content at that particular time of the day to get the maximum reach.
10. Use Meta Commerce Manager to set up Instagram Shop
If you are an e-commerce brand, you can use Meta commerce manager to set up your profile. Then you can showcase your products on both Facebook and Instagram. Alternatively, if your website is powered by any shopping platform such as woo, Shopify, or Magento you can easily set up an Instagram shop with minimal effort. Commerce Manager is a great tool by Instagram
11. Run an Audit to curate the content
Instagram Audit will help you to pluck out the weeds from your garden, which means you will be able to figure out which content is working for your profile and which is not. Populating the profile only with the content which is giving you the result is a great Instagram marketing idea. You do not have to delete the old posts. You can simply archive them so that they are not displayed on the main profile. Check out our blog on how to do a Social Media Audit.
12. Post Polls and Quizzes in the stories
Stories are a huge part of Instagram. People view stories as they have an intriguing element to them. Thus populating your stories with interactive elements can be helpful for you. Quizzes and Polls can help you to get a response from your followers. Also, you can get an idea from your users about what they want to see the most.
13. Develop your profile according to the theme of your brand
This is an important part of tips to grow your Instagram. Use the same aesthetics as your brand. All the graphics should be themed according to the brand colors. It makes your profile stand out and gives your brand a great look as well.
14. Curate content with great care
Content should be a really important part of your Instagram Marketing Strategy. Creating high-quality graphics and videos of your profile will generate a lot of traffic to your profile. A detailed caption with information is a good practice. Your videos should be well shot and the lighting should be good. Hiring professional videographers and photographers can help you. This is not it. Posting witty, or motivational content according to your brand voice is paramount. Your content should speak the words of the brand that you stand for.
15. Respond to all the replies and Direct Messages
As a brand, you should reply to almost all the Direct Messages that you get. Try liking most of the comments and if someone has a query, be swift in resolving that. Customers love when brands give them personal attention. Also, you can turn off the comments with some of the negative words that you believe will impact the reputation of your brand.
16.
Connect your Facebook Page to Instagram
Well, this is the first step that you should do. Facebook and Instagram are part of Meta. However, you should connect  Facebook and Instagram pages. This would give you the freedom of using Meta business tools, Ads manager, and much more. You will be able to post content across the platforms. A simple yet awesome Instagram marketing Idea. You will be able to use the Ads manager to plan detailed ad campaigns. You can also view the special Insights and much more. 
Follow this blog to see how you can link Instagram to Facebook.
17. Utilize UGC(User Generated Content) to its fullest
User Generated Content is a great way to fill up your profile with content that is organic and will give you a lot of reach. Ask your followers to use the branded hashtags and then you can use their content and share it in your profile. There comes a moral obligation of consent while utilizing the UGC. You have to take permission and also give credit to the creator.
18. Use Instagram Live for a personal touch
Instagram Live is a great way to host live Q&A sessions. You can answer and interact with your followers. You can solve their queries, ask for suggestions, showcase a new campaign that you are running, and much more.
19.Partnerships with Brands and Influencers
Having paid partnerships with famous Brands and Influencers is a great way to get the word out. Instagram encourages content creators and Brands to partner. It provides a platform for the creators to monetize their efforts and help Brands to get visibility. However, you have to be careful when you choose your partners and audience. They should have the same brand value as yours. Their audience should be the same as yours. If you run out of marketing ideas on Instagram, influencers can push you up.
Promotion shouldn't be forceful. People should understand what message you are trying to convey to them through the influencers and your partners. 
20. Instagram Ads work amazingly well
Ads on Instagram work amazingly well. The reach of Instagram will soon be more than Facebook. Ads within the reels, feeds, and stories will give you unimaginable results. You can set up Ad campaigns within the Instagram app or you can use the old trusted Ads Manager to run the Instagram Ads. 
You can run multiple Ad types. Carousel Ads, Shopping Ads, Video Ads, and much more. You can also do the A/B testing to see which content, placements, or audience is giving you the best results.
21. Tune your Instagram Posting Frequency to the right amount
Instagram posting frequency determines your reach. You have to post daily. This will be a constant reminder for everyone about your brand. Posting daily will keep you relevant. However, too much posting can be irritating. Tune down your posting frequency. Give your content the time to reach the maximum audience.
22.
Use Trial and error to get results
Only experimenting will give you the best results. Come up with new things constantly. Run new campaigns regularly. Experiment with the creatives. This is the only way to know what will work best for your brand. There is no hard and fast rule for this. Just stick to the basics. Once you figure out the secret sauce, stick to it.
Finally, as we conclude these amazing marketing ideas for Instagram we want to say that Instagram is a goldmine of trends. Follow the current trends and stay ahead of marketers. Constantly Updating is the key. Stay tuned as we will come up with new trends for you in the future.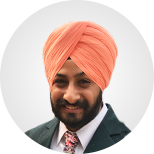 Having mastered every aspect of Social Media Marketing, Gurpreet Singh employs his leadership qualities as Social Media manager.  He believes that writing is an effective medium to communicate to many. He considers his blogs as the medium to share his perspectives about the changes in the industry.