If you are one of those who are struggling to excel in your chosen business via the Instagram platform, then this is definitely for you. Do you want success but there is no or just a little progress at all. No matter how much effort you have put in the work? Then maybe it is time to revise your social media marketing strategies and refresh them with good, effective, and new Instagram marketing ideas. It is always hard for any kind of business to survive in the industry without an active presence on many social media platforms. 
You should always be aware about the do's and don'ts of Social Media Advertising before preparing your strategy.
First of all, the use of Instagram is widely preferred by business pros and highly suggested for beginners since it reaches more than a million people.
As time passed by, it became the leading platform for advertising, promoting brands, knowing consumer's preference in purchasing, and selling alike. It simply means that this kind of social media platform is susceptible to audience advertising for different brands and services offered. It has also been a source of product searching for most people. 
Why do you have to hear and be reminded of this? There are hundreds and millions of competitors out there, using the platform, with good marketing strategy, and successfully increasing their sales. Do not let yourself get behind and elevate your chances of doing and achieving the same. 
If you already have an account with a good profile, then grow your instagram business page but it is not easy and you can't expect sales and results will be served in front of you.
If you want to speed up and deliver your offers to a large number of customers for success, then try considering these six easy Instagram marketing ideas:
1. Have a business account
Let us say that you already have your Instagram account but you want to look more professional and ready for the business side, then convert that into a business account and use it. A business account can bring you a lot of good benefits and features. 
Benefits and features of Instagram business account includes:
Messaging inbox for both primary and secondary messages.

Instagram advertisements, insights, and shopping

Contact information

Automated button for call-to-action on your account's profile
Using a personal account for business is good since it is half-way depending on strategies but if you want to level up your marketing skills to raise your offers, then converting that personal profile of yours to a business account will eventually help you to somehow reach your goals. One of its features that you do not want to skip is that it can help you establish your online store on Instagram. Imagine how huge your edge is to those who do not have the said account. 
2. Optimize the profile
When creating a business account, it is important to optimize your profile for a more audience-appealing effect. In this step, establishing a quality Instagram bio is a bit tricky and will mean a lot. Create a short one that will encapsulate the personality and quality of your brand, the URL of your website, market yourself, and convey something using words why people have to follow your account out of bunches of competitor and anything you want to add that you think will help you to reach out for many people. You have to do this because your account's bio could leave a good impression on those who will read it for a higher likelihood of attracting customers.
3. Know and set your goals
A social media platform like Instagram is a helping tool you can use to run your business and offers but it is useless unless you determine why you are doing so. What are your goals and purposes why you begin that journey in the very first place? You can start assessing your goals by simply asking yourself these directing questions:
Do you want to build a business that is widely known online?

Spread awareness to people through your brand?

Simply attract buyers to make a purchase of your offers and earn bucks?

Share or create some opportunities for other individuals or aspiring to start their journey in the field?
No matter what your goals are, they are all important as earning money since, without it, you can never start a thing. It will direct throughout the experience and these are baselines of your actions and decisions. So, set your goals first and do the deeds after. Setting up your goals is where dreaming and actions to make it real and happen takes place.
4. Know your target market then expand using ads
After clearly setting up your goals and good business profile, try to locate your main target audience. Do your own research of "who are your potential customers that will show interest in buying your products, services, and offers". It will largely help you to easily reach out to people in as much as you already know your target market. Since it is an Instagram marketing, try to research facts about it like:
Age scale of the most active or frequent users of the platform

Which place where its residents or people used the platform more often?

Which country is the target market of the platform?
You can always rely on the results you have gathered in your research but always remember to reach people as far as you can. It does not mean that you will just focus on promoting your business in that area because it turned out that people there are active users of Instagram. It does not have to be like that process. Defining your main audience will help you build and share contents that convey directly to that market you think will give you a high probability of sales or attention. If you are the type of person who likes to grab every chance, then reaching a lot of people is highly recommended but focuses more on knowing the right audience for you.
If you already defined the perfect market for you, then expand it using Instagram ad trends. There is no more appropriate and effective way of showing what you have to offer on a new and larger audience scale than running an ad. Use the relevant pieces of information you have gathered in researching to find your target market so that you can also focus on targeting your ads. More advertisements have more chances of reaching many people and it will bring you subjective outcomes.
5. Create visually exciting content
Instagram is a visually driven social platform that rewards aesthetically pleasing content. So, you need to put your focus on creating great-looking posts. Your Insta profile should have a particular theme and connect with the audience. The type of content you intended to post should make your brand approachable and down to earth. 
If you are using images like animations or infographics, ensure they are clear, crisp, eye-catchy, and easy to read. However, the most important aspect is that your visual content needs to tell a story. No matter how compelling your visual content is, if it does not tell a story or get your audience excited, they will not engage and follow your brand. 
Here are a few content ideas to help you out.
Take advantage of user-generated content – user-generated content is authentic and compelling. It enables your audience to involve themselves with your brand and convert them into advocates. Moreover, it is cost-effective as it is created by the audience and approved by them. User generated content like comments, posting photos of your products and so on.
Post video ads – Instagram offers users to post three types of video ads. Single video ads of 60 seconds, carousels ads-combination of videos and images, and Insta stories that offer you to combine videos and images to create visually exciting ads. 
Make the most of Stories – If you want to generate leads, then make the most of Insta Stories. They come in a slideshow format and are live for 24-hrs only. The benefits of using Insta stories for your brand are endless. 
Behind the scenes posts – give your audience a look of your office environment, your manufacturing process, or your storefront. It gives you a chance to connect with your audience on a personal level and makes you more relatable and approachable.
Experiment with reels – Insta reels is a content format that enables you to create and share short engaging videos and they do not disappear after 24-hrs. You can use it to stand amongst your competitors.
These are a few content ideas to help you get started. However, if you want to reach the potential customer faster, then partner with an influencer who has a large following audience base. This is because more and more people buy products/services endorsed by the influential people they follow. The key is to partner with the right industry influencer to get your brand in front of the users. 
Apart from this, you need to have an interactive hashtag. It allows your audience to search all posts relating to your brand and they can even use the tag to post user-generated content. Every time your audience posts something using your hashtag, they are exposing your brand to their followers. 
Moreover, the most important part is to post your content at the right time. The best time to post on your Instagram is Mondays and Thursdays from 11 am to 2 pm. These are the peak days. The worst days to post are Wednesdays and Sundays.
6. Connect with people
People will not follow you without certain reasons. It is either they like your posts, they have known you for such a long time or quite some time, or any other possible reasons. But, the biggest contributor to it is connection. When you and the customer connect or have something in common, you will both click with each other even without talking or seeing one another in actuality. 
Based on marketing strategies, what does it take to build a connection to people? How to make the process and build a strong connection to your prospective audience or customers? The simplest answer to that is engagement. Promoting high-quality products, services, or content is already a big edge to other competitors but if you do not spend some time engaging with your customers or to people, chances are they will not continue to show interest in you and your offers too. 
If you do so and just depend on everything on the marketing strategies you think will help you and ignore comments, believe it or not, you will be ignored too. If you do not want to spend time interacting with people on the platform, then the exposure that you are expecting to get will be quite low. 
To make it less hard for you to connect to your prospective customer or target audience, find some time in reading these simple advice which includes:
Bear in mind to never reject your customers' comments and nicely respond as best as you can.

Pay extra attention to accounts with the same scope as yours. If you find it beneficial to follow somebody then do it. Leave them some thumbs up or comments because they may help you get new marketing strategies in the future which can be highly beneficial.

Always make your account visible.

Find ways to get engaged on the platform.

Share, re-post or post your stories, any posts that you think will also help you promote your account and offers.

Recognize your top fans by at least tagging them in your posts or pin their comments.
There are so many ways on how to engage yourself in the Instagram platform. Even a single comment or conversation can start the process of connecting to others. By simply liking someone's post or following them can be a way to emerge engagement in your posts or promotions. Besides, if you truly love what you are doing, then you will find this way of engaging as fun. It can also make you productive at some point in as much as you will have a higher rate or chance in connecting, responding, and talking to real people and not just speculations.
You can not just simply depend on your sales on your skills alone. Make use of other social media marketing platforms (facebook marketing, youtube advertising, twitter) like Instagram to distribute your products, services, and offers. You need to build social presence on other platforms based on your business. 
Related: Benefits of facebook business page.
As we all know, social media are dominating platforms for selling and buying decisions. Since there are already millions of Instagram users and is continuously growing rapidly, it will serve as one of your biggest advantages and edge over the growing numbers of high-quality competitors too. 
It will be a huge step for you if you make it a primary tool or method in promoting and selling. If you are reading this and you think that you need to improve your marketing strategies on Instagram, then try to refer to the above easy ideas. It will help you increase your platform's presence and of course, will elevate your sales as an outcome. The above mentioned Instagram marketing ideas and strategy will help you get better results.
If you are still struggling with marketing, then feel free to consult Social Cubicle – Best Social Media Marketing Company in India. Consult with the experts today and find a new way to grow your business.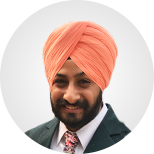 Having mastered every aspect of Social Media Marketing, Gurpreet Singh employs his leadership qualities as Social Media manager.  He believes that writing is an effective medium to communicate to many. He considers his blogs as the medium to share his perspectives about the changes in the industry.