While starting your Social media Journey, especially as a business, you face dilemmas of all sorts. One of those is planning your Social Media Marketing Budget. You may not be sure how to plan and allocate the budget. What are all things you have to factor in? How to plan your budget per paid and organic marketing? How to factor in the other aspects such as creatives and the cost of the tools. Well, your quest for the answers ends today and here as we have covered a healthy amount of aspects. Wherein, we will help you with almost all the aspects of the budget drawing. We will help you with some marketing budget examples so that you can create a marketing budget plan.
Why to even be on Social Media?
If you are still unclear about whether you want to be on Social Media. According to this source, around 54% of Social Media users use Social Media as a tool to research the products that they want to buy. 
According to a poll conducted by Hubspot, 79% of marketers have bought paid advertising services. So, if you want to keep up with the competition Social Media Marketing is name of the game. But devising a Social Media Budget isn't the only thing. You have to also do a Social Media Audit to clarify the strengths and weaknesses of your Social media presence.
So, now let's bring our attention back to the Social Media marketing budget and how to create it.
Social Media Marketing: Things to remember before starting
Allocation of Marketing Budget Plan
As a business, you get an allocation dedicated to Marketing. Numbers and percentages vary according to the industry you are in. It also depends which is your target audience. For example, if you are a B2B your allotment for Social Media will be much less, in comparison to a consumer goods company that needs to build a brand and generate awareness will be completely dependent upon Social Media because of the reach and userbase.
Realistically, of your total marketing budget plan, approximately 40% should make up your Digital Marketing. The other important thing to consider here is whether you will have an in-house marketing team that will handle all the aspects or you will hire an external marketing agency to do your bidding.
There is no wrong or right answer. Exporting your marketing plans to a company that has a proven track record of growing businesses can be a lot helpful. Nevertheless, let us move ahead and focus on:
Budget changes with the channels you chose
The Social Media marketing budget depends on the channels you chose to market on. For example marketing on Facebook($2000 on an avg) costs much more in comparison to Twitter($1500 on an avg). So choose carefully which channels you need to be on. Setting up a Marketing strategy along with using creatives and other streamlining tools will ultimately define your cost. So choose wisely where your target audience is.
The basics of your Social Media presence is your content. To be honest, good content will always lower your social media marketing costs tremendously. A good content strategy paired with engaging content will help you to create a community. But creating good content is never easy. However, brainstorming and letting creatives do their jobs will reap you rewards in long run. 
Social Media Marketing and Advertising budgets might be higher in the starting but as you grow your costs will show a flat line. Always give priority to the creative part of your business and try to provide all the help you can to the people behind the scenes. This includes licenses to the paid software and access to paid tools.
According to the survey reports by the CMO  Digital Marketing contributions have increased almost by 9% on avg for all the businesses. There have been dynamic changes. Instead of static pictures used for Ads, businesses prefer short videos.
This increase shows how investing in marketing will give you results sooner rather than later.

Don't Just dive into Paid Ads
As a business, you have a healthy budget in the hand. Do u feel the temptation to dive into Paid Ads straight away? Well, don't. Even if you are a well-established and known name in the market. Chances are you will blow away your budget. Take time and invest in building social media presence. Try to know your audience better. 
For example, you can install "Meta( formerly known as Facebook) Pixel" on your site. Do brand awareness organically and guide the traffic to your site. Though the numbers would be small, however, it would give an idea for the system to learn about your audience and you can refine your User Personna.
Social Media Marketing Budget example
As we move ahead, let us now see what an actual Social Media Marketing budget looks like with an example. We would take a hypothetical business situation to make sure we start from scratch and make a strategy. Our strategy will also give an example of the allocation which you can take as a reference.
So, let's assume you are starting in the clothing and apparel business. It is a highly competitive niche but you trust your business model and want to promote yourself on Social Media. You need a digital strategy in place. So assuming your monthly marketing budget is $1000. Let us understand how you can spend this amount to get the best results.
Like we said earlier, creatives should be your priority. Investing in creating content initially will give you a strong foundation and will help you to build on that. A huge chunk of your Social Media Marketing Budget should go to Creatives. Investing in creatives such as 
Photography and videography tools and experts

Short video delivering your brand voice and value

Other animations and graphics that you will need

Copywriting

Copyediting

Props & Models that you might need
All the mentioned are pre-requisites for a business. Especially, if you are in a clothing business you have to invest heavily in photography, props, and models. You might have some content from your campaign on your site or other mediums but Social media requires a different kind of content to entice audiences. So let's start with our marketing budget plan. If we talk about the costs of setting up your creatives. We have a budget of $1000.
Initially, out of your allocation 40-50% should go into setting up your creatives. As we consider it as the most important aspect of your business. Hiring good graphic designers, and photographers can come at a hefty price. You will have to hire a Social Media Manager with good experience to streamline everything. 
You will need to get access to creative software packages (Adobe Creative Cloud Suite, Animoto, Canva) also one Social Media Automation Tool such as (Buffer, Hootsuite)
If you want to see our review of Social Media scheduling tools check another blog of ours.
A good content strategist along with a copywriter can help you create engaging Ads. So, invest 40-50% in the Creatives.
2. Social Media Management
Social Media management can be a tricky task sometimes. Depending upon your social media presence and how many platforms you choose to be on managing each handle can sometimes be thorny. Following the calendar, engaging with the audience in real-time, and seeing if each social media handle is up to date is a few of the tasks that Social media manager needs to perform. So. your Social Media marketing budget should also have Social media management in it.
Social media Audits and analysis needs to be done at regular intervals to see whether you are complying with the objectives that you set. If not what needs to be changed so that you can grow your social media reach and get more business.
If you are unsure about how to perform a social media audit check our guide. Also, check our guide on building social media strategy
Hiring a good social media manager and strategist can help you enhance your strategies or you can take help from an external agency with a proven track record.
For Social Media Management, we would suggest putting aside 10%-20% of your allocation. This is something you need to focus on but can be delegated or performed by 1 to 2 individuals in your team. However, experience does count as this designation requires certain know-how and can be often bestowed with big decisions.
3. Social Media Advertising & Promotional Budget
As your business will increase we recommend delving into Social Media Advertising after a month or so. You can start by running Brand Awareness Ads which will cost lesser in comparison to the Lead Generation Ads, later in the funnel. Ads will take up a healthy amount of your Social Media Marketing budget. Social Media Advertising Budget will be the jet fuel to your rocket. 
Planning Social Media Advertising Budget is paramount as people can lose money without getting desired results. 
Set up Ad campaigns cautiously. 

Do A/B testing and see what is giving you results. 

Make small tweaks here and there. 

Give offers and giveaways to attract users. 

Set up remarketing beforehand so that you do not lose the opportunity to make an impression on users.
Creating a social media advertising budget can be a bit tricky, generally when you are starting out. You have to do competitor research. Running Ads and what is working and what isn't can 
Promoting your brand through influencers is what a lot of brands do. However, aligning yourself with the right influencer is important. The content or the audience of the Influencer should be common to your target location and demographics. Design your Promotional Budget according to your requirements and target. Other things which you can do is the planned giveaways or the contests that you can run. These giveaways should also be aligned with your targets.
If you want more followers you can plan a giveaway for your followers once you reach the goal. You can also run a contest where you can give a task to get referrals or to share your page. Everything can be part of your Marketing budget plan to fetch you your results. No matter what you plan do not sway away from your primary target and plan your Social Media Advertising budget accordingly.
Social Media Advertising and Promotion will take up your 30%-40% of the Social Media marketing budget, depending upon the stage of business you are in. Once you have created a Social Media presence, expect this amount to go down. If it is not going down( unless you are launching a brand new domain or category) you need to keep changing your Ad strategy or copy.
Social Media insights can help you to track your growth and see what is working. You can get an idea of the behavior, demographics, and interest of your audience. You can see which location is working for you and which location needs more work done. You can use the analysis software built-in on all the platforms. Every social media handle has its insights which are free to use and you can use it to track them.
Social Media insights will not use much of your Marketing budget as it can be done with previously mentioned Social Media management tools.


Your allocation from Social Media Marketing Budget towards Analysis shouldn't be more than 5%
As we come to an end, we want to just end with a few things that we want to convey. Social Media Marketing is a volatile market. With constant new updates and the introduction of AI and Machine learning, new updates are coming into the market. Not to forget the immersive experience that Meta wants to provide. Educating your team becomes a priority. Introducing tools and placing regular sessions for your team can go a long way. Invest in books, seminars, and new tools to stay ahead of the competition. Put aside 5% for Team Education. 
Social Media can be tricky, but decent planning and good execution can ensure you hit the bull's eye.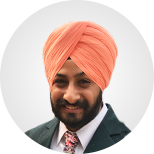 Having mastered every aspect of Social Media Marketing, Gurpreet Singh employs his leadership qualities as Social Media manager.  He believes that writing is an effective medium to communicate to many. He considers his blogs as the medium to share his perspectives about the changes in the industry.