In the last decade, the growth of Facebook & Facebook Marketplace has been magnanimous. Facebook's userbase now comprises 2.936 billion active monthly users worldwide.
This userbase will continue to grow on the same trajectory. Initially, in 2015 Facebook came up with the idea of buying and selling groups. The idea was a huge hit, however, it had a few drawbacks such as limited control over the products which were bought or sold.
Facebook evolved "buying & selling groups" and revamped the idea and came up with the "Facebook marketplace." The idea was to facilitate and create a free market for its users.
Facebook already has the userbase and community. Since 2016, the Facebook marketplace has grown and now has more than 1 billion users who are either buying or selling on it.
Some of the key statistics* to consider before using Facebook Marketplace which will change your mind and sway you towards using Facebook Marketplace in 2022:
Facebook is used by over 78 percent of the USA citizens
30 percent of the users admitted that they would purchase via Facebook 
1 in 4 businesses has now started selling through Facebook
There has been a 48 percent increase in Facebook revenue, which is around 26 billion dollars.
In total market share, Facebook has a userbase of 14%, whereas popular site like Craigslist owns merely 6 percent.
If these statistics have increased your curiosity to sell on Facebook Marketplace and how the changing dynamics can help your business grow. Let's talk about:
Benefits of selling on Facebook Marketplace
1. Facebook marketplace has not cost of listing
One of the most important factors why businesses are choosing Facebook Marketplace to sell their products is because of no listing cost. Brands like Amazon and Craigslist charge a decent amount from sellers to put their products listing. However, Facebook doesn't charge any fees from the sellers. This makes it so much easier for the sellers as well as buyers to engage.
2. One-on-one conversations
Generally, most buyers choose Facebook Marketplace because they can get directly in touch with sellers using Facebook's messaging tool "messenger". If the buyer has any questions related to the product or if they want to negotiate the price. The buyer just has to simply drop a message and the seller can respond quickly and they can go through with the process. Engagement is an important part of growing business on Marketplace and we will discuss this further along.
3. Facebook Marketplace's Algorithm engages users:
Facebook's Algorithm engages users so that they can become engaged prospects. Let's suppose that you are looking for a car to buy within your location. The Algorithm based on your recent searches and the products that you have seen will start filling up your marketplace with similar suggestions. This engages the user and piques their interest. This makes it important to optimize your Ads which we will talk about later.
4. Creating Brand Awareness
You can create brand awareness by using Facebook Marketplace to sell your product. As there is no listing cost you can list as many products under the correct category. The products will start getting visible to potential buyers. More products with the right description and headline along with your Brand logo and details can help create a Brand image within the user's mind. However, make sure you have a good Facebook presence so that if anyone visits your Facebook page they can know more about you. See our guide on 10 Benefits of having a Facebook business page
5. Use your payment gateway
Facebook Marketplace currently doesn't have any in-built payment gateway. This means you can use your payment gateway of choice to complete the sale. You can use any other methods such as Bank details, cheques, or even cash however using secure Payment gateways should be preferred.
6. Leverage Facebook Ads on the Facebook Marketplace
Lately, the buyers have devised a new strategy that helps them to get more conversions from Facebook Marketplace. The concept behind this is that every buyer will come to the Marketplace with an "intent of purchase". This makes it so much easier for the brands to convert potential buyers into customers. With the right targeting methods and good Ad copy, you can generate a huge business from Facebook Ads on Marketplace.
7. Wide variety of products you can sell on Facebook Marketplace
One of the major benefits you now have is that they have increased the categories which you can place your product under. Specifically in the US and Canada, you can now even sell Vehicles and property. This widens the horizon of Facebook Marketplace and makes it even more useful. You can also post Job listings to sell on Facebook Marketplace.
8. Automated product listing and chat tools
You can automate the product listing on the Facebook marketplace if you are using the following tools only:
Shopify

CommerceHub

Quipt

ChannelAdvisor

ShipStation

BigCommerce

Zentail
However, it is possible that the products which are performing better on Shopify might not perform better on Facebook Marketplace. Always keep testing new products before posting on Marketplace and keep optimizing to get the best results.
**Let us see some more statistics below which will help us understand why the Marketplace is such a unique concept and how it is helping businesses:
**above-used image is fetched from Thrive my way site to convey how businesses are using the Facebook marketplace.
Now, as you might have understood the benefits and reasons why you should choose Facebook Marketplace to sell now, let us see:
Step by step on how you can create a listing on Facebook Marketplace:
Setting up a listing on Marketplace will not take more than 10 minutes of your time. This is one of the benefits to sell on Facebook Marketplace. However, other sites like eBay and Craigslist will take more time to set up a listing, On Facebook Marketplace it's just a matter of minutes. Following are the steps:
Log onto your Facebook account and on the left side of the screen access the Marketplace. (If it's not visible click on the see more button and scroll down.)
2. Next, on the left side click on the blue "Sell Something+" button.
3. On the next screen, you will have to choose your listing type. This differs in every country and you will have to choose correctly.
4. Fill out the listing. This is the most important part as this is the place where you have the most control over your listing. You can optimize your listing here. Below listed is the information that it will ask you to fill out. 
5. Once you are done, just hit on Publish and that's it. Your listing will be live. 
6. Finally, just keep track of any messages or conversation initiation from the potential customers. As customers expect instant response and it also helps you to close the potential sales.
These are the options that will come up on the listing page This can be your checklist so you can be prepared with everything before creating the listing.
At least 1 photo of the product(you can add a maximum of 10)

Listing title( do research and create a title that is relevant and sought after)

Price of your product

Category under which your listing will be placed

Condition of the item

Next, you have to add product tags(so that potential buyers can look for your product easily)

The location which you will be serving

Number of Items that are in stock

Methods and mode of delivery that you can provide to the users

Shipping rate (if applicable)
Important rules of the Facebook Marketplace 
Like every other platform, Facebook Marketplace also has its own rules and some guidelines which can make or break the deal when it comes to getting the best out of your listings. We have covered everything for you so that you can implement or avoid these to get the best benefits out of Marketplace. So let's jump straight into it:
Doing small research goes a long way
As we mentioned above using the correct "Listing title", an Elaborative description and good Product tags are necessary. However, you have to use keywords within your title, tags, and description which can help you to stand out whenever a potential buyer looks up your product.
This is extremely necessary. Go to the marketplace beforehand and look up similar products and categories under which you want to list your product. Best listing products are always listed as "Top pics" which helps you to see what is trending and what can you do to tap into it.
Once you complete your research, chose the keywords which you think will give you the best results. Use them smartly across titles and descriptions.
Choose High-quality photos
Sometimes businesses ignore this bit. It is a fatal mistake that you can make. Choose high-quality photographs with good lighting which shows your product correctly. A good background can also enhance the look of your product. If you are selling some variants make sure you choose the correct photograph for that particular variant.
Choose the correct Category
No one likes to see an incorrect item when you are looking for something specific. Make sure you choose the correct category of the product when you list it. Do some research before listing to understand what category your product might fall into.
Keep this list of categories with you so you check what category the product falls into beforehand:
Classifieds.

Clothing & Accessories.

Deals.

Electronics.

Entertainment.

Family.

Hobbies.

Home & Garden.

Housing.

Vehicles.
Build a good brand reputation
Facebook rewards Brands that have a good track record on the Marketplace with two badges:
Very Responsive Badge
Community recommended badge
Be swift while answering queries of the buyers. Maintain a good relationship post-sales to get these two Badges.
Help with Delivery if you are shipping
Maybe you are shipping across large distances. Always provide shipping assistance and payment assistance. This is where Facebook gives full control to its sellers. But, it also creates a sense of responsibility to cater to customers honestly. Never disappoint users and have a dark spot on your Brand's name.
In conclusion, Facebook Marketplace is a great place for sellers and businesses to increase their growth. A high customer base, coupled with the targeting methods of Facebook makes it so much more effective. With the right strategy and good communication, you can grow your business and that too without a business charge. So, get on to it today and increase your business growth.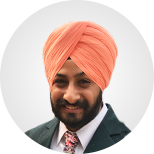 Having mastered every aspect of Social Media Marketing, Gurpreet Singh employs his leadership qualities as Social Media manager.  He believes that writing is an effective medium to communicate to many. He considers his blogs as the medium to share his perspectives about the changes in the industry.