If you are thinking about fine-tuning your marketing strategy on social media in 2022, then this is the perfect time for making this happen. This might look a bit daunting as now social media is much more complex and competitive. But the reality is if you have a well-prepared plan for social media then you can achieve your business goals easily.
Regarding this, you will find below the comprehensive guide for creating the social media marketing strategy from scratch. Whether you are a newbie or want to check again your priorities in 2021 then this guide is for you.
Let's build Social Media Marketing Strategy Step-by-Step:
1. Set realistic and sensible goals
2. Thoroughly research your target audience
3. Establish the important KPIs and metrics
4. Choosing the right social media platform for your business
5. Create engaging content on social media
6. Consider paid promotion to boost your audience
7. The best time to post on social media for maximum engagement
8. Importance of hashtags for social media
Any further delay, let's discuss these steps in detail:
1. Set realistic and sensible goals
The first step in creating a great social strategy is to establish your business goals. These could be to increase brand awareness, drive traffic to your website, grow revenue, boost brand engagement, provide social customer service or build a dedicated following for the community. You can have more than one media marketing goal. The goals you set will define your strategy and how much time you will need to put in your campaigns.
Goals of social media in 2022 and beyond
What matters is that you need to set realistic SMM goals. Tackle the smaller objective which allows you to scale the social efforts both affordably and reasonably. Below you will find some sample goals that businesses of all sizes can follow.
Improvise influencer marketing to increase brand awareness
Influencer marketing is one of the flourishing digital marketing trends in 2022. Targeting the right audience is essential for the success of any business strategy. Influencer marketing enables you to directly connect to your target audience, as the hard work is already done by the influencers.
Find an influencer trusted by your targeted audience to excel at your media marketing endeavors. However, finding the right influencer is essential for the success of your influencer marketing strategy.
One of the easiest ways to find niche-specific influencers is through social media. Do niche-based research, analyze the conversations, find the influencers who are getting their voice heard. Join industry-specific forums and groups on social media to understand your audience's views on different influencers.
You can also utilize the tools such as topsy and buzz sumo for finding the right influencer.
Generate sales via leads
Whether in-store or online, followers are not purchasing anything by mistake. They are always alerted about the new promos and the products by the brands.
Lead generation is essential for alerting your consumers about the launch of a new product or service. You can also drive them through the sales funnels of your former products.
Grow the brand audience
While building your brand audience you are required to find different ways for introducing the brand to the audience who have not heard of it before.
Growing the audience also means discovering the conversations around the industry and business. When you are digging in the social channels then it is not possible to listen and monitor specific phrases, hashtags, or keywords. When you are having a pulse then conversions will happen, and you would be able to reach your audience faster.
Community engagement
Explore how you can grab the attention of the current followers. This also means experimenting with the content and message. For example, if your brand is promoting the content which is generated by the users and the hashtags.
Sometimes asking simple questions will also increase the rate of engagement. The customers are the best cheerleaders but that can happen only when your content is adding value to their lives.
2. Thoroughly research your target audience
Source: Hotinsocialmedia.com
Making assumptions about your audience is not good. But, thanks to the analytical tools for social media and the huge demographic data, you don't have to make assumptions. Everything you need to know about your audience to excel in your social strategy is available. It is just that you should know the right place to look. 
Knowing your audience well is the key to creating a good strategy. This will help you create content that your audience will like, comment on, and share. It also helps convert your followers into customers.
Also, you should know the age, location, average income, typical job title, interests, etc., of your audience. In addition to this, gather data about which platform your audience is likely to use more. This helps you know which network your brand should approach and what type of content to publish.
Most Instagram users are millennials or Gen Z who like eye-popping content that radiates with personality, YouTube and Facebook have high-earning user bases, so, they are great places for ads. Pinterest boasts the highest order value for shoppers as it is popular among women. You will find a well-educated user base on LinkedIn that makes it a hub to publish highly researched industry-specific content.  
Get to know your audience as real people with real needs. This will help you easily target and engage them.  
From the demographic data you will get insight into each social channel, but what about the customers? You have to do further analysis before determining the social customers in the real world what they are like. Because of this, many brands are making use of the dashboard of SMM analytics which provides an overview of the interaction of the customers on the channels. 
There are analytical dashboards that put audience demographics in the center and front. It is also highlighting the activity on social networks and ensuring how they can spend time with the right networks. You can view data of various media platforms like Twitter, Facebook, LinkedIn, Instagram, and Pinterest side by side in a customized format. This data can be exported in the range of date and profile.
You can also consider plenty of other sources with valuable data for the audience insights and supplement it in your social media marketing strategy. This includes platforms like Gmail and Google analytics.
Competitive analysis:-
It is one of the most crucial parts of your SMM marketing strategy. It enables you to learn about the social media marketing strategy of the key players in your field of business.
Unfortunately, most people overlook it while making a media marketing strategy. However, if done correctly, it can instantly deliver a strategy for your marketing campaign and get you going.
Identify your competitors:-
The process of competitive analysis starts with identifying your competitors. Your field of business doesn't matter, there will always be a handful of competitors competing for the attention of a particular set of audiences. However, you should be more specific while determining your direct competition. It is essential to choose businesses with the same scale as your business.
Identify the businesses generating the most traffic on your preferred interests and keywords on social media. Make a list of at least 5 of your direct competitors.
Analyze your competitor's social media handles:-
The second step of a competitive analysis process is to analyze the social media handles of your direct competitors. Find out the type of content they produce, the brand voice they use, their content-theming strategies. It will instantly give you an idea of the taste of your audience.
Utilize tools to organize data:-
The final step is to utilize tools to beef up your competitive analysis campaign and make a detailed report of your competitor's analytics. Some of the tools that you can leverage to make a detailed description of your competitive analysis are as follows:
BuzzSumo: It is the most suitable tool for competitive analysis. It enables you to keep a record of your competitor's key metrics. Analytics obtained from BuzzSumo leads to findings like the consumers preferred content type, most suitable social media channels for your business, etc.
Hootsuite Stream: It enables you to assess the authority and engagement of your competitors. With the help of Hootsuite Stream, you can ascertain the keywords your competitors use to generate engagement on their social media handles.
Brandwatch: It enables you to determine what people talk about your competitors. It also allows you to create a detailed report on your competitor's share of voice and people's views on them.
3. Establish the important KPIs and metrics
Your SMM metrics help you determine the performance of your marketing campaign and the potential ROI you can generate. The only way to ensure this is by tracking the right KPIs of your social media. Here we are talking about the metrics given below:

Reach: Number of unique users who have seen your post. How far is your content reaching in the feeds of users?

Clicks: Number of clicks that happen on your account or content. Tracking the clicks per campaign is very important to understand. By this, you can understand what is encouraging the people and driving the curiosity among the audience.

Engagement: This is the number of interactions divided by the number of impressions. This will tell you about how the audience is perceiving your brand, and whether they are willing to interact with your brand.

Performance of hashtag: Which hashtag of yours is used most? Which hashtag is always associated with your brand? This answer will help in shaping the focus of the content when you are going forward.

Paid and organic likes: Beyond the standard count of like, the interactions of the organic or paid content will be attributing more. It is much harder for the organic content to gain traction, because of this many brands are turning to the ads. When you know this difference very well then it will help you in budgeting the spend on the ad and the time which you are investing in trying different formats.

Sentiment: This is the measurement of user reaction to your hashtag, content, or brand. What type of sentiment has been associated by the users with your hashtag? Did they find the recent campaign offensive? It is always a good idea to dig deeper to find out how the audience reacts to your campaign and brand. 
Successful SMM marketing strategy is ingrained in the numbers. This means that they circle back to your original goals.   
4. Choosing the right social media platform for your business
Source: Medium.com
There is a handful of prime social media platforms such as Facebook, Twitter, Instagram, Linkedin, etc. However, it can be overwhelming to focus on all of them at once. You must identify the ones most suitable for achieving your business goals and focus solely on them.
Follow these steps to determine the most suitable media platforms for your business.
Define your goals:- Only by establishing clarity on your goals will you be able to determine the right social media platforms. Understanding your goals will define the content you need to create to achieve your business goals. Once you determine the type of content your audience prefers, you can find out the platforms that are contextually relevant to that content type.
Know your audience:- Ask this question to yourself to clearly define your audience. Whom are you creating the content for? Who is more likely to convert into a buyer? Dig deep into these questions and clearly define your audience.
Identify the platforms your target audience uses:- Once you have determined the target audience, determine the social media platforms they use to engage with brands.
5. Create engaging content on social media
The marketing strategy on social media is hinging the content. At this point, you would have a very pretty good idea of publishing the brand identity and the goal. You will also be confident enough now of which networks need to be covered. What about the content strategy? Below you will find the inspiration and the ideas which can help you out.
Importance of content themes
There are chances where you have seen a post from a particular brand. The grandiose and bold images are giving the passionate grid to the cohesive and recognizable feel to the post. From captions to filters, brands are relying on the same formats of content and creative touches from time to time. These themes will bring more consistency to the strategy of the content which is making sense.  
Sometimes you are also cycling between the product photos, memes, and the user-generated content which are sticking to the rotating colourbehaviour scheme. If you are struggling to keep up the sources of social content, then consider the management tools for social media which will help in organizing the advance scheduling of the posts and organizing the media library.
What type of content would be the part of the 2021 marketing strategy on social media?
To narrow down the specifics which can be published for developing the innovative content below are some trends which need to be considered in social media.
Time-sensitive posts and stories
Stories are not going away soon. When you are tapping your followers the content which is story style is considered to be very interactive. Popping in the feeds of the followers, such content will help the brand account to skip the line and you will stay fresh in the minds of the audience.
Stories are considered very valuable and considered as a behind-the-scenes activity for making the feed on media platforms more personal. You can consider how in the best way you can make use of the stories for covering up the event. You can also take your followers on a journey without leaving them from their comfort.
Short video
Due to the rise of TikTok, short videos are getting viral on the internet. With the rent roll-out of reels on Instagram, both short-form and long-form productions are continuously dominating the social media space across all the platforms. The engagement rate is very high on this platform.
6. Consider paid promotion to boost your audience
Let's face the truth, it is not easy to outrank the brands that have already established their dominance on social media. It will require a consistent effort to catch the eye of your target audience on social media.
However, if you are in a hurry to outrank your competitor paid ads are the best solution. Almost all social media platforms offer paid ad programs to help brands gain recognition and achieve their business goals.
7. The best time to post on social media for maximum engagement
Some people think that every minute or hour is equal in the eyes of the social media algorithm. Well, it is not. Posting at certain times has a positive impact on the overall engagement of your social posts.
Following are the result of research done by the Hootsuite, on 30,000 social media posts on different social media platforms.
The best time to post on social media is 10:00 AM on Tuesday, Wednesday, and Thursday.
The best time to post on Instagram is from 8:00 AM to 12:00 AM on Tuesdays and Thursdays.
The best time to post on Twitter for maximum engagement is 8:00 AM on Mondays and Thursdays.
The best way to generate engagement on LinkedIn is to post at 9:00 AM on Tuesday and Wednesday.
Another report published by sprout social representing the best time to post on Facebook for increased engagement shows similar results.
Source: Sproutsocial
8. Importance of hashtags for social media
Hashtags are one of the essentials of a media marketing campaign. They assist people in filtering relevant information and likewise help businesses connect to their target audience.
Hashtags essentialize the organization of a vast amount of information on social media. It is one of the best ways for organizations to connect to their business prospects and potential customers.
However, it is essential to find the right hashtags to generate maximum engagement for your social media posts. The industry-specific hashtags representing a specific idea are best for your SMM campaign.
Source: www.naylor.com
Another factor to keep in mind is the frequency of hashtags. You must limit the usage of hashtags to two to three per post. Try experimenting with different niche-specific hashtags and stick to the ones that drive most engagement to your posts. Consistency is the key, altering hashtags every week is the last thing you want to do. Give a hashtag some time before determining its importance for your SMM campaign.
Frequently asked questions (FAQ)
1. Which social media platform is best for business?
The most suitable media platform for your business largely depends on your marketing goals and the types of business. Facebook has the most users and diverse tools to support your media marketing strategy. It is best for product promotions generating sales and promoting an e-commerce platform.
Twitter is best for increasing brand awareness and directly receiving feedback from your target audience. Pinterest and youtube do wonders for generating traffic to other websites, where you can collect leads and introduce your audience with the sales funnel.
2. How much should I spend on social media marketing?
Well, there is no magic number to determine the exact figures that will land you the best ROI on your social media marketing. According to Webstrategies, marketers spend 20 to 25% of their marketing budget on social media marketing.
Before determining the average spent on your social media marketing campaign, you must decide on the ROI you can get from SMM marketing. According to the 2011 social marketing benchmark report, the average ROI on social media marketing is around 95%. Another interesting finding from the survey was that 30% of participants reported a whooping 150% ROI.
These findings show that the success of your social media marketing strategy depends on your ability to execute the strategy.
3. What is social media analytics?
Social media analytics is a record of metrics and KPI's with which you can track the progress of your social media marketing campaign.
You can use these metrics to evaluate your consumer's behavior on the online platform and alter your campaign a bit if it requires so. It is essential to use analytics to track user activities and major the effectiveness of your social media marketing efforts.
4. How many people use social media?
According to a report published by Statista, approximately 50% of the world's population uses social media. It shows that around 3.81 billion people use social media globally.
It is why so much emphasis is given to the improvisation of social media in marketing strategies.
5. Which are the most popular social media apps?
It is one of the most asked questions on the internet. Several metrics can determine the popularity of social media platforms on different scales. However, based on the number of global users, Facebook, Youtube, and Whatsapp make the top 3 spots.
Also read – "Do's and Don't in Social Media Marketing"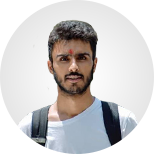 Presently serving as the Research and Development specialist in SEO Discovery, Naveen Sharma adds his insights to the company's strategies. He considers research as the foundational pillar of any project. He stays inquisitive for staying updated and enthusiastic about sharing what he learns. He is also thrilled about the way digital marketing is changing the world, and that's what you can expect from his blogs.