Do you know that social media platforms have nearly 3.96 billion users as of January 2022? This is according to Statista and looks like the numbers will rise in the same trajectory. Advent of businesses on Social media generated need of Social media scheduling tools to automate the process of posting content.
With such a wide number of platforms to choose from, marketers also have numerous tasks for promoting products and services. Though it seems passionate to pave the way for businesses to achieve their dreams, it can sometimes also be a bit overwhelming.  
Handling several social media accounts can often seem challenging and need you to align multiple aspects. If you are a social media marketer, you can depend on different tools to reduce your efforts. These Social Media Scheduling tools can allow you to plan for several social media accounts or posts beforehand.
As there is a need to fine-tune strategies to boost social media marketing, these scheduling tools can give you an edge. Now, let's see some of the 
If you are just starting out you should do a social media Audit and know how to devise social media strategy. Check out our blogs for detailed information.
Advantages of Social Media Tools
These  social media scheduling tools  bring all the network accounts to one place. This saves your time from switching accounts and streamlines your processes.
Managing a marketing campaign for social media platforms can get confusing due to multiple responses. However, scheduling and publishing tools can allow you to access a shared inbox to avoid confusion. You can also collaborate with your whole marketing team and assign roles according to their designation.
Customer relationship management
With communication channels, you can connect with your potential and current customers directly. However, with scheduling tools, you can prevent any kind of uncalled responses, which will provide an enhanced experience.
Safety and accountability
From snafus to hacker issues, a lot can happen on social media platforms, which can be troublesome, especially when operating business accounts. That is where you can get additional security to reduce such incidents.
You can use these automation tools to facilitate operations while saving time and costs. They can assist you with content planning while you can concentrate on your content creation and publication procedure.
The plans and strategies used previously can influence the future performance of a business. Here, scheduling tools can provide you with a detailed analysis of the content. You can use the outcome to plan your other strategies.  
Being human, you can forget things and forget publishing. However, you cannot publish the social media posts for valentine's day on the 15th of February. Content that has to be posted on a certain date cannot be postponed. Most Businesses create a content calendar beforehand that they have to follow religiously. These scheduling tools can ensure that you post content on time and stay on schedule.
We have also rated and reviewed some other widely used Social media tools.
8 chosen Social Media scheduling tools
Now that you have understood the benefits of the Social Media scheduling and publishing tools, Let us now proceed by highlighting the leading social media scheduling tools you can count on. These are some of the major names that already have the trust of their users. We have shortlisted them, explained what sets them apart, and eventually gave our feedback. All the information is provided to make an informed decision.
SocialPilot is a cost-effective tool you can count on for handling social media, boosting engagement, and noticing results without even spending big bucks. From business owners to social media marketing agencies, everyone can use it. Initially, it extends a starter offer for three connected profiles. It can allow publishing your content on various platforms, including Facebook, Linkedin, Instagram, Twitter, Tumbler, Pinterest, and Google My Business.
With this platform, here are the features that you can take advantage of:
Creation of tailor-fit posts for different platforms

Accessibility to handle social media accounts of many clients simultaneously

Instant engagement with the option of a social inbox

Boosting posts and handling ad campaigns

The feature of the URL shortener that can get you more click-through-rate

Gaining more ideas with the content curation feature 

Publishing more than 500 posts through bulk scheduling

Supporting other mobile applications
You can also take advantage of:
Social media calendar

Visual support and advanced post scheduler

Easy-to-access browser extension

Social media analytics and visual support
When it comes to reaping benefits from this social media automation marketing tool, you have already learned about them on the list. This tool can familiarise you with both positive and negative marketing trends. Another rare catch in the tool is that you can make it work as per your business regulations. It can allow you to check the strategies for social media sharing.
Undoubtedly, the client testimonials are paramount to draw a bottom line. For this tool, we scrolled the topmost feedback from different review sites. G2.com has rated it 4.5/5 based on 282 reviews, and as per Getapp.com, there are 90% positive reviews, with 95% of users recommending it to others.
With more than 16 million users globally, Hootsuite has built its steady place among enterprise-level agencies. This social media marketing tool can schedule your posts on social media platforms, including YouTube, Pinterest, Facebook, Instagram, and Twitter.
Here are the key features you can expect from it:
Post-Scheduling

: Hootsuite can allow you to schedule posts ahead of time. Its automatic scheduling feature lets you know about the ideal publishing time as decided by its algorithms.
Streams

: With this feature, you can learn about the various social media platforms you have your presence on. It shows the regular feed of the essential relevant activities.
Analytics

: This feature can be useful to know about the performance through individual social profiles or the mixed dashboard. It covers fans & followers, traffic, engagements, posts, and tweets. 
It also has advanced metrics such as page content type and total clicks for each country. 
Assignment

: With this feature of Hootsuite, you can facilitate teamwork. It can allow you to divide work among different team members, allowing your team members to work on various needed tasks. 

Content library:

The Content Library can allow you to arrange pre-approved images and templates, which you can leverage for social posting later on. You can also expect private tags and notes for every asset.
Different users have different kinds of experiences when using this platform. In addition to the benefits, the expensive package of this social media automation tool has proven to be a downside.
To mark this social media scheduling tool, we present the feedback from the leading review sites. G2.com has provided it with 4/5 stars, showing its quality. The platform of Trustradius has also marked it 8.0 out of 10. Gartner has received 287 ratings for this medium, which overall becomes 4.2 stars out of 5. 
Meant to use on both mobiles and the web, this software application can handle different social media accounts. Being a user, you can schedule posts on Instagram, Facebook, Twitter, Linkedin, and Pinterest. It can also perform other functions such as result analysis and community engagement.
Here are the features you can expect when using this social media publishing and automation tool:
As a powerful social media automation and publishing tool, Buffer can allow you to build a custom schedule daily for different platforms. You can gain engagement with unique social media strategies for multiple profiles. 
Social media scheduling can need you to keep the accounts and handles prepared with engaging posts and content. Buffer can plan and schedule all of it beforehand only. 
With its browser extension, you can share some newly found intriguing articles on different social media platforms. It can save your time and allow you to share some interesting content with your audience.
The Buffer Analyze feature eases learning about the progress of the social media marketing plans. It can keep you updated with essential data related to shares, clicks, posts, retweets, existing followers, and new followers. 
With the Buffer Analyze feature only, you can learn about the most preferred content, which you can use again to boost engagement. You can also learn about structuring content strategies. 
Buffer has an extended function with its animated GIF support feature. It can allow you to use moving pictures that can boost engagement from your end. This social media publishing tool can also smoothly manage to upload GIFs and videos.
Different review platforms and sites have marked Buffer as a trusted tool for social media marketing campaigns. It is a reliable tool for using multiple accounts from an easy-to-use and understand dashboard. Despite these, there is a downside of Buffer. It lacks the content curation feature, which is essential for the need for the latest content. The features like Buffer analysis are additional, which can need the users to pay the extra bucks.
Talking about the feedback, it has received 4.5/5 on G2.com. The evaluation is done based on 932 reviews. GetApp.com, another review site, has brought 94% positive reviews.
Social Bee is a comprehensive tool you can count on for enormous features for everything from organizing, scheduling, and publishing the content on social media platforms. You can use it for different Instagram, Linkedin, Facebook, Pinterest, Twitter, and even Google My Business. You can choose from the subscription plans that suit your needs.  
Here are the features that Social Bee promises to its users:
Category-based scheduling

: With this feature, you can allocate every post to a particular category and plan publishing for your posts accordingly. 
Bulk Editor

: This feature can allow the change of a post from a single category in one attempt, allocate them to different profiles, and many other functions.
Re-Queue Post

: It facilitates scheduling a singular content multiple times, which can save both your time and effort on it. 
Pause Categories

: If you have to pause the already planned or scheduled content, Pause categories can do that.  
Customize for each post

: This customization feature can allow you to modify every post to bring the best result and connect to the same post. 
Post variations

: Social Bee comes with an extensive number of post variations, which you can use to keep the content updated.
Social Media Analytics

: With Social media analytics, you can check on the progress of your social media marketing plan. Learning that can help you form the strategies for the future.
Team Collaboration

: With Social Bee, you can build the social media workflow and ensure timely and error-free posts. You can ask your team members to join you at your workplace, allot them the tasks, and share feedback.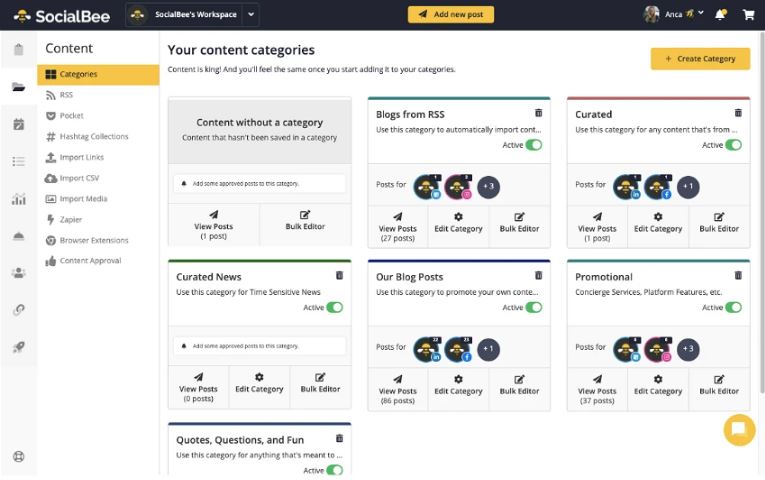 In addition to the above-shared features, you can create remarkable visuals with Canva integration with its post editor. However, there are several downsides to using Social Bee as it does not support YouTube integration and is only a web-based app.    
Social Bee has received various feedback from its users, which can help you analyze this app better. G2.com has marked it with 4.8/5, evaluated based on 128 reviews. Getapp.com has presented 88% positive feedback with 4.5 out of 5 stars.
Here comes another in our list of social media scheduling tools- Sendible! It can be your assistant to handle marketing plans for various clients and focus on attaining the outcome. Along with an extensive list of social media platforms, including Facebook, Instagram, Twitter, Linkedin, Pinterest, and Google My Business, you can also use it for blogging platforms. It can provide you with remarkable results for WordPress, Tumblr, and Medium. It also comprises an analytical tool, allowing users to obtain the necessary data and gain valuable insights.
 The list of benefits of this social media scheduling tool includes:
Publishing in the different social media networks

Scheduled Posts

Lead generation

Customer engagement

Tracking 

Integrated analytics

Management of multiple clients and users.
These were the features this app has to offer to you. Let us move ahead with the benefits of Sendible. 
Its easy-to-use dashboard can help you manage multiple social media activities.

It can also allow concurrent content publishing, post-scheduling, and detailed analytics.

It has a user-friendly interface, which can allow you to handle several social media accounts at once.
Sendible promises various benefits, but there are several cons to using this tool too. Starting with the pricing, it depends on the services used. Next, comes the dashboard, which is highly functional and can often turn out to be slow loading.
The feedback and reviews on Sendible can provide you with a clearer insight into it as the social media scheduling and publishing tool for you. G2.com has marked it 4.5/5 after the 751 reviews. On the other side, Getapp.com has marked it 4.5/of 5 based on 97 testimonials.
Sprout Social is one of the social media scheduling tools on our list. It offers an extensive list of features that can facilitate the workflow of the organization. All of them are focused on bringing the possibility of gaining insights while saving time. However, before you can rely on the tool, it is advised to become aware of what it has to promise to you.
Facilitate the publishing, Sprout social can allow you to:

Create customized posts according to different social media platforms. 

Get a view of the Instagram grid beforehand on mobile.   

Get updated about the unsuccessful messages and reposts.

 Plan publishing of its posts from the browser extension of Sprout

Use search operators to optimize the keywords for your brand

The sprout feature can allow you to hide or remove the comments

Its message tagging can tailor the incoming and ongoing messages and posts.

Its @ mention comment section can save your time in dealing with the pile of comments.
The extensive list of features that this social media scheduling and management tool offers talks about the benefits you can expect as a user. Nevertheless, you must know about the additional costs of inviting every user or team member you invite. It also does not extend integration with YouTube and other visual platforms.
Sprout Social has been serving as the social media calendar tool for many, and its action has marked it 4.4/5 in GetApp based on 482 reviews. G2.com has received 1717 reviews, which has brought the social media platform 4.3 out of 5 stars.
As the name already speaks louder about itself, Co-Schedule has gained popularity because of its feature of the content calendar. It is a comprehensive platform that executes different content marketing functions. It comes with a drag-and-drop interface, which facilitates the collaboration and scheduling of every project.
Coschedule is a lot more than a social media automation tool! Here are the features that you can take advantage of for social media scheduling and publishing:
Social Campaigns- responsible for creating and executing all social media activities

Social templates and helpers to save your time

Bulk social upload to share a large amount of message

Requeue that functions as an autopilot for social media

Best time scheduling that enhances social media engagement

Social Media mobile application

Social engagement reports

Social network report
The above-stated reasons are enough for you to count on it as a reliable social media scheduling tool. Nevertheless, you must know about the consequences of using it. You should learn that Co-schedule does not have the monitoring and social listing features. It does not either offer too much collaboration and integration compared to the other tools in the market. Moreover, with it, you can only queue your posts twice.
Talking of the reviews that Coschedule has got, GetApp has marked it 4.4 stars out of 5 based on 99 reviews. G2.com has also reviewed it with 4.4 stars after the 144 reviews.
The brand name ZOHO is known for a wide range of features to ensure the smooth functioning of many business operations. As a social media scheduling tool, you can schedule several posts and analyze the track of your social media campaign.
Here are the features that you can expect from this social media scheduling tool:
The scheduling feature for the appropriate time of publishing

The content calendar for organizing the post

The monitoring dashboard to keep you updated with the relevant applications

The analytics to understand the audience and engagement
When it is about the disadvantages of Zoho Social, the absence of a combined analytic feature is the first one. It is also expensive for the limited features it has offered. Moreover, the unavailability of RSS Feed Integration also disappoints many of its users.
Here we come to the last part of learning about this social media managing tool- the feedback! Zoho Social has received 2306 reviews on G2.com, which have formed the base for its score of 4.6/5. There are 2500 reviews about this tool on getapp.com, which provides 97% positive reviews and 4.7/5 stars.
Social media platforms witness the presence of an enormous audience. They have also become a mode to emphasize engaging with customers for businesses of all kinds. Social media marketing, which has become a must-have for enterprises, also comprises numerous activities. Just as important as it is performing them, finding the means to execute them smartly also holds importance.
In this blog, we presented the top eight scheduling and publishing tools to consider. The list includes Social Pilot, Hootsuite, Buffer, Social Bee, Sendible, Sprout Social, Coschedule, and Zoho Social. We have explained the features, downsides, and reviews for these social media scheduling tools.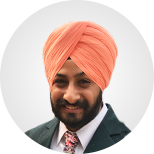 Having mastered every aspect of Social Media Marketing, Gurpreet Singh employs his leadership qualities as Social Media manager.  He believes that writing is an effective medium to communicate to many. He considers his blogs as the medium to share his perspectives about the changes in the industry.